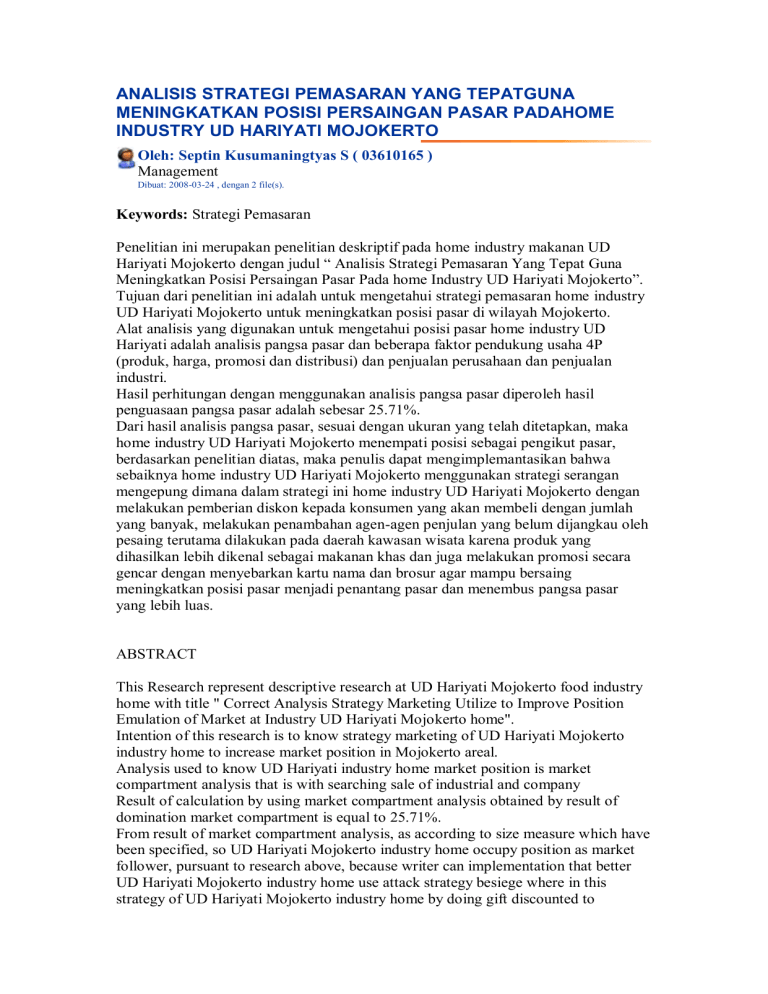 ANALISIS STRATEGI PEMASARAN YANG TEPATGUNA
MENINGKATKAN POSISI PERSAINGAN PASAR PADAHOME
INDUSTRY UD HARIYATI MOJOKERTO
Oleh: Septin Kusumaningtyas S ( 03610165 )
Management
Dibuat: 2008-03-24 , dengan 2 file(s).
Keywords: Strategi Pemasaran
Penelitian ini merupakan penelitian deskriptif pada home industry makanan UD
Hariyati Mojokerto dengan judul " Analisis Strategi Pemasaran Yang Tepat Guna
Meningkatkan Posisi Persaingan Pasar Pada home Industry UD Hariyati Mojokerto".
Tujuan dari penelitian ini adalah untuk mengetahui strategi pemasaran home industry
UD Hariyati Mojokerto untuk meningkatkan posisi pasar di wilayah Mojokerto.
Alat analisis yang digunakan untuk mengetahui posisi pasar home industry UD
Hariyati adalah analisis pangsa pasar dan beberapa faktor pendukung usaha 4P
(produk, harga, promosi dan distribusi) dan penjualan perusahaan dan penjualan
industri.
Hasil perhitungan dengan menggunakan analisis pangsa pasar diperoleh hasil
penguasaan pangsa pasar adalah sebesar 25.71%.
Dari hasil analisis pangsa pasar, sesuai dengan ukuran yang telah ditetapkan, maka
home industry UD Hariyati Mojokerto menempati posisi sebagai pengikut pasar,
berdasarkan penelitian diatas, maka penulis dapat mengimplemantasikan bahwa
sebaiknya home industry UD Hariyati Mojokerto menggunakan strategi serangan
mengepung dimana dalam strategi ini home industry UD Hariyati Mojokerto dengan
melakukan pemberian diskon kepada konsumen yang akan membeli dengan jumlah
yang banyak, melakukan penambahan agen-agen penjulan yang belum dijangkau oleh
pesaing terutama dilakukan pada daerah kawasan wisata karena produk yang
dihasilkan lebih dikenal sebagai makanan khas dan juga melakukan promosi secara
gencar dengan menyebarkan kartu nama dan brosur agar mampu bersaing
meningkatkan posisi pasar menjadi penantang pasar dan menembus pangsa pasar
yang lebih luas.
ABSTRACT
This Research represent descriptive research at UD Hariyati Mojokerto food industry
home with title " Correct Analysis Strategy Marketing Utilize to Improve Position
Emulation of Market at Industry UD Hariyati Mojokerto home".
Intention of this research is to know strategy marketing of UD Hariyati Mojokerto
industry home to increase market position in Mojokerto areal.
Analysis used to know UD Hariyati industry home market position is market
compartment analysis that is with searching sale of industrial and company
Result of calculation by using market compartment analysis obtained by result of
domination market compartment is equal to 25.71%.
From result of market compartment analysis, as according to size measure which have
been specified, so UD Hariyati Mojokerto industry home occupy position as market
follower, pursuant to research above, because writer can implementation that better
UD Hariyati Mojokerto industry home use attack strategy besiege where in this
strategy of UD Hariyati Mojokerto industry home by doing gift discounted to
consumer to buy with plethora, doing addition of sale agent which not yet been
reached by competitor is especially done by at tourism area because yielded product
more knowledgeable as typical food as well as doing promotion intensively by
propagating visiting card and brochure so that can compete to improve market
position become market challenger and penetrate broader market compartment.