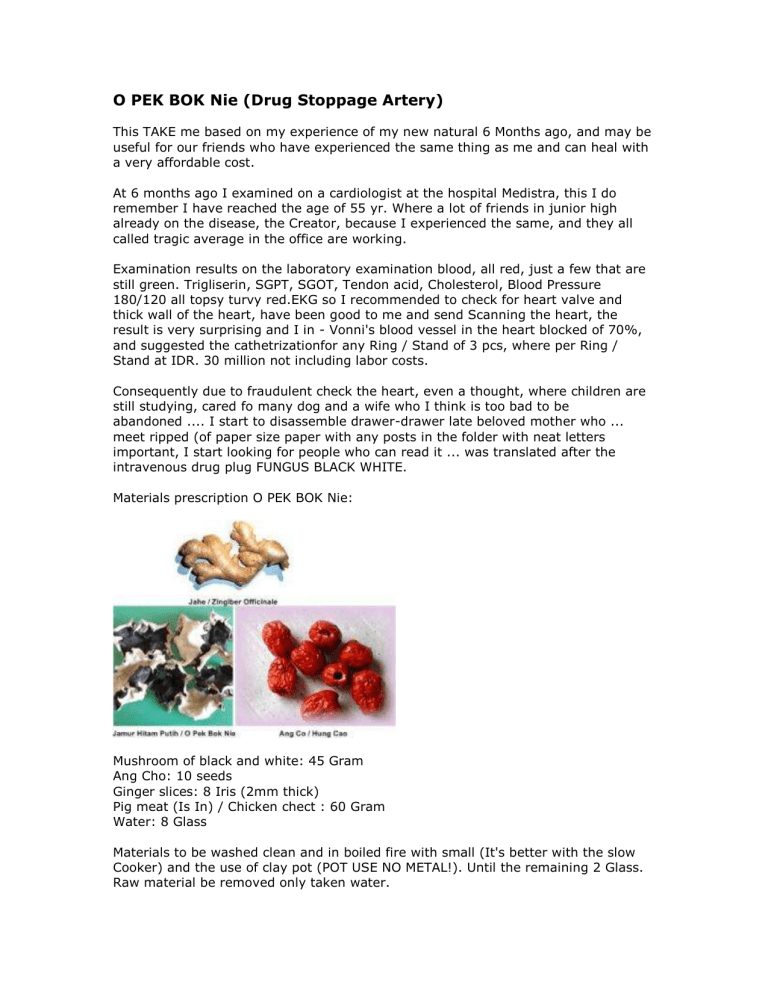 O PEK BOK Nie (Drug Stoppage Artery)
This TAKE me based on my experience of my new natural 6 Months ago, and may be
useful for our friends who have experienced the same thing as me and can heal with
a very affordable cost.
At 6 months ago I examined on a cardiologist at the hospital Medistra, this I do
remember I have reached the age of 55 yr. Where a lot of friends in junior high
already on the disease, the Creator, because I experienced the same, and they all
called tragic average in the office are working.
Examination results on the laboratory examination blood, all red, just a few that are
still green. Trigliserin, SGPT, SGOT, Tendon acid, Cholesterol, Blood Pressure
180/120 all topsy turvy red.EKG so I recommended to check for heart valve and
thick wall of the heart, have been good to me and send Scanning the heart, the
result is very surprising and I in - Vonni's blood vessel in the heart blocked of 70%,
and suggested the cathetrizationfor any Ring / Stand of 3 pcs, where per Ring /
Stand at IDR. 30 million not including labor costs.
Consequently due to fraudulent check the heart, even a thought, where children are
still studying, cared fo many dog and a wife who I think is too bad to be
abandoned .... I start to disassemble drawer-drawer late beloved mother who ...
meet ripped (of paper size paper with any posts in the folder with neat letters
important, I start looking for people who can read it ... was translated after the
intravenous drug plug FUNGUS BLACK WHITE.
Materials prescription O PEK BOK Nie:
Mushroom of black and white: 45 Gram
Ang Cho: 10 seeds
Ginger slices: 8 Iris (2mm thick)
Pig meat (Is In) / Chicken chect : 60 Gram
Water: 8 Glass
Materials to be washed clean and in boiled fire with small (It's better with the slow
Cooker) and the use of clay pot (POT USE NO METAL!). Until the remaining 2 Glass.
Raw material be removed only taken water.
How to drink:
Wake up in the morning sleeping in the empty stomach, drink 1 Glass
The night before bed drink 1 cup again.
Number of days:
Drinking every day for 24 days (24 Set)
After drinking for 24 days (24 Set), can be repeated once every 2 hours 12 set, for
maintenance.
After I set my lap 24 by phone Hospital that I must have been in cathetrization , and
a schedule has been provided, with a very careful not known I check my blood back
in the hospital laboratory truly surprising results, where the red and 2 live that
slightly above the threshold limit of the above.
After that I to calm myself, and I go back to the hospital and in the Medistra
cathetrization wrist, entered the lapse to the heart, and a similarsyringe liquids that
can change colors, so we can see where the clog through the TV as a monitor.
Suddenly the Professor said: Why not have a blocked yes! .... Praised God, said in
my heart, apparently owing to the prescription O PEK BOK Nie impasse in the vein I
work smoothly again, and the thickness of blood, I also overcame.
Now, once every 2 monthI check my heart with result normal EKG, blood normal
thickness. Blood pressure 120/90, results of blood checks have everything back to
normal.
With the hope that this paper can help friends who have experienced similar things,
and for those who are in the Ring / Stand can also drinking to maintain.
O PEK BOK NIE (OBAT PENYUMBATAN ATERI)
Francis Kiem/Indonesia Media
Tulisan ini saya sadurkan berdasarkan
pengalaman saya yang baru saya alami 6
Bulan lalu, dan mungkin bermanfaat bagi
teman-teman kita yang mengalami hal yang
sama seperti saya dan dapat menyembuhkan
dengan biaya yang sangat terjangkau.
Pada 6 bulan lalu saya memeriksakan diri
pada seorang ahli jantung di RS Medistra, hal
ini saya lakukan mengingat usia saya sudah
mencapai 55 thn. Dimana banyak temanteman selifting di SMP sudah pada
menghadap ke Sang Pencipta dikarenakan
penyakit yang sama saya alami, dan tragisnya
mereka semuanya dipanggil rata-rata di
kantor sedang berkarya.
Hasil pemeriksaan pada waku itu, Pemeriksaan Laboratorium Darah, semuanya
merah, hanya beberapa yang masih hijau. Trigliserin, SGPT, SGOT, Asam Urat,
Kolesterol, Tekanan Darah 180/120 semuanya merah.EKG kocar kacir sehingga saya
dianjurkan untuk memeriksa Klep jantung dan tebal dinding jantung, ternyata baik
dan dikirimlah saya ke Scanning jantung, hasilnya sangat mengejutkan dan saya divonnis pembuluh darah di jantung mampet sebanyak 70%, dan disarankan di
kateter untuk dimasukan Ring / Stand sebanyak 3 bh, dimana per Ring / Stand
seharga Rp. 30 juta belum termasuk ongkos kerja.
Alhasil akibat iseng untuk mengecek jantung, malah menjadi pikiran, mana anak
masih kuliah, piaran anjing banyak dan seorang istri yang menurut saya sangat
sayang sekali untuk ditinggalkan, mulailah saya membongkar laci-laci mendiang Ibu
yang tercinta ... ketemulah secarik kertas dengan tulisan kanji dengan rapi di map
surat-surat penting, mulailah saya mencari orang yang dapat membacanya ...
ternyata setelah diterjemah OBAT PENYUMBATAN PEMBULUH DARAH JAMUR HITAM
PUTIH.
Bahan-bahan resep O PEK BOK NIE :
Jamur hitam putih : 45 Gram
Ang Cho : 10 Biji
Irisan Jahe : 8 Iris (tebal 2mm)
Daging Babi/Sapi Fille : 60 Gram
Air : 8 Gelas
Bahan dicuci bersih dan di godok dengan api kecil (Lebih baik dengan slow cooker)
dan mengunakan panci dari tanah liat (TIDAK BOLEH PAKAI PANCI LOGAM!!).
Hingga tersisa 2 Gelas. Bahan-bahannya dibuang hanya diambil airnya.
Cara minum :
Pagi bagun tidur dalam keadaan perut kosong,
minum 1 Gelas
Malam sebelum tidur minum 1 gelas
lagi.Jumlah hari :Minum setiap hari selama 24
hari (24 Set)
Setelah minum selama 24 hari (24 Set),
dapat diulang setiap 2 bulan sekali 12 set,
untuk maintainance.
Setelah saya meminum 24 set saya ditelpone
oleh Rumah Sakit bahwa saya sudah harus di
kateter, dan jadwalnya telah disediakan,
dengan hati yang sangat tidak karuan saya
memeriksa ulang darah di Laboratorium RS di bilangan Kemayoran, sunguh
mengagetkan hasilnya, dimana yang merah tinggal 2 dan itupun diatas sedikit dari
ambang batas atas.
Setelah itu saya bertekat untuk menenangkan diri, dan pergilah saya kembali ke RS
Medistra dan di kateter dari pergelangan tangan, dimasukan selang hingga ke
jantung, kemudian disemprotkan sejenis cairan yang dapat merubah warna sehingga
kita dapat melihat dimana yang tersumbat melalui monitor seperti TV. Tiba-tiba sang
Professor berkata : Lho kok tidak ada yang mampet ya! .... Puji Tuhan, saya berkata
dalam hati, ternyata berkat meminum resep O PEK BOK NIE kebuntuan di pembuluh
darah saya berhasil lancar kembali, dan kepekatan darah saya juga teratasi.
Sekarang setiap 2 blan sekali saya mengecek jantung saya dengan hasi EKG normal,
Kepekatan darah normal. Tekanan darah 120/90, Hasil pengecekan darah sudah
kembali normal semuanya.
Dengan tulisan ini semoga dapat membantu teman-teman yang mengalami hal
serupa, dan bagi yang sudah di Ring/Stand dapat juga meminumnya untuk menjaga.