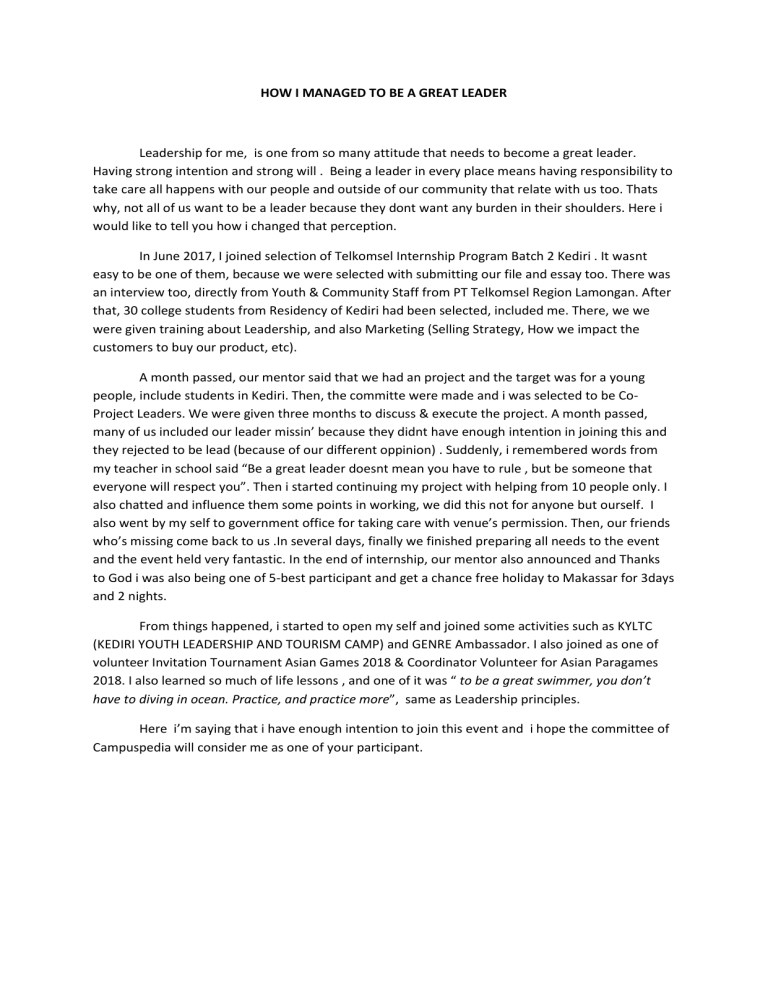 HOW I MANAGED TO BE A GREAT LEADER
Leadership for me, is one from so many attitude that needs to become a great leader.
Having strong intention and strong will . Being a leader in every place means having responsibility to
take care all happens with our people and outside of our community that relate with us too. Thats
why, not all of us want to be a leader because they dont want any burden in their shoulders. Here i
would like to tell you how i changed that perception.
In June 2017, I joined selection of Telkomsel Internship Program Batch 2 Kediri . It wasnt
easy to be one of them, because we were selected with submitting our file and essay too. There was
an interview too, directly from Youth & Community Staff from PT Telkomsel Region Lamongan. After
that, 30 college students from Residency of Kediri had been selected, included me. There, we we
were given training about Leadership, and also Marketing (Selling Strategy, How we impact the
customers to buy our product, etc).
A month passed, our mentor said that we had an project and the target was for a young
people, include students in Kediri. Then, the committe were made and i was selected to be CoProject Leaders. We were given three months to discuss & execute the project. A month passed,
many of us included our leader missin' because they didnt have enough intention in joining this and
they rejected to be lead (because of our different oppinion) . Suddenly, i remembered words from
my teacher in school said "Be a great leader doesnt mean you have to rule , but be someone that
everyone will respect you". Then i started continuing my project with helping from 10 people only. I
also chatted and influence them some points in working, we did this not for anyone but ourself. I
also went by my self to government office for taking care with venue's permission. Then, our friends
who's missing come back to us .In several days, finally we finished preparing all needs to the event
and the event held very fantastic. In the end of internship, our mentor also announced and Thanks
to God i was also being one of 5-best participant and get a chance free holiday to Makassar for 3days
and 2 nights.
From things happened, i started to open my self and joined some activities such as KYLTC
(KEDIRI YOUTH LEADERSHIP AND TOURISM CAMP) and GENRE Ambassador. I also joined as one of
volunteer Invitation Tournament Asian Games 2018 & Coordinator Volunteer for Asian Paragames
2018. I also learned so much of life lessons , and one of it was " to be a great swimmer, you don't
have to diving in ocean. Practice, and practice more", same as Leadership principles.
Here i'm saying that i have enough intention to join this event and i hope the committee of
Campuspedia will consider me as one of your participant.