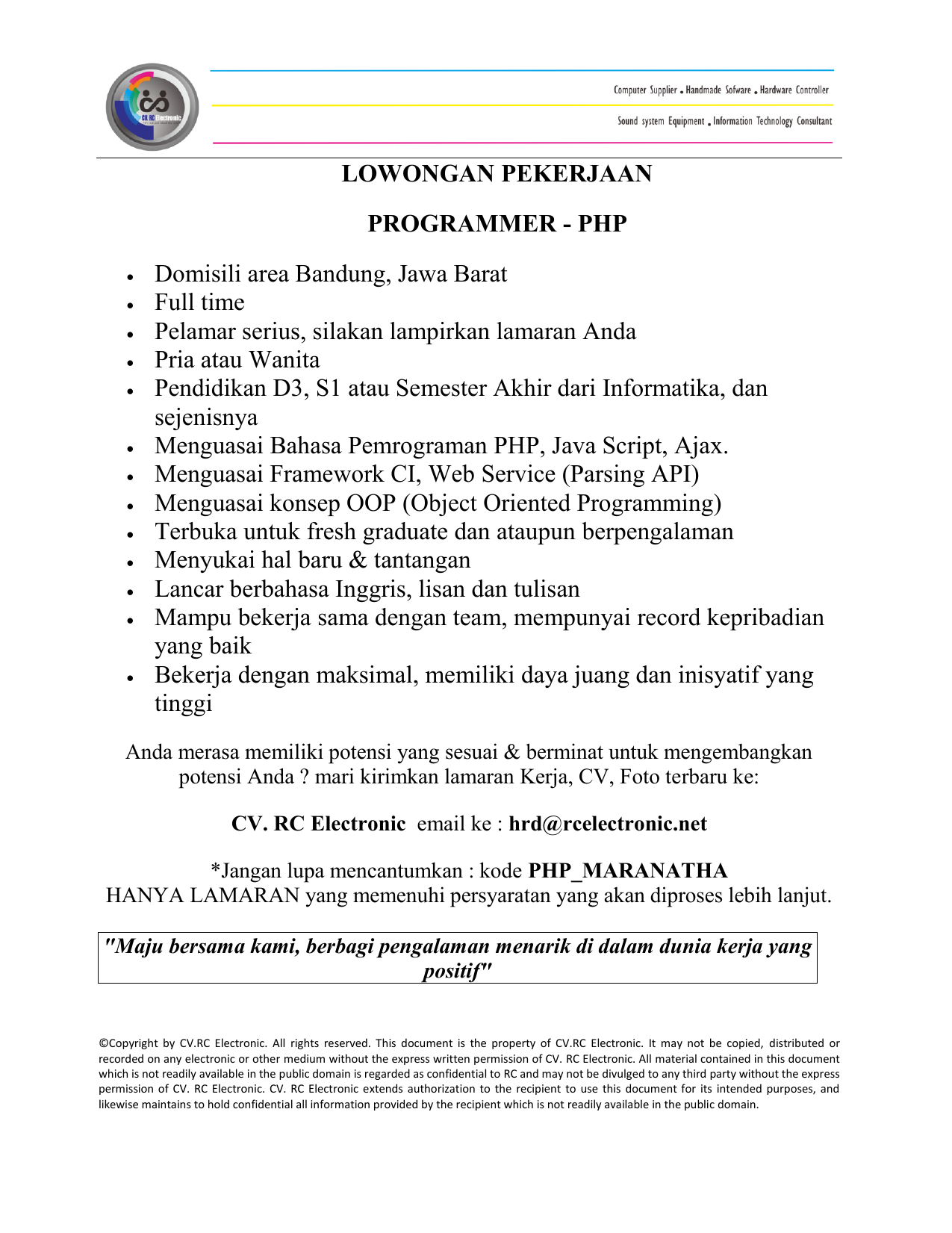 LOWONGAN PEKERJAAN
PROGRAMMER - PHP













Domisili area Bandung, Jawa Barat
Full time
Pelamar serius, silakan lampirkan lamaran Anda
Pria atau Wanita
Pendidikan D3, S1 atau Semester Akhir dari Informatika, dan
sejenisnya
Menguasai Bahasa Pemrograman PHP, Java Script, Ajax.
Menguasai Framework CI, Web Service (Parsing API)
Menguasai konsep OOP (Object Oriented Programming)
Terbuka untuk fresh graduate dan ataupun berpengalaman
Menyukai hal baru & tantangan
Lancar berbahasa Inggris, lisan dan tulisan
Mampu bekerja sama dengan team, mempunyai record kepribadian
yang baik
Bekerja dengan maksimal, memiliki daya juang dan inisyatif yang
tinggi
Anda merasa memiliki potensi yang sesuai & berminat untuk mengembangkan
potensi Anda ? mari kirimkan lamaran Kerja, CV, Foto terbaru ke:
CV. RC Electronic email ke : [email protected]
*Jangan lupa mencantumkan : kode PHP_MARANATHA
HANYA LAMARAN yang memenuhi persyaratan yang akan diproses lebih lanjut.
"Maju bersama kami, berbagi pengalaman menarik di dalam dunia kerja yang
positif"
©Copyright by CV.RC Electronic. All rights reserved. This document is the property of CV.RC Electronic. It may not be copied, distributed or
recorded on any electronic or other medium without the express written permission of CV. RC Electronic. All material contained in this document
which is not readily available in the public domain is regarded as confidential to RC and may not be divulged to any third party without the express
permission of CV. RC Electronic. CV. RC Electronic extends authorization to the recipient to use this document for its intended purposes, and
likewise maintains to hold confidential all information provided by the recipient which is not readily available in the public domain.