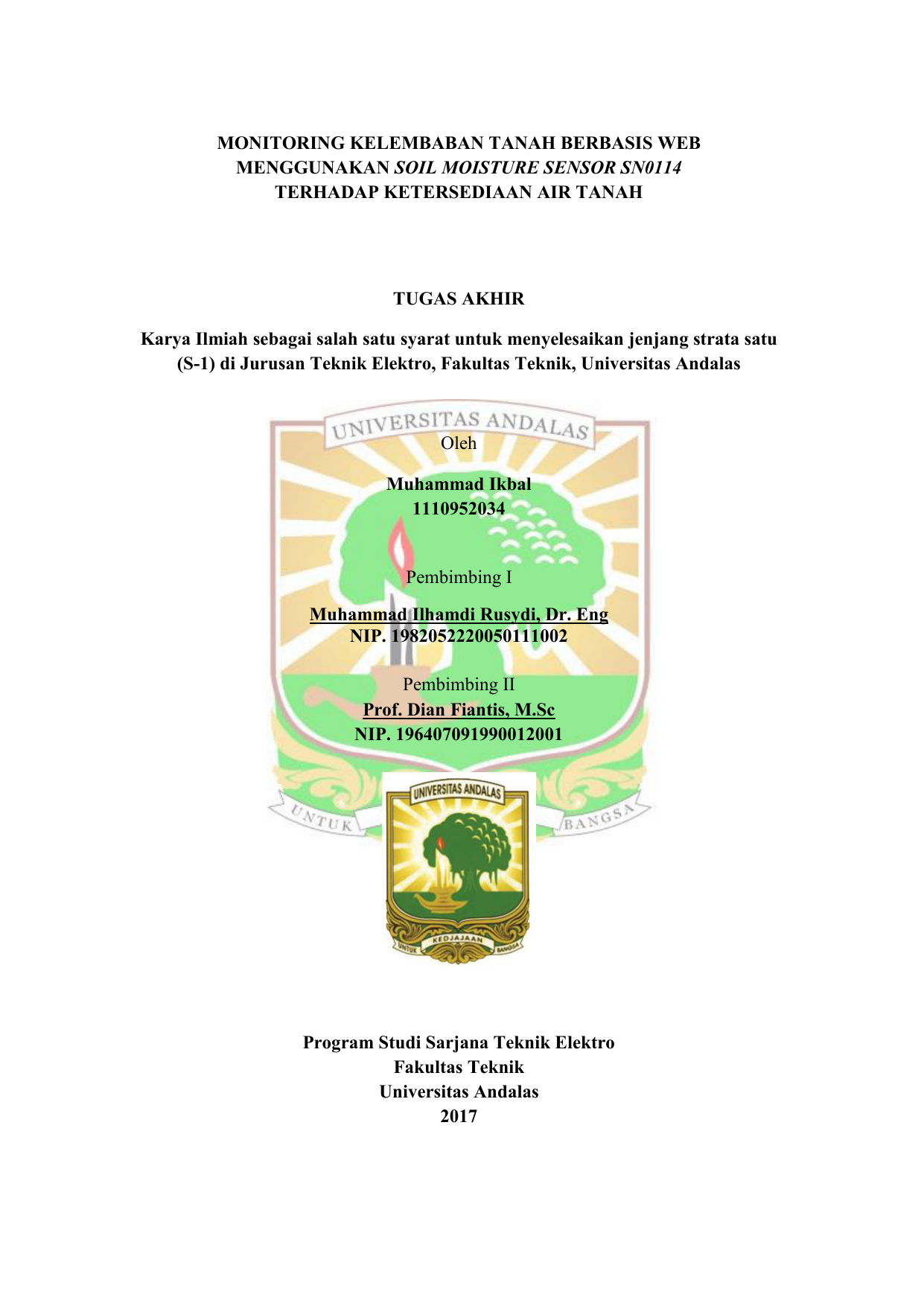 MONITORING KELEMBABAN TANAH BERBASIS WEB
MENGGUNAKAN SOIL MOISTURE SENSOR SN0114
TERHADAP KETERSEDIAAN AIR TANAH
TUGAS AKHIR
Karya Ilmiah sebagai salah satu syarat untuk menyelesaikan jenjang strata satu
(S-1) di Jurusan Teknik Elektro, Fakultas Teknik, Universitas Andalas
Oleh
Muhammad Ikbal
1110952034
Pembimbing I
Muhammad Ilhamdi Rusydi, Dr. Eng
NIP. 1982052220050111002
Pembimbing II
Prof. Dian Fiantis, M.Sc
NIP. 196407091990012001
Program Studi Sarjana Teknik Elektro
Fakultas Teknik
Universitas Andalas
2017
ABSTRAK
Penentuan karakteristik tanah memerlukan waktu lama, sumber daya manusia
(SDM) yang terampil, dan biaya yang besar untuk penyediaan bahan kimia dan alat
pengukurnya. Karakteristik tanah terdiri dari morfologi, fisika, kimia dan
komposisi mineral yang didapatkan melalui pengamatan di lapangan dan analisis
laboratorium. Data yang akurat diperlukan untuk penyusunan basis data tanah,
penentuan kesuburan tanah, penilaian kapabilitas dan kesesuaian lahan berbagai
tanaman komoditi pertanian, pembuatan peta tematik tanah dan lain-lain. Sampai
saat ini, penentuan karakteristik tanah masih dilakukan secara konvensional sesuai
prosedur atau protokol baku, sehingga dinilai tidak efisien dan efektif. Penelitian ini
mengembangkan Sistem Informasi Ilmu Tanah (SI Ita) yang dapat memberikan
data kelembapan terukur pada tanah dengan kondisi basah, lembap dan kering pada
tanah Ultisol, Andisol dan Entisol. SI Ita dirancang dan dikembangkan
menggunakan kode program C pada mikrokontroler Arduino untuk mengambil data
analog yang terbaca pada sensor SN0114. Kode program python digunakan pada
single board computer Raspberry pi untuk mengambil data yang ada pada
mikrokontroler Arduino, kemudian mendistribusikan data melalui single board
computer dan disimpan pada Local Area Network (LAN) dan Web Service,
sehingga dapat di akses oleh masyarakat umum. Dengan pemanfaatan alat
pengukur kelembapan secara digital dan penyimpanan serta distribusi data secara
digital akan mampu menghemat biaya serta efisiensi waktu dalam melakukan
pengukuran kelembapan tanah.
Kata Kunci : Andisol, entisol, kelembapan tanah, mikrokontroler ardiuino,
raspberry pi, sensor SN0114, ultisol, web service.
ABSTRACT
Determination of soil characteristics takes a long time, skilled human resources
(HR), and a large cost for the supply of chemicals and measuring instruments. Soil
characteristics consist of morphology, physics, chemistry and mineral composition
obtained through field observation and laboratory analysis. Accurate data is needed
for the compilation of soil data base, soil fertility determination, capability
assessment and land suitability of various agricultural commodity crops, making
land thematic maps and others. Until now, the determination of soil characteristics is
still done conventionally according to standard procedure or protocol, so it is
considered inefficient and effective. This research developed Soil Science
Information System (SI Ita) which can provide measurable moisture data on soil
with wet, damp and dry conditions on Ultisol, Andisol, and Entisol soils. SI Ita was
designed and developed using the C program code on the Arduino micro controller
to retrieve analog data read on the SN0114 sensor. The python program code is used
on a single board computer Raspberry Pi to retrieve existing data on the Arduino
micro controller, then distribute data via a single board computer and stored on a
Local Area Network (LAN) and Web Service, so that it can be accessed by the
society. With the utilization of digital humidity measuring devices and the storage
and distribution of data digitally will be able to save costs and time efficiency in
measuring soil moisture.
Keywords : Andisol, arduino micro controller, entisol, raspberry pi, SN 0114 sensor,
soil moisture, ultisol, web service.