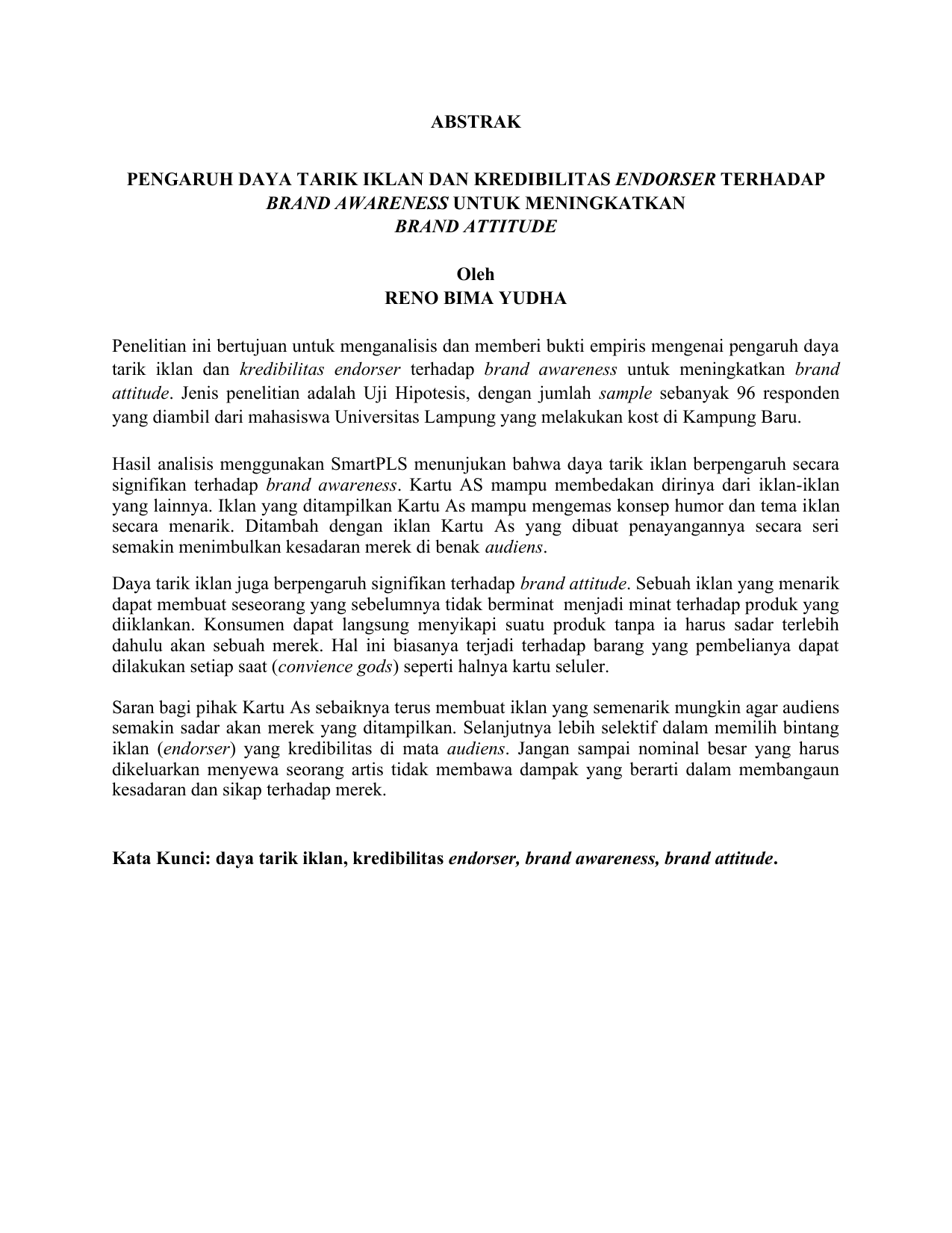 ABSTRAK
PENGARUH DAYA TARIK IKLAN DAN KREDIBILITAS ENDORSER TERHADAP
BRAND AWARENESS UNTUK MENINGKATKAN
BRAND ATTITUDE
Oleh
RENO BIMA YUDHA
Penelitian ini bertujuan untuk menganalisis dan memberi bukti empiris mengenai pengaruh daya
tarik iklan dan kredibilitas endorser terhadap brand awareness untuk meningkatkan brand
attitude. Jenis penelitian adalah Uji Hipotesis, dengan jumlah sample sebanyak 96 responden
yang diambil dari mahasiswa Universitas Lampung yang melakukan kost di Kampung Baru.
Hasil analisis menggunakan SmartPLS menunjukan bahwa daya tarik iklan berpengaruh secara
signifikan terhadap brand awareness. Kartu AS mampu membedakan dirinya dari iklan-iklan
yang lainnya. Iklan yang ditampilkan Kartu As mampu mengemas konsep humor dan tema iklan
secara menarik. Ditambah dengan iklan Kartu As yang dibuat penayangannya secara seri
semakin menimbulkan kesadaran merek di benak audiens.
Daya tarik iklan juga berpengaruh signifikan terhadap brand attitude. Sebuah iklan yang menarik
dapat membuat seseorang yang sebelumnya tidak berminat menjadi minat terhadap produk yang
diiklankan. Konsumen dapat langsung menyikapi suatu produk tanpa ia harus sadar terlebih
dahulu akan sebuah merek. Hal ini biasanya terjadi terhadap barang yang pembelianya dapat
dilakukan setiap saat (convience gods) seperti halnya kartu seluler.
Saran bagi pihak Kartu As sebaiknya terus membuat iklan yang semenarik mungkin agar audiens
semakin sadar akan merek yang ditampilkan. Selanjutnya lebih selektif dalam memilih bintang
iklan (endorser) yang kredibilitas di mata audiens. Jangan sampai nominal besar yang harus
dikeluarkan menyewa seorang artis tidak membawa dampak yang berarti dalam membangaun
kesadaran dan sikap terhadap merek.
Kata Kunci: daya tarik iklan, kredibilitas endorser, brand awareness, brand attitude.
ABSTRACT
INFLUENCE ATTRACTIVENESS ADVERTISING AND CREDIBILITY ENDORSER
AGAINST BRAND AWARENESS TO INCREASE
BRAND ATTITUDE
BY
RENO BIMA YUDHA
This research aimed at analyzing and give empirical evidence on the influence of magnetism to
brand is endorsed by advertising and credibility to raise awareness brand attitude. Test the
hypothesis, is the kind of research with a sample about 96 respondents taken from university
student who performs in lampung lodging kampung new.
The result analysis using smartpls show that the attraction advertising influential significantly
against brand awareness. As card could distinguish him from ads others. Advertising shown as
card able to package concept humor and theme advertising in interesting. Coupled with
advertising as card made in series getting consciousness raising brand on audience mind.
Allure also affect significantly against advertising brand attitude. An advertisement that attracts
can make someone who formerly became interest in no mood to products that is advertised.
Consumers can directly addressing a product without conscious beforehand he must be a brand.
It generally occurs on goods which can be implemented any time (convience gods) as the cards
cellular.
Suggestion for the ace should continue to make advertising interesting than probably mindful
brand audience to be published. More selective in choosing is endorsed by advertising ( star )
credibility in the eyes of the audience. Lest nominal rent large issued an artist must not take
effect means in attitude toward consciousness and brand.
Keywords: attractiveness advertising, credibility endorsed, brand awareness, brand attitude.