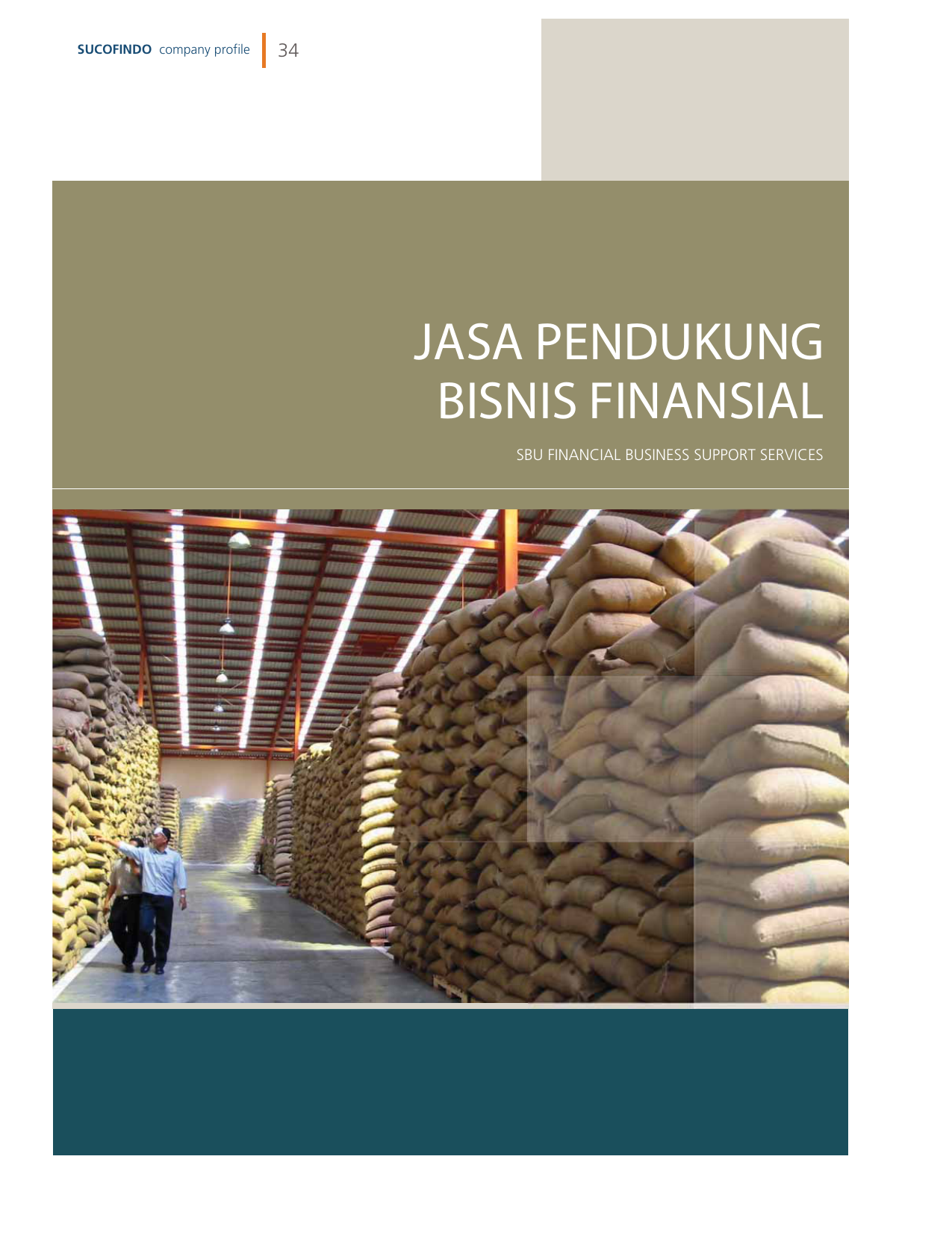 SUCOFINDO company profile
34
JASA PENDUKUNG
BISNIS FINANSIAL
SBU FINANCIAL BUSINESS SUPPORT SERVICES
35
Profile
JASA PENDUKUNG BISNIS FINANSIAL
FINANCIAL BUSINESS SUPPORT SERVICES
Menjembatani kepentingan penjual dan pembeli,
kreditur dan debitur dalam melakukan transaksi
perdagangan, pendanaan modal usaha atau
investasi baik domestik maupun internasional.
Sebagai jasa independent pihak ketiga guna
mendukung lembaga finansial dan pihak lain yang
memberikan fasilitas pembiayaan untuk modal
usaha atau investasi.
Our services bridge the interests of sellers and
buyers, creditors and debitors who are transacting
domestic or international trade programs or
investment programs. As the third party, we provide
independent services to financial institutions and to
other business identities by providing budgeting
facilities or business capital or investment.
Verifikasi atau Pemeriksaan Persediaan
Stock Verification or Stock Opname
Penentuan kuantitas dan kualitas suatu persediaan
dengan metode/teknik sesuai dengan jenis
persediaan.
We can ascertain the quantity and quality of stocks
by applying certain methods/techniques according
to the type of stock.
Pemantauan Persediaan atau Agunan
Stock or Collateral Monitoring
Pemantauan mutasi barang, pengecekan kuantitas
dan kondisi fisik barang selama jam kerja dengan
system kunci ganda guna menjamin keamanan.
We can monitor the movements of stocks, and tract
the quantity and condition of the stocks during the
business day with a double lock system to
guarantee stock security.
Manajemen Persediaan atau Agunan
Stock or Collateral Management
Jasa terpadu yang dilaksanakan pada tempat
penyimpanan (gudang, stockyard,tangki darat
maupun silo) meliputi survey kelayakan gudang,
draught survey, pengawasan
pembongkaran/pemuatan.penimbangan barang
baik di pelabuhan maupun di tempat penyimpanan.
Our integrated services conducted in the storage
areas (warehouse, stockyard, shore-tanks and silos)
include warehouse feasibility inspection, draught
survey, the supervision of loading, unloading, or
weighing of shipments within the port or transit
storage areas.
SUCOFINDO company profile
36
Pemantauan Proyek
Project Investment Monitoring
Pemeriksaan berkala terhadap kemajuan suatu
proyek investasi.
We provide periodical inspections to report the
progress of project's investments.
Evaluasi Bisnis
Business Valuation
Studi mendalam terhadap bisnis yang sedang
berjalan sebagai masukan yang dapat digunakan
oleh berbagai pihak.
We conduct an depth-study on the running of the
businesses to provide inputs for various purposes.
Jasa lainnya
Other Services
Pemantauan atas komoditas atau proyek yang
dikemas sesuai kebutuhan pelanggan yang
berkenaan dengan pendanaan oleh lembaga
finansial maupun non-finansial.
We monitor the commodity or project to suit
customer's need in association with the funding
process from either financial or non-financial
institutions.