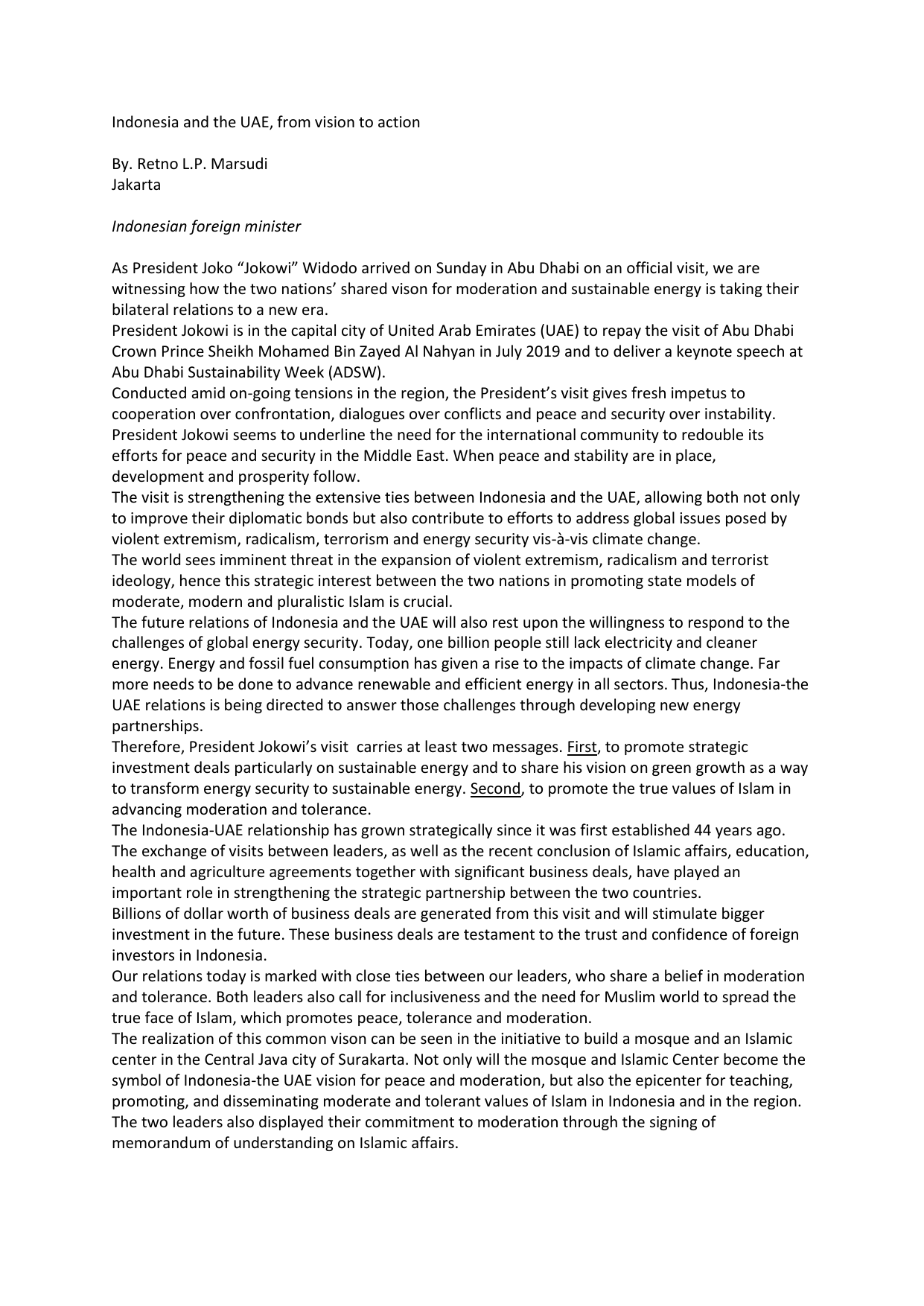 Indonesia and the UAE, from vision to action
By. Retno L.P. Marsudi
Jakarta
Indonesian foreign minister
As President Joko "Jokowi" Widodo arrived on Sunday in Abu Dhabi on an official visit, we are
witnessing how the two nations' shared vison for moderation and sustainable energy is taking their
bilateral relations to a new era.
President Jokowi is in the capital city of United Arab Emirates (UAE) to repay the visit of Abu Dhabi
Crown Prince Sheikh Mohamed Bin Zayed Al Nahyan in July 2019 and to deliver a keynote speech at
Abu Dhabi Sustainability Week (ADSW).
Conducted amid on-going tensions in the region, the President's visit gives fresh impetus to
cooperation over confrontation, dialogues over conflicts and peace and security over instability.
President Jokowi seems to underline the need for the international community to redouble its
efforts for peace and security in the Middle East. When peace and stability are in place,
development and prosperity follow.
The visit is strengthening the extensive ties between Indonesia and the UAE, allowing both not only
to improve their diplomatic bonds but also contribute to efforts to address global issues posed by
violent extremism, radicalism, terrorism and energy security vis-à-vis climate change.
The world sees imminent threat in the expansion of violent extremism, radicalism and terrorist
ideology, hence this strategic interest between the two nations in promoting state models of
moderate, modern and pluralistic Islam is crucial.
The future relations of Indonesia and the UAE will also rest upon the willingness to respond to the
challenges of global energy security. Today, one billion people still lack electricity and cleaner
energy. Energy and fossil fuel consumption has given a rise to the impacts of climate change. Far
more needs to be done to advance renewable and efficient energy in all sectors. Thus, Indonesia-the
UAE relations is being directed to answer those challenges through developing new energy
partnerships.
Therefore, President Jokowi's visit carries at least two messages. First, to promote strategic
investment deals particularly on sustainable energy and to share his vision on green growth as a way
to transform energy security to sustainable energy. Second, to promote the true values of Islam in
advancing moderation and tolerance.
The Indonesia-UAE relationship has grown strategically since it was first established 44 years ago.
The exchange of visits between leaders, as well as the recent conclusion of Islamic affairs, education,
health and agriculture agreements together with significant business deals, have played an
important role in strengthening the strategic partnership between the two countries.
Billions of dollar worth of business deals are generated from this visit and will stimulate bigger
investment in the future. These business deals are testament to the trust and confidence of foreign
investors in Indonesia.
Our relations today is marked with close ties between our leaders, who share a belief in moderation
and tolerance. Both leaders also call for inclusiveness and the need for Muslim world to spread the
true face of Islam, which promotes peace, tolerance and moderation.
The realization of this common vison can be seen in the initiative to build a mosque and an Islamic
center in the Central Java city of Surakarta. Not only will the mosque and Islamic Center become the
symbol of Indonesia-the UAE vision for peace and moderation, but also the epicenter for teaching,
promoting, and disseminating moderate and tolerant values of Islam in Indonesia and in the region.
The two leaders also displayed their commitment to moderation through the signing of
memorandum of understanding on Islamic affairs.
Cooperation to instill noble Islamic values that reject violent extremism but promote tolerance and
help raise Muslim's level of understanding on moderation will be conducted through exchange of
experience and expertise, capacity building for Imam, maintenance and management of mosques,
introduction of Islam and demonstration of its merits as well as moderation and management of
endowments.
At present, the most important thing is to strengthen unity of the people and encourage more
inclusiveness. This is what Indonesia and the UAE want to achieve in our immediate future
cooperation.
Indonesia and the UAE also put the great importance on sustainable energy. The strategic relations
between the two countries have a lot of opportunities and elements of development, which are very
promising to invest in, especially because the two countries aim to secure sustainable energy.
Both leaders envision that the relations between Indonesia and the UAE could represent a platform
for growth and progress in sustainable energy.
During the ADSW keynote speech, President Jokowi reiterated the need to find the middle way to
bridge between development and solution to climate change. President Jokowi also convinced that
there will be no green growth without sustainable development, there will be no sustainable
development without sustainable energy as there will be no sustainable energy without sustainable
cooperation.
It is in this spirit that both leaders agreed for the two countries' sustainable cooperation in new and
renewable energy.
As for concrete exemplary, Masdar and PT Pembangkit Jawa-Bali (PJBi) just signed a contract to
construct the world's largest floating solar photovoltaic power plant – generating only clean energy
and reducing carbon footprint of the region. This technology hopefully will also be replicated in
other several water reservoirs in Indonesia.
As both leaders of Indonesia and the UAE move to build on 44 years old of relations, all of us must
help them turn this noble vision into action.