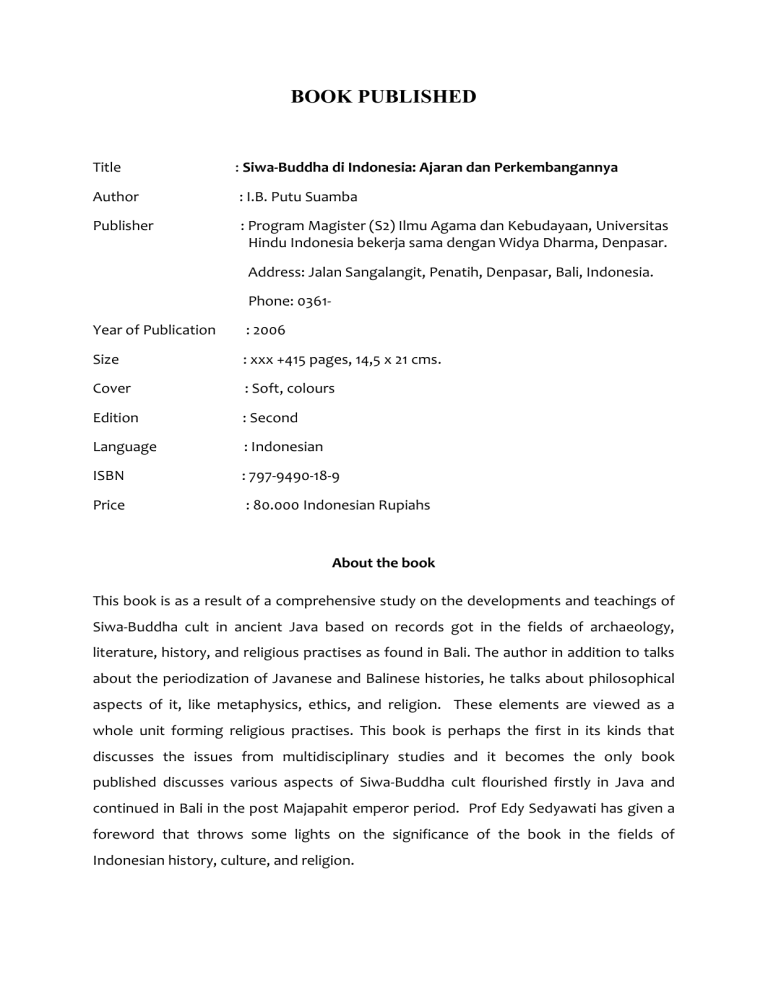 BOOK PUBLISHED
Title
: Siwa-Buddha di Indonesia: Ajaran dan Perkembangannya
Author
: I.B. Putu Suamba
Publisher
: Program Magister (S2) Ilmu Agama dan Kebudayaan, Universitas
Hindu Indonesia bekerja sama dengan Widya Dharma, Denpasar.
Address: Jalan Sangalangit, Penatih, Denpasar, Bali, Indonesia.
Phone: 0361-
Year of Publication
: 2006
Size
: xxx +415 pages, 14,5 x 21 cms.
Cover
: Soft, colours
Edition
: Second
Language
: Indonesian
ISBN
: 797-9490-18-9
Price
: 80.000 Indonesian Rupiahs
About the book
This book is as a result of a comprehensive study on the developments and teachings of
Siwa-Buddha cult in ancient Java based on records got in the fields of archaeology,
literature, history, and religious practises as found in Bali. The author in addition to talks
about the periodization of Javanese and Balinese histories, he talks about philosophical
aspects of it, like metaphysics, ethics, and religion. These elements are viewed as a
whole unit forming religious practises. This book is perhaps the first in its kinds that
discusses the issues from multidisciplinary studies and it becomes the only book
published discusses various aspects of Siwa-Buddha cult flourished firstly in Java and
continued in Bali in the post Majapahit emperor period. Prof Edy Sedyawati has given a
foreword that throws some lights on the significance of the book in the fields of
Indonesian history, culture, and religion.