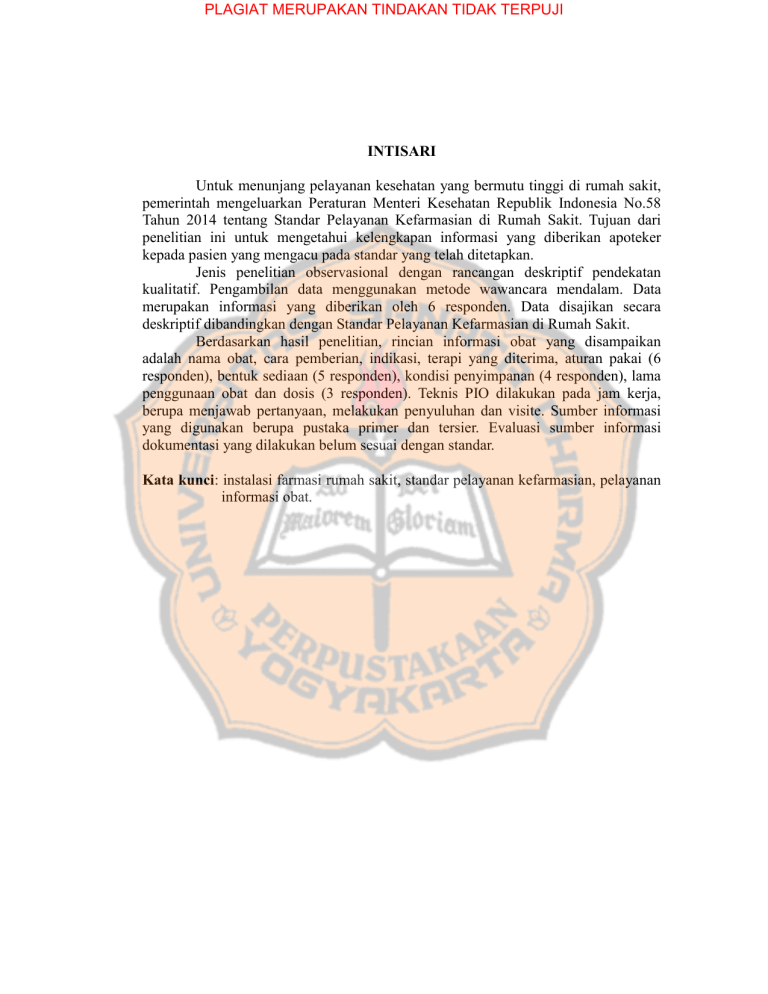 PLAGIAT MERUPAKAN TINDAKAN TIDAK TERPUJI
INTISARI
Untuk menunjang pelayanan kesehatan yang bermutu tinggi di rumah sakit,
pemerintah mengeluarkan Peraturan Menteri Kesehatan Republik Indonesia No.58
Tahun 2014 tentang Standar Pelayanan Kefarmasian di Rumah Sakit. Tujuan dari
penelitian ini untuk mengetahui kelengkapan informasi yang diberikan apoteker
kepada pasien yang mengacu pada standar yang telah ditetapkan.
Jenis penelitian observasional dengan rancangan deskriptif pendekatan
kualitatif. Pengambilan data menggunakan metode wawancara mendalam. Data
merupakan informasi yang diberikan oleh 6 responden. Data disajikan secara
deskriptif dibandingkan dengan Standar Pelayanan Kefarmasian di Rumah Sakit.
Berdasarkan hasil penelitian, rincian informasi obat yang disampaikan
adalah nama obat, cara pemberian, indikasi, terapi yang diterima, aturan pakai (6
responden), bentuk sediaan (5 responden), kondisi penyimpanan (4 responden), lama
penggunaan obat dan dosis (3 responden). Teknis PIO dilakukan pada jam kerja,
berupa menjawab pertanyaan, melakukan penyuluhan dan visite. Sumber informasi
yang digunakan berupa pustaka primer dan tersier. Evaluasi sumber informasi
dokumentasi yang dilakukan belum sesuai dengan standar.
Kata kunci: instalasi farmasi rumah sakit, standar pelayanan kefarmasian, pelayanan
informasi obat.
PLAGIAT MERUPAKAN TINDAKAN TIDAK TERPUJI
ABSTRACT
To support a high-quality health service, the government announced
Peraturan Menteri Kesehatan Republik Indonesia no.58 Tahun 2014 concerning on
standard of pharmaceutical service in a hospital. The purpose of this research is to
acknowledge the information completeness given by pharmacists to the patients
according to the established standards.
This is an observational research with qualitative arrangement. The data
gathered by in-depth interview method. The data here are in form of information
given by 6 respondents. The data are set descriptively and compared to the
established standard of pharmaceutical service in a hospital.
Based on the research, the specification of medicine information which was
stated were the name of medicine, application method, indication, received therapy,
usage regulations (6 respondents), storage condition (4 respondents), period of usage,
and dose (3 respondents). PIO technique was applied in working time, in form of
answering questions, consultation, and visiting. The used sources of information were
primary and tertiary literature. The evaluation of documented source of information
does not suit the standard yet.
Keywords: pharmacy department, the standard of pharmaceutical service, drug
information service.