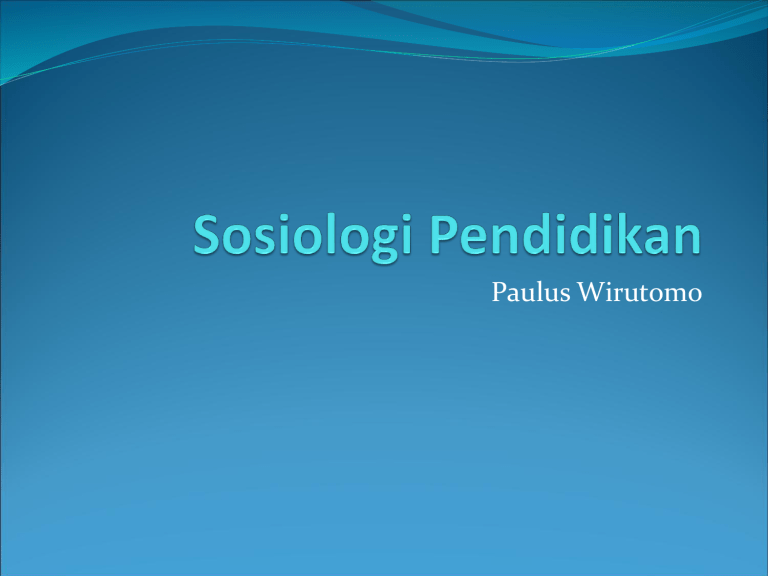 Paulus Wirutomo
Pendahuluan
 Pendidikan :
 Formal (sekolah)
 Non Formal (kursus)
 Informal (lingkungan sosial)
Sosiologi:
 struktur: institusi lain, peraturan, stratifikasi dan
diferensiasi , demografi dari luar (institusionalisasi)
 Kultur: nilai, norma, kebiasaan, kepercayaan  dari
dalam (internalisasi)
 Proses: dinamika interaksi antar manusia dan institusi
Mengapa Sosiologi?
 Sociology is about perspective sociological
imagination
 Commonense  beyond commonsense
 seeing the general in the particular
 Seeing the strange in the familiar
 Seeing the personal choice in social context
* Sociological Perspectives
Functionalism
 masyarakat adalah sistem
Pendidikan punya fungsi: menanamkan
nilai, mempersiapkan masyarakat ,
mobilitas dsb.
Stratifikasi punya punya fungsi
Pendidikan bersifat "meritocratic"
Pendidikan = Human Capital
Pendidikan  modernisasi
Conflict perspective
Marxian, Weberian:
 Meritokrasi tidak menghilangkan
kesenjangan/kemiskinan (differential ach)
Coleman: yang mempengaruhi prestasi
murid: Rumah, teman bermain, guru ,
sekolah.
Sekolah menciptakan "social reproduction"
Weberian: konsep Cultural Capital
PW:"Why schooling is not always
educating?"
Micro Sociology of Education
(new?)
Symbolic interaction,
Phenomenology
Black box
Interpretive  subjective meaning
Social order is a negotiated order
Definition of the situation
School Culture
Postmodernism
 Educ= dutiful child of Enlightement?
 Critical, relativist , sceptic (chaotic?)
 Anti modernisasi = anti metanarrative
 Unclear what they are, clear what they are
against!
 No single truth!  curriculum?
 Useful knowledge not ideology (seeking
truth)
 Multiculturalism?