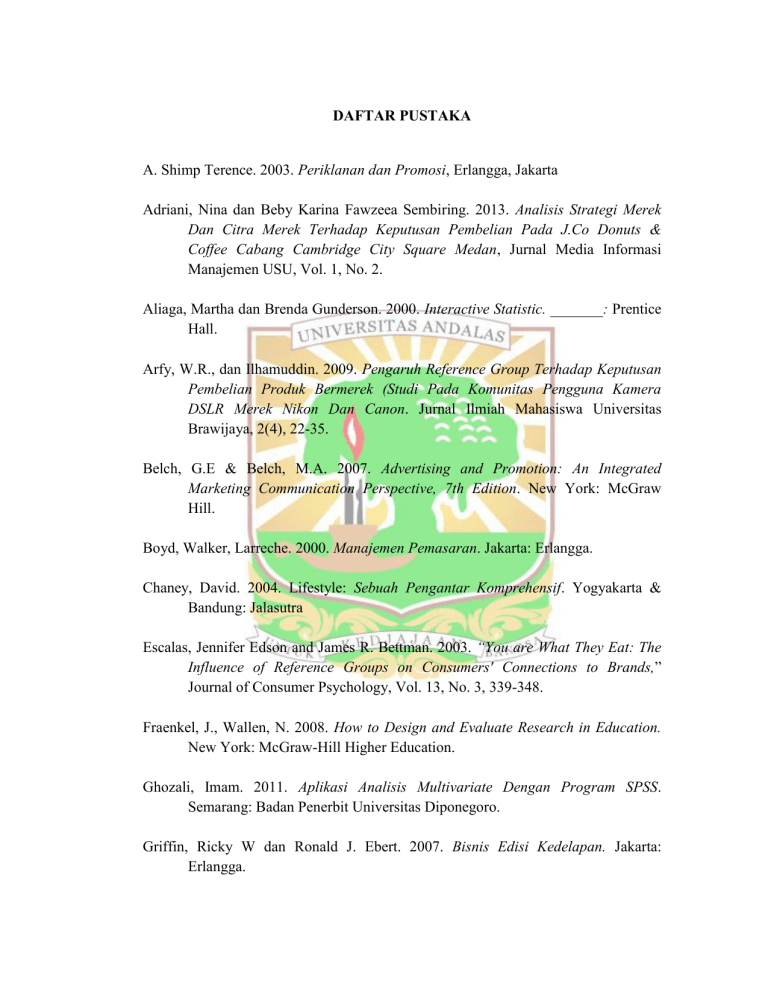 DAFTAR PUSTAKA
A. Shimp Terence. 2003. Periklanan dan Promosi, Erlangga, Jakarta
Adriani, Nina dan Beby Karina Fawzeea Sembiring. 2013. Analisis Strategi Merek
Dan Citra Merek Terhadap Keputusan Pembelian Pada J.Co Donuts &
Coffee Cabang Cambridge City Square Medan, Jurnal Media Informasi
Manajemen USU, Vol. 1, No. 2.
Aliaga, Martha dan Brenda Gunderson. 2000. Interactive Statistic. _______: Prentice
Hall.
Arfy, W.R., dan Ilhamuddin. 2009. Pengaruh Reference Group Terhadap Keputusan
Pembelian Produk Bermerek (Studi Pada Komunitas Pengguna Kamera
DSLR Merek Nikon Dan Canon. Jurnal Ilmiah Mahasiswa Universitas
Brawijaya, 2(4), 22-35.
Belch, G.E & Belch, M.A. 2007. Advertising and Promotion: An Integrated
Marketing Communication Perspective, 7th Edition. New York: McGraw
Hill.
Boyd, Walker, Larreche. 2000. Manajemen Pemasaran. Jakarta: Erlangga.
Chaney, David. 2004. Lifestyle: Sebuah Pengantar Komprehensif. Yogyakarta &
Bandung: Jalasutra
Escalas, Jennifer Edson and James R. Bettman. 2003. "You are What They Eat: The
Influence of Reference Groups on Consumers' Connections to Brands,"
Journal of Consumer Psychology, Vol. 13, No. 3, 339-348.
Fraenkel, J., Wallen, N. 2008. How to Design and Evaluate Research in Education.
New York: McGraw-Hill Higher Education.
Ghozali, Imam. 2011. Aplikasi Analisis Multivariate Dengan Program SPSS.
Semarang: Badan Penerbit Universitas Diponegoro.
Griffin, Ricky W dan Ronald J. Ebert. 2007. Bisnis Edisi Kedelapan. Jakarta:
Erlangga.
Hair, J., W. Black, Et Al., 2009. Multivariate Data Analysis, New Jersey: Prentice
Hall.
Hayat, Afra Wibawa Makna. 2013. Pengaruh Lokasi dan Citra Merek Terhadap.
Keputusan Pembelian Pada Distro OUVAL RESEARCH di Buah Batu.
Bandung.
Kotler, Philip dan Armstrong, Gary. 2008. Prinsip-prinsip Pemasaran. Jilid 1 dan
2.Edisi 12. Jakarta: Erlangga.
Kotler, philip & Kevin Lare Keller. 2007. Manajemen pemasaran. Edisi Dua Belas
Jilid 1. Alih Bahasa Benyamin Molan. Jakarta: Indeks.
Kotler, P., dan K. L. Keller. 2012. Marketing Management, 14th edition, Pearson
Prentice Hall, New Jersey.
Keller, P., dan Kevin Lane. 2009. Marketing Management 13th Edition. Pearson
Prentice Hall.
Mowen, John.C dan Michael Minor. 2002. Consumer Behaviour. Alih Bahasa Lina
Salim. Jakarta: Erlangga.
Nicolino, Patricia. F. 2004. Brand Management (The Complete Ideal's Guide).
Jakarta: Prenada Media.
Oktavianto, Yuda. 2013. "Pengaruh Word Of Mouth Terhadap Keputusan Pembelian
Konsumen Pada Usaha Mie Ayam Pak Agus Di Kota Batu", Jurnal
Manajemen Bisnis, Vol. 3, No. 1.
Ouwersloot, Hans, Anamaria Tudorica, 2001. Brand Personality Creation Through
Advertising. Maxx Working Paper Series.
Peter, J.Paul, Olson, Jerry C, 2005. Consumer Behaviour: Perilaku Konsumen dan
Strategi Pemasaran, Edisi. Jilid 2, Erlangga.
Rangkuti, F. 2002. The Power of Brands. Jakarta: PT. Gramedia Pustaka Utama.
Rorlen. 2007. Peran Kelompok Acuan dan Keluarga terhadap Proses Keputusan
untuk Membeli. Jurnal Bisnis dan Manajemen Bunda Mulia, Vol: 3, No. 2.
Santoso, dan Ashari. 2005. Analisis Statistik dengan Microsoft Exel dan SPSS.
ANDI: Yogyakarta.
Schiffman dan Kanuk. 2008. Perilaku konsumen. Edisi 7. Jakarta: Indeks.
Schiffman dan Kanuk. 2010. Perilaku Konsumen. Jakarta: PT. INDEK.
Sekaran, Uma. 2006. Metodologi Penelitian untuk Bisnis, Edisi 4, Buku 2, Jakarta:
Salemba Empat.
Sernovitz. 2009. Word of Mouth Marketing. Jakarta: Gramedia Pustaka Utama.
Silverman, George. 2001. The Secret Of Word Of Mouth Marketing : How To Trigger
Exponential Sales Through Runaway Word Of Mouth. AMACOM, United
Sates of America.
Strong, Carolyn A. dan Eftychia , Sidira. 2005. The Influence of Family and Friends
on Teenage Smoking in Greece: Some Preliminary Findings. Marketing
Intelligence & Planning Vol. 24 No. 2, 2006 pp. 119-126
Sugiyono. 2004. Metode Penelitian Bisnis. Cetakan kedelapan. Bandung: CV
Alfabet.
Sugiyono. 2007. Statistika Untuk Penelitian. Bandung: Alfabeta.
Sugiyono. 2013. Metode Penelitian Bisnis. Alfabeta. Bandung.
Tjiptono, Fandy. 2002. Strategi Pemasaran. Yogyakarta: Penerbit Andi.
Zamil, Ahmad M. 2011. The Impact of Word of Mouth (WOM) on the Purchasing
Decision of the Jordanian Consumer. Jordania. Universitas Yarmouk.
http://indonesia.rotiboy.com/ diakses pada 14 Februari 2016.
https://lutfi117.wordpress.com/2011/09/17/roti-boy-enak-juga/ diakses pada 19 Juni
2016.