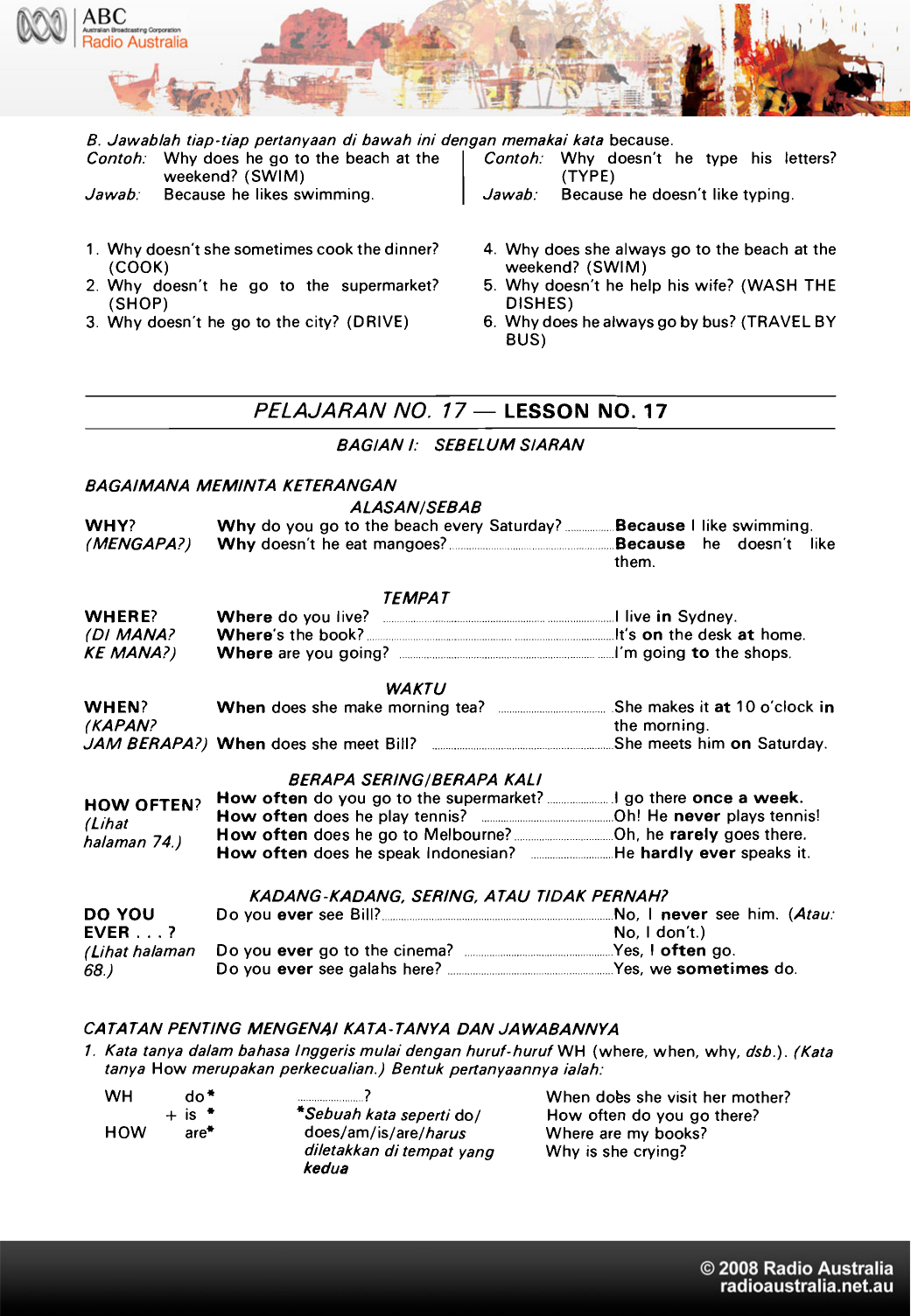 67
B. Jawablah tiap-tiap pertanyaan di bawah ini dengan memakai kata because.
Contoh: Why does he go to the beach at the
Contoh: Why doesn't he type his letters?
Jawab:
I
weekend? (SWIM)
Because he likes swimming.
(TYPE)
Because he doesn't like typing.
Jawab:
1. Why doesn't she sometimes cook the dinner?
(COOK)
2. Why doesn't he go to the supermarket?
(SHOP)
3. Why doesn't he go to the city? (DRIVE)
4. Why does she always go to the beach at the
weekend? (SWIM)
5. Why doesn't he help his wife? (WASH THE
DISHES)
6. Why does he always go by bus? (TRAVEL BY
BUS)
PELAJARAN NO, 17 -
LESSON NO. 17
BAGIAN I: SEBELUM SIARAN
BAGAIMANA MEMINTA KETERANGAN
ALASANISEBAB
WHY?
(MENGAPA?)
Why do you go to the beach every Saturday?
Why doesn't he eat mangoes?
Because I like swimming.
Because he doesn't like
them.
TEMPAT
WHERE?
(DI MANA?
KE MANA?)
Where do you live?
Where's the book? ...
Where are you going?
WHEN?
When does she make morning tea?
.. 1 live in Sydney.
............ I1's on the desk at home.
. . ..... .........I·m going to the shops.
WAKTU
She makes it at 10 o'clock in
the morning.
......She meets him on Saturday.
(KAPAN?
JAM BERAPA?) When does she meet Bill? ......
BERAPA SERINGIBERAPA KALI
HOW OFTEN?
(Lihat
halaman 74.)
How
How
How
How
often
often
often
often
do you go to the supermarket?
does he play tennis? ..
does he go to Melbourne?
.
does he speak Indonesian?
1 go there once a week.
.. Oh! He never plays tennis!
.....Oh. he rarely goes there.
He hardly ever speaks it.
KADANG-KADANG, SERING, ATAU TIDAK PERNAH?
DO YOU
EVER ... ?
Do you ever see Bill?
(Lihat halaman
Do you ever go to the cinema?
Do you ever see galahs here? .
68.)
.
....No. I never see him. (Atau:
No. I don't.)
yes. , often go.
yes. we sometimes do.
CA TATAN PENTlNG MENGENAI KA TA· TANYA DAN JAWABANNYA
1. Kata tanya dalam bahasa Inggeris mulai dengan huruf-huruf WH (where. when. why. dsb.). (Kata
tanya How merupakan perkecualian.) Bentuk pertanyaannya ialah:
WH
HOW
+
do * . . . 7 is *
"Sebush kata seperti dol
are*
does/am/is/arelharus
diletakkan di tempat yang
kedua
When does she visit her mother?
How often do you go there?
Where are my books?
Why is she crying?
68
2. Perhatikan da/am sa/ah satu jawaban atas pertanyaan How often? dipakai ungkapan hardly ever.
Ungkapan ini berarti hampir tidak pernah. Da/am urutan yang berdasarkan sering tidaknya sesuatu itu
terjedi. hardly ever menduduki tempat
ini
NEVER
HARDLY EVER
RARELY SELDOM
'---------y-­
SOMETIMES
USUALLY
OFTEN ALWAYS
I
(Kata-kata ini hampir sama artinya.
Hardly ever paling sering dipakai.)
3. Perhatikan pemakaian kata ever da/am pertanyaan Do you ever .... ? Kata ini dipakai ka/au kite
bertanya tentang sesuatu kegiatan dan kite tidak tahu apakah orang yang kita tanyai me/akukan
kegiatan itu sebagai kebiasaan atau tidak. Kata ever hanya dapat dipakai da/am pertanyaan atau
da/am jawaban yang menyangka/: No, not ever (= never).
4. Pertanyaan-pertanyaan ini
masing-masing meminta
keterangan yang berbeda.
HOW OFTEN? -------+---+Catatan: Pertanyaan How
(Berapa ka/i sesuatu itu terjadi/
often? tidak dapat dijawab
di/akukan?)
dengan Yes atau No.
DO YOU EVER?------f---Pertanyaan ini dijawab
(Apakah sesuatu itu terjadi/
dengan Yes atau No dan
mungkin diikuti dengan
keterangan /ebih /anjut.
di/akukan?)
HOW OFTEN? I know John goes to the
beach.
How often does he go?
-Oh, he goes once a week.
DO YOU EVER? I don't know John very well.
Does he ever go to the
beach?
-Yes, he often goes.
Lagu kedua pertanyaan di atas juga berbeda. Perhatikan/ah!
Do you ever gp"ther~?
How often do you g'q there~
[HAUw_OFan da
vo GOU dhea]
[da yUw_EVa GOU dhea]
Coba dengar perbedaan antara kedua /agu ini da/am pe/ajaran radio.
5..... KALI SE . . . . = ... TI M ES A .. iCetetsn: Kita tidak mengatakan one time. tetapi ONCE.
Kita tidak mengatakan two times, tetapi TWICE).
once a month [WANS_a MANTH] = seka/i sebu/an
twice a year [TWAIS_a 2'la] = dua ka/i setahun
three times a day [THRI TAIMl_a DEI] = tiga ka/i sehari
four times a week [FO TAl Ml_aWIK] = empat ka/i seminggu
BERS/AP-S/APLAH UNTUK MENDENGAR KATA-KATA DAN UNGKAPAN-UNGKAPAN /N/
DALAM S/ARAN
where's [WEal]
hardly ever [HADliLEVa]
where are [WEara] ever [EVe]
disagree [disaGRI]
= tidak sependapat/
tidak setuju
go out [GOUw_AUT] = ke/uar
arrive [aRAIV] = tiba/sampai
69
BAGIAN 1/: SESUDAH SIARAN
PERBENDAHARAAN KA TATA MBAHAN
a key [a KT) = kunci
put [PUT] = menaruh/meletakkan
wonder [WANda] = bertanya-tanya/ingin tahu
finish [FINisy] = selesai
NAMA HARI
Sunday [SANdei]
Monday [MANdei]
Tuesday [TYOZdei]
Wednesday [WENZdei]
Thursday [TH8zdei]
Friday [FRAldei]
Saturday [SA:Tadei]
DAN
Here they are! [Hla dheiyj\] = Ini dial
Whereabouts? [WEaraBAUTS] Di mana? ((Lihat
catatan 2
di bawah)
NAMA BULAN
January [JA:Nyuwari]
February [FEBruwari]
March [MAC]
April [Elpral]
May [MEI]
June [JON]
July [jeLAI]
August [Ogast]
September [sepTEMba]
October [okTOUba]
November [nouVEMba]
December [daSEMba]
KATA-KATA DAN UNGKAPAN-UNGKAPAN YANG BERGUNA DALAM PERCAKAPAN
1. I wonder. Artinya saya ingin tshu, atau kadang-kadang berarti saya bertanya-tanya dalam hati.
(Seperti dalam bahasa Indonesia "Apakah gerangan ... ?")
2. Whereabouts? Kata ini merupakan pertanyaan yang lengkap. Kadang-kadang jawaban atas
pertanyaan Where tidak memberikan keterangan yang cukup. Untuk memperoleh keterangan yang
tepat kits bertenve Whereabouts?
PERCAKA PAN
IWAN:
Do you ever eat mangoes?
HELEN: Oh, yes. I often eat them in summer.
How often?
IWAN:
H ELEN: Oh, two or three times a week.
IWAN:
Sometimes just twice, eh? What about in winter?
HELEN: No. Not in winter. I never eat mangoes in winter.
IWAN:
Why?
HELEN: Because here in Australia we've only got mangoes in summer!
LATlHAN
A. Kalimat-kalimat di bawah ini merupakan jawaban atas pertanyaan. Buatlah pertanyaannya. Pakailah
ungkapan When, Where, How often atau Do you ever.
Contoh:
I eat rice every day.
Pertanyaan: How often do you eat rice?
1. He lives in Indonesia.
2. She meets him at five o'clock.
3. No, I never study on Sunday.
B.
4. He goes there once a week.
5. She studies at the university.
6. Yes, I sometimes visit them.
Lengkapkanlah kalimat-kalimat di bawah ini dengan menuliskan in, on atau at.
Contoh:
Jawab:
1.
2.
3.
4.
5.
6.
7.
8.
She meets him..
She meets him
.
at
5 o'clock every day.
5 o'clock every day.
She plays tennis...
. ..Saturday morning.
.
night.
He watches TV...
He always relaxes..
.....the afternoon.
She makes morning tea
. 10 o'clock.
.
the table.
There's a book.;
It's hot here.
.
December.
.
the library.
He studies...
.. ....... 8 o'clock.. .
Come and see me.. .
....Friday night.
70
C.
Contoh:
Jawab:
How often do you go there? (3 : month)
I go there three times a month.
Contoh:
Jawab:
How often do you see her? (1 : week)
I see her once a week.
1. How
2. How
3. How
4. How
5. How
6. How
often
often
often
often
often
often
does she clean her house? (2 : week)
do they come here? (3 : year)
does he go to the cinema? (2 : month)
do you meet your friend? (I ... ) (1 : week)
does she visit her mother? (3 : week)
does he write to his brother? (1 : month)
PELAJARAN NO. 18 BAGIAN I:
LESSON NO. 18
SEBELUM SIARAN
MENGGAMBARKAN ORANG/BENDA (Ianjutan)
Masih ingat? Chris's tall.
(Pelajaran 7) lwan's short.
TETAPI
Helen's pretty.
The chicken's nice.
Kata keadaan/sifat
diletakkan di muka
kata benda.
Kata-kata kesdeenlsitet tall, short,
dsb. dapat diletakkan di belakang
kata kerja AM/IS/ARE bila tidak
diikuti oteh kata benda.
She's a nice woman.
He's a tall man.
We're busy students.
It's a big desk.
Perhatikan susunen ketenye. yang berbeda dengan bahasa Indonesia.
a
the
his
this
those
2
3
nice
young
married
comfortable
noisy
girl
man
sister
chair /
students
Catatan:
Susunan-susunan kete
ini bukan/ah kalimat
yang lengkap. Dalam siaran
kite akan berlatih dengan
susunan kata semacam ini,
dan juga dengan kalimat
yang lengkap, seperti ini:
She's a nice girl.
She likes the young
man.
I know his married
sister.
I like this comfortable
chair.
Those noisy students
are terrible.
CA TATAN:
1. Jangan lupa!
di muka huruf hidup: an_old man an_expensive radio
an jmportant lesson
Perhatikan: an_envelope -~ a white envelope; an_old envelope
2. Kita sering bertanya What colour is it? dan dalam jawabannya kita memakai warna untuk
menggambarkan sesuatu. Nama beberapa warna yang umum:
black
white
red
blue
green
yellow
brown
orange
AN
[B L.tEK]
[WAIT]
[RED]
[BLO]
[GRIN]
[YELou]
[BRAUN]
[ORinj]
=
hitam
= putih
= merah
= biru
= hijau
= kuning
= coklat
= jingga
What colour is your book?
.. It's red.
What colour is his car?
. It's yellow.
What colour is your teapot? .
.... It's black.
What colour are your cups? .
They're white.
What colour are their chairs?....... ..... They're brown.