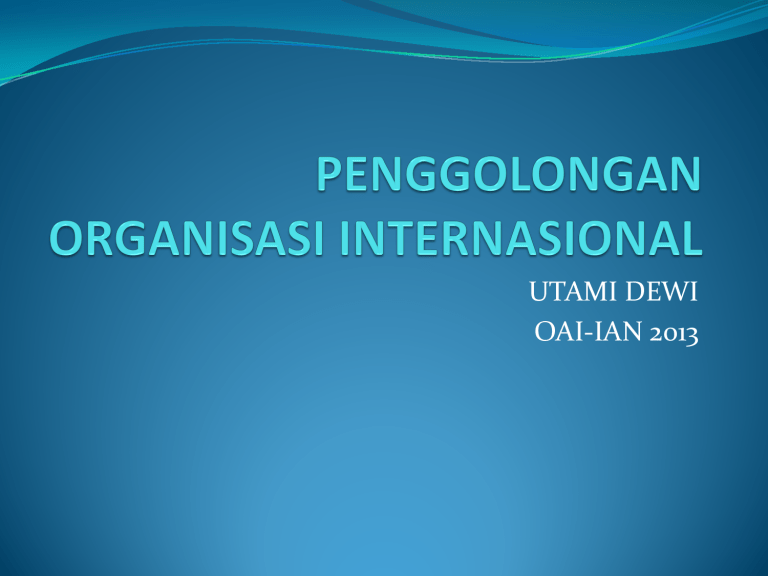 UTAMI DEWI
OAI-IAN 2013
MACAM-MACAM OI
A. Kegiatan administrasi
1.
Organisasi internasional antar pemerintah (inter
governmental organization).
Anggotanya adalah pemerintah atau instansi yang
mewakili pemerintah suatu negara secara resmi.
Ex: PBB, ASEAN, SAARC, OAU, NAM
2. Organisasi International non-pemerintah
(nInternational non-governmental Organization)/
INGO (International non-governmental
Organization).
INGO ini merupakan organisasi di bidang olah raga,
sosial, keagamaan, kebudayaan dan kesenian.
Kegiatan administrasinya diatur berlandaskan hukum
perdata.
ex; IBF, Dewan Masjid Sedunia, Dewan Gereja
Sedunia, Perhimpunan Donor Darah Sedunia.
B. Ruang Lingkup (Wilayah) Kegiatan dan keanggotaan
1. Organisasi International Global
Wilayah kegiatannya global dan keanggotaannya
terbuka dalam ruang lingkup di berbagai penjuru
dunia.
Ex: PBB (UNO), OKI (organization of Islamic
Conference/OIC), GNB (the non-aligned
movement/GNB)
2. Organisasi Internasional regional
Wilayah kegiatan adalah regional dan keanggotaannya
hanya bagi negara-negara pada kawasan tertentu saja.
Misalnya:
a. ASEAN
b. OAU (organization of African unity)
c. GCC (Gulf Cooperation Council)
d. EU (Eoropean union)
e. SAARC ( South-Asia Association for regional
Cooperation)
C. Bidang Kegiatan (operasional) organisasi
Bidang ekonomi:
KADIN Internasional ( International Chamber of
commerce), IMF, World Bank, ADB
2. Bidang lingkungan hidup
UNEP (United Nations Environmental program),
Greenpeace
3. Bidang kesehatan  WHO, IDF (International Dental
Federation)
1.
4. Bidang pertambangan  ITO (international timber
organization)
5. Bidang komoditi pertanian dan industri
international coffee organization/ ICO
6. Bidang bea cukai dan perdagangan internasional
a.GATT (Government Agreement on Tariffs and Trade)
b. WTO (World Trade Organization)
OI berdasarkan ruang lingkup (wilayah) dan bidang kegiatan
1. Organisasi internasional global-umum
mis: PBB
2. Organisasi internasional global khusus
ex: OPEC, ICRC, WHO, FAO
3. Organisasi internasional regional umum
ex: Asean, EU, Liga Arab
4. Organisasi internasional regional khusus
ex: AIPO (Asean Interparliamentary organization)
OAPEC (Organization of Arab Petroleum Exporting
Countries), PATA (Pacific Area Tourism and Travel Association)
D.