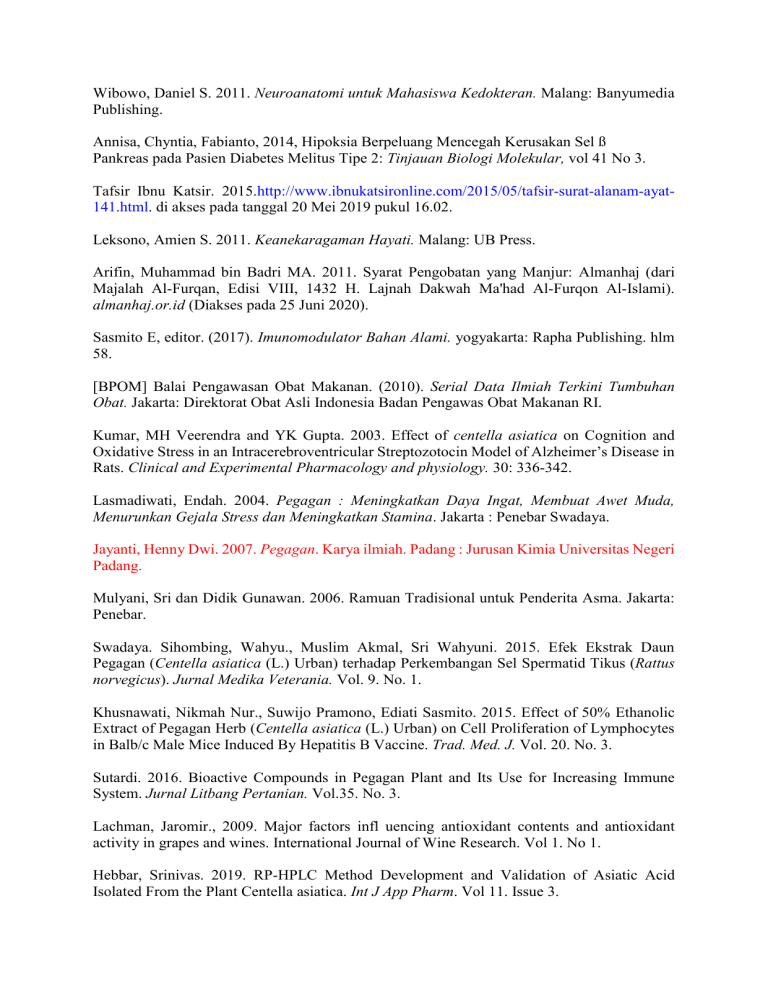 Wibowo, Daniel S. 2011. Neuroanatomi untuk Mahasiswa Kedokteran. Malang: Banyumedia
Publishing.
Annisa, Chyntia, Fabianto, 2014, Hipoksia Berpeluang Mencegah Kerusakan Sel ß
Pankreas pada Pasien Diabetes Melitus Tipe 2: Tinjauan Biologi Molekular, vol 41 No 3.
Tafsir Ibnu Katsir. 2015.http://www.ibnukatsironline.com/2015/05/tafsir-surat-alanam-ayat141.html. di akses pada tanggal 20 Mei 2019 pukul 16.02.
Leksono, Amien S. 2011. Keanekaragaman Hayati. Malang: UB Press.
Arifin, Muhammad bin Badri MA. 2011. Syarat Pengobatan yang Manjur: Almanhaj (dari
Majalah Al-Furqan, Edisi VIII, 1432 H. Lajnah Dakwah Ma'had Al-Furqon Al-Islami).
almanhaj.or.id (Diakses pada 25 Juni 2020).
Sasmito E, editor. (2017). Imunomodulator Bahan Alami. yogyakarta: Rapha Publishing. hlm
58.
[BPOM] Balai Pengawasan Obat Makanan. (2010). Serial Data Ilmiah Terkini Tumbuhan
Obat. Jakarta: Direktorat Obat Asli Indonesia Badan Pengawas Obat Makanan RI.
Kumar, MH Veerendra and YK Gupta. 2003. Effect of centella asiatica on Cognition and
Oxidative Stress in an Intracerebroventricular Streptozotocin Model of Alzheimer's Disease in
Rats. Clinical and Experimental Pharmacology and physiology. 30: 336-342.
Lasmadiwati, Endah. 2004. Pegagan : Meningkatkan Daya Ingat, Membuat Awet Muda,
Menurunkan Gejala Stress dan Meningkatkan Stamina. Jakarta : Penebar Swadaya.
Jayanti, Henny Dwi. 2007. Pegagan. Karya ilmiah. Padang : Jurusan Kimia Universitas Negeri
Padang.
Mulyani, Sri dan Didik Gunawan. 2006. Ramuan Tradisional untuk Penderita Asma. Jakarta:
Penebar.
Swadaya. Sihombing, Wahyu., Muslim Akmal, Sri Wahyuni. 2015. Efek Ekstrak Daun
Pegagan (Centella asiatica (L.) Urban) terhadap Perkembangan Sel Spermatid Tikus (Rattus
norvegicus). Jurnal Medika Veterania. Vol. 9. No. 1.
Khusnawati, Nikmah Nur., Suwijo Pramono, Ediati Sasmito. 2015. Effect of 50% Ethanolic
Extract of Pegagan Herb (Centella asiatica (L.) Urban) on Cell Proliferation of Lymphocytes
in Balb/c Male Mice Induced By Hepatitis B Vaccine. Trad. Med. J. Vol. 20. No. 3.
Sutardi. 2016. Bioactive Compounds in Pegagan Plant and Its Use for Increasing Immune
System. Jurnal Litbang Pertanian. Vol.35. No. 3.
Lachman, Jaromir., 2009. Major factors infl uencing antioxidant contents and antioxidant
activity in grapes and wines. International Journal of Wine Research. Vol 1. No 1.
Hebbar, Srinivas. 2019. RP-HPLC Method Development and Validation of Asiatic Acid
Isolated From the Plant Centella asiatica. Int J App Pharm. Vol 11. Issue 3.
Singh, Sakhsi., Asmita Gautam, Abhimanyu Sharma and Amla Batra. 2010. Centella asiatica
(L.): A Plant With Immense Medicinal Potential but Threatened. International Journal of
Pharmaceutical Sciences Review and Research. Volume 4. Issue 2. ISSN 0976 – 044X.
Roy, Dipankar Chandra., Shital Kumar Barman, Md. Munan Shaik. 2013. Current Updates on
Centella asiatica: Phytochemistry, Pharmacology and Traditional Uses. Medicinal Plant
Research. Vol.3, No.4, 20-36.
Prakash, Ved., Nishita Jaiswal and Mrinal Srivastava. 2017. A Review on Medicinal Properties
of Centella asiatica. Asian J Pharm Clin Res. Vol 10. Issue 10.
Gohil, Kahsmira J., Jagruti A. Patel and Anuradha K. Gajjar. 2010. Pharmacological Review
on Centella asiatica: A Potential Herbal Cureall. Indian Journal of Pharmaceutical Sciences.
Vol 1.
Warsiati, Wijiasih, Febriani, A., W.D.Rizka, A. 2010. Acuan Sediaan Herbal Edisi Pertama
Volume Kelima. Jakarta: BPOM RI; Skripsi Indra Farida, 2013. Efektivitas Ekstrak Etanol
Rimpang Alang-Alang (Imperata cylindrical) Sebagai Larvasida Nyamuk (Aedes aegypti L.)
Instar III.
Ditjen POM. 2000. Parameter Standar Umum Ekstrak Tumbuhan Obat. Cetakan Pertama.
Jakarta: Departemen Kesehatan RI. Halaman 3-5, 10-11.