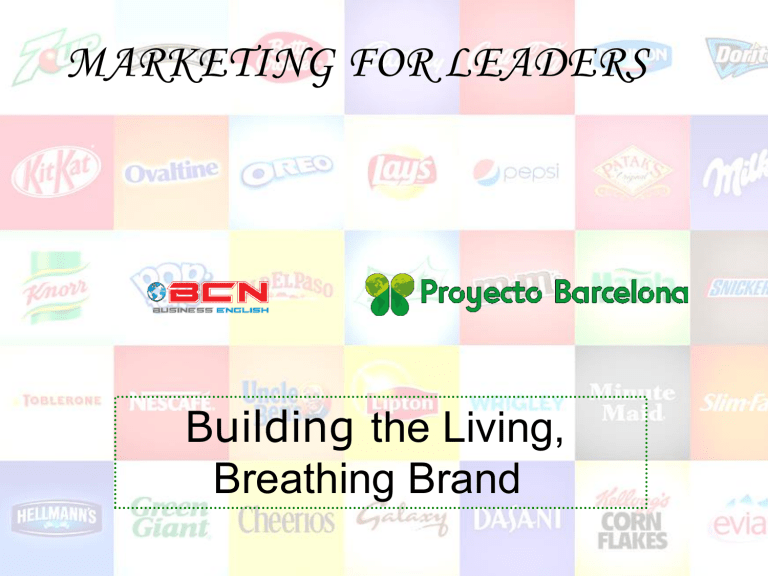 MARKETING FOR LEADERS
Building the Living,
Breathing Brand
PART 1:
HOW TO BUILD YOUR BRAND
EQUITY SYSTEM?
BRAND IS NOT JUST A PRODUCT
BRAND IS NOT JUST A LOGO NOR
IDENTITY
WHAT'S BRAND?
Activity: Who're you?
Describe yourself by:
•
•
•
•
•
Kind of food
Home appliance
Car
Sport
Country
BRAND ARCHITECTURE:
•
•
•
•
Family Brand
(Umbrella
Brand):
Pros/Cons.
Virgin Group
Unilever
Apple
Automotive
industry.
Corporate
Brand
• Vodafone
• Coca cola
• Johnson &
Johnson
• Starbucks
• Fedx
• Facebook
Product Brand:
Pros/Cons
• Dove
• Chipsy
• Lipton
BRAND ARCHITECTURE:
BRAND ARCHITECTURE:
BRAND PORTFOLIOS:
Flankers (Fighters)
Cash-Cows
Low-End Entry Level
High End Prestige
WHAT'S BRANDING?
•It's s the marketing practice of creating
a name, symbol or design that
identifies and differentiates a product
from other products.
•"Branding is the art of aligning what
you want people to think about your
company with what people actually
think about your company."
BRANDING VS MARKETING
• Marketing may contribute to a brand, but
the brand is bigger than any particular
marketing effort. The brand = remains
after the marketing has swept through the
room. It's what sticks in your mind
associated with a product, service, or
organization—whether or not, at that
particular moment, you bought or did not
buy.
• The brand is ultimately what determines if
you will become a loyal customer or not.
•The marketing may convince you to buy a
particular Toyota, but it is the brand that
will determine if you will only buy Toyotas
BRANDING VS MARKETING
• Is branding a cost centre ?
On the surface, yes, but the
return is loyalty.
The return is
-Sales people whose jobs are
easier and more effective,
-Employees who stay longer
and work harder,
-Customers who become
ambassadors and advocates
for the organization.
HOW TO CREATE A BRAND NAME?
1. DIFFERENTIATED
2. MEANINGFUL
3. LONGEVITY
4. IMAGERY
5. EMOTIONAL
6. MUSICAL
7. TRADEMARK-ABLE
DON'TS IN BRAND NAMES:
1. SPELLING-CHALLENGED: Twyxt – Houzz - Svbtle
2. COPYCAT: Yammer
3. RESTRICTIVE: 24-Hour Fitness – 99c –
Diapers.com
4. ANNOYING: combinations of initials.
5. TAME: unimaginative , descriptive: Cloud Now DocuSign
6. CURSE OF KNOWLEDGE: Mzinga – Eukanuba –
SPQR restaurant
7. HARD TO PRONOUNCE: Xobni
PART 2:
HOW TO BUILD YOUR BRAND
IDENTITY?
BRAND IDENTITY SYSTEM
WHAT'S BRAND IDENTITY
BRAND IDENTITY TRAPS
BRAND IDENTITY PERSPECTIVES
THE IDENTITY STRUCTURE
VALUE PROPOSITION
BRAND IDENTITY SYSTEM
WHAT'S BRAND IDENTITY
BRAND IDENTITY TRAPS
BRAND IDENTITY PERSPECTIVES
THE IDENTITY STRUCTURE
VALUE PROPOSITION
BRAND IDENTITY DEFINITION
A unique set of brand associations that the
brand strategist aspires to create or maintain.
These associations represent what the brand
stands for and imply a promise to customers from
the organization members.
It should help establish a relationship between the
brand and the customer by generating a value
proposition involving functional, emotional, or selfexpressive benefits"
Domestic/ Honest/
Genuine/ Cheerful
Sincerity
Tough/ Strong/ Ruggedn
ess
Outdoorsy
Sophis
ticatio
n
Glamorous/
Presentation/
Charming/
Romantic
Brand
Person
ality
Excitement
Daring/
Spirited/
Imaginative/
Up-to-date
Competen
ce
Reliable/
Responsible/
Dependable/
Efficient
BRAND IDENTITY SYSTEM
WHAT'S BRAND IDENTITY
BRAND IDENTITY TRAPS
BRAND IDENTITY PERSPECTIVES
THE IDENTITY STRUCTURE
VALUE PROPOSITION
BRAND IDENTITY TRAPS
Brand
Image
Trap
External
Perspecti
ve Trap
Brand
Identity
traps
Product
attributes
fixation
trap
Brand
Position
Trap
1. BRAND IMAGE TRAP
• Brand image is how customers perceive the brand
Brand Image
passive and looks
to the past
Tends to be tactical
Might not be salient
Brand Identity
Should be active and look to the future,
reflecting associations aspired for brand
Should be strategic, reflecting a business
strategy leading to sustainable
advantage
Should reflect brand's enduring qualities
1. BRAND IMAGE TRAP
• A brand image trap results when efforts to go beyond the brand
image are lacking.
•The brand image becomes the brand identity rather than just one
input to be considered
• Tommy Hilfiger once removed the logo of their shirt to introduce
some new design in the market. They did not realize that the
identity of the brand as perceived by the customer was a shirt
with logo on it. The new strategic move did not go so well, that
they had to come back to the logo. This is an answer that Image is
a subset of brand identity but not the brand identity.
• Companies have to focus on more than what their customers
want, but also reflect the soul and vision of the brand.
1. BRAND IMAGE TRAP
Brand Image Trap will be avoided by
making sure that the LEGO Group
develops innovative toys, which suit the
target audience and remains focus on the
soul and vision of the brand.
In that connection it is not enough "just" to
know what the customers want, but just as
important to maintain the brand vision
and mission.
Thus the LEGO Group has to focus on
developing toys that make the target
audience inspire to explore and
challenge their creative potentials
2. BRAND POSITION TRAP
The brand position trap occurs:
• occurs when the search for brand identity becomes the
search for brand position, stimulated by a practical need to
give objectives to the developing of communications.
•In that connection the goal becomes an advertising tag
line rather than a brand identity.
• This trap reduces the progress of a full brand identity, as
the management.
•There is often no space to consider brand personality,
organizational associations, or brand symbols.
• i.e.: Protector is not known as a brand, but by it's positioned
as "the strong paint".
3. EXTERNAL PERSPECTIVE TRAP
Most of brand strategies position the brand identity creation
as an entirely external oriented process. Something that gets
the customers to buy.
• The external perspective trap occurs:
when firms fail to realize the role that a brand identity can play
in helping an organization understand its basic values and
purpose is hard to expect employees to make a vision happen if
they do not understand and buy into that vision.
•Gillette, in the organization they encourage the employees to
grow beard so that they can test the quality of the product and
whether its attributes are in relation the brand identity.
4. PRODUCT ATTRIBUTE FIXATION TRAP
• A brand is clearly more than a product
or a service. Focusing your entire
strategy and brand identity on the
attributes of your product is an
erroneous strategy, especially on a longterm.
• Complications:
• Failure to differentiate
•Easy to copy
•Assume a rational consumer
•Limit brand extension strategies.
BRAND IDENTITY SYSTEM
WHAT'S BRAND IDENTITY
BRAND IDENTITY TRAPS
BRAND IDENTITY PERSPECTIVES
THE IDENTITY STRUCTURE
BRANDS MODEL:
Bonding
Can it offer
something
better than
others?
Does it offer
something to
me?
Advantage
Performance
Nothing
else
beats it?
Can it
deliver?
Relevance
Presence
Do you know
about it?
BRAND ASSET VALUATOR MODEL:
Brand Stature (past performance):
1. Esteem: How the brand is
regarded?
Brand
Strength
2. Knowledge: How familiar/
intimate consumers with the brand?
Brand Strength (future):
3. Differentiation: Different from
others.
4. Relevance: Breadth of brand's
appeal: Does it offer me something?
Niche /
Unrealized Leadership
potential
New /
Unfocused
Eroding
Brand
Stature
AAKER MODEL:
Brand
as
product
Brand as
symbol
Brand
Identity
System
Brand
as
Person
Brand as
organizat
ion
BRAND AS A PRODUCT
Perspective
Product Scope
Description
- Associations with product class:
- With what product(s) the brand is
associated?
•Baskin Robbins  Ice Cream
•Compaq  Computers
•HP Jet line  Printers (ink jet, laser jet)
Product Attributes - Functional/Emotional Benefits
- A product related attribute can create a
value proposition by offering something
extra (like features or services) or better
Quality / Value
Value is closely related to quality; it enriches
the concept by adding the price dimension.
Users
Country of
Origin
The Brand can be positioned also by a
type of users (Gerber: Babies,
Mobacco: Men's wear –Classic--, Avon:
female elegant)
One of the strategic options is to
associate the brand with a country or
region that will add credibility to it
(Swatch Watches: Swiss)
BRAND AS AN ORGANIZATION
• It focuses on attributes of the organization rather than those of the
product or the service such as:
•Innovation
•Drive for quality
•Concern for the environment
•Culture
•Values
•Programs of the company
•Vision
•Global Vs. Local
Organizational attributes usually apply to set of products not
only one product, so that if any competitor can compete to one
product will not be able to compete to the organizational
BRAND AS A PERSON: BRAND PERSONALITY
A brand can be perceived as being competent, impressive,
trustworthy, fun, active, humorous, casual, formal, youthful or
intellectual.
Brand personality:
 Can help create self-expressive benefit that the customer
can express his/her own personality through this brand
 Brand personality = the basis of a relationship between
the customer and the brand
 May help communicate a product attribute and contribute
to a functional benefit (Michelin man's strong personality)
BRAND AS A SYMBOL
Anything that represents the brand can be a symbol, including
programs such as the Ronald McDonald House for McDonald's .
Symbols involving visual imagery can be memorable and
powerful:
 Nike's "Swoosh"
 McDonald's golden Arches
 Kodak Yellow
 Coke Classic can or bottle
-Each strong visual image captures much of its respective brand's
identity
-Connections between the symbol and the identity elements have
BRAND IDENTITY SYSTEM
WHAT'S BRAND IDENTITY
BRAND IDENTITY TRAPS
BRAND IDENTITY PERSPECTIVES
THE IDENTITY STRUCTURE
VALUE PROPOSITION
IDENTITY STRUCTURE
CORE IDENTITY:
The timeless essence of the brand, it's
the center that remains after you peel
away the layers of an onion, like:
Extended
identity
•Michelin: advanced technology tires
for the driver who is knowledgeable
about tires
Core
identity
•Johnson & Johnson: trust and quality
in over the center medicines
It includes the elements that make the
brand unique and valuable, value
proposition and credibility
IDENTITY STRUCTURE
EXTENDED IDENTITY:
It's the elements that provide texture and
completeness.
- A larger extended identity means a
stronger brand, one that is more
memorable, interesting and connected to
your life.
. An interesting person with whom you
are involved personally or
professionally would require a much
more complex description.
Extended
identity
Core
identity
BRAND IDENTITY SYSTEM
WHAT'S BRAND IDENTITY
BRAND IDENTITY TRAPS
BRAND IDENTITY PERSPECTIVES
THE IDENTITY STRUCTURE
VALUE PROPOSITION
VALUE PROPOSITION
Emotional
Benefits
Value
Propositi
on
Functional
Benefits
Self
Expressive
Benefits
VALUE PROPOSITION IS NOT ..
• It's not a slogan or a catch phrase. This is not a value
proposition:
"L'Oréal. Because we're worth it."
• It's not a positioning statement. This is not a value
proposition:
"America's #1 Bandage Brand. Heals the wound fast,
heals the hurt faster."
•Positioning statement is a subset of a value proposition,
but it's not the same thing.
HOW TO CREATE A VALUE PROPOSITION
STATEMENT?
• Headline: What is the end-benefit you're offering, in 1
short sentence. Can mention the product and/or the
customer. Attention grabber.
• Sub-headline or a 2-3 sentence paragraph: A specific
explanation of what you do/offer, for whom and why is it
useful.
• 3 bullet points: List the key benefits or features.
• Visual. Images communicate much faster than words. Show
the product, the hero shot or an image reinforcing your main
message.
HOW TO CREATE A VALUE PROPOSITION
STATEMENT?
Value Proposition Statement should answer:
• What product or service is your company selling?
• What is the end-benefit of using it?
• Who is your target customer for this product or
service?
• What makes your offering unique and different?
HOW TO CREATE A VALUE PROPOSITION
STATEMENT?
Boosters for Value Proposition:
• No long-term contract cancel anytime.
• Free Installation / Free Setup.
• Money Back guarantee.
• Customizable.
• Free Shipping / Fast Shipping.
EXAMPLES FOR VALUE PROPOSITION:
HOW TO CREATE A POSITIONING
STATEMENT
WHAT: (the category)
The ONLY motorcycle manufacturer…
HOW: (point of differentiation)
…that makes big, loud motorcycles…
WHO: (audience segment)
…for macho guys (and macho "wannabees")…
WHERE: (marketing geography)
…mostly in the United States…
WHY: (need state)
…who want to join a gang of cowboys…
WHEN: (underlying tend)
…in an era of decreasing personal freedom.
CLASS ACTIVITY
GUESS THE BRAND
HOW TO: PICTIONARY STYLE
1. Have the class circle around the blackboard.
They'll need to have a clear view.
2. Name randomly a student's name to come up.
Provide he/she with the marker
Round 1: whisper to them a brand, any brand.
Try to use well-known brands to make it easy for
the students to identify. (remember, no words!)
Start from easy to harder ones.
Each student will have 30 seconds to try to give
the message. Award candy to whomever guesses
the drawing.
HOW TO: PICTIONARY STYLE
Round 2: give the students just a product class or
any product (i.e.: shoes)
They'll need to think of a brand in the product
class.
When they explain to the rest, they need to do it
in 2 steps:
A. make a drawing of the product class or
product, so they can associate the brand.
B. make a drawing of the brand. They may use
more than one brand to make the students guess
even more.