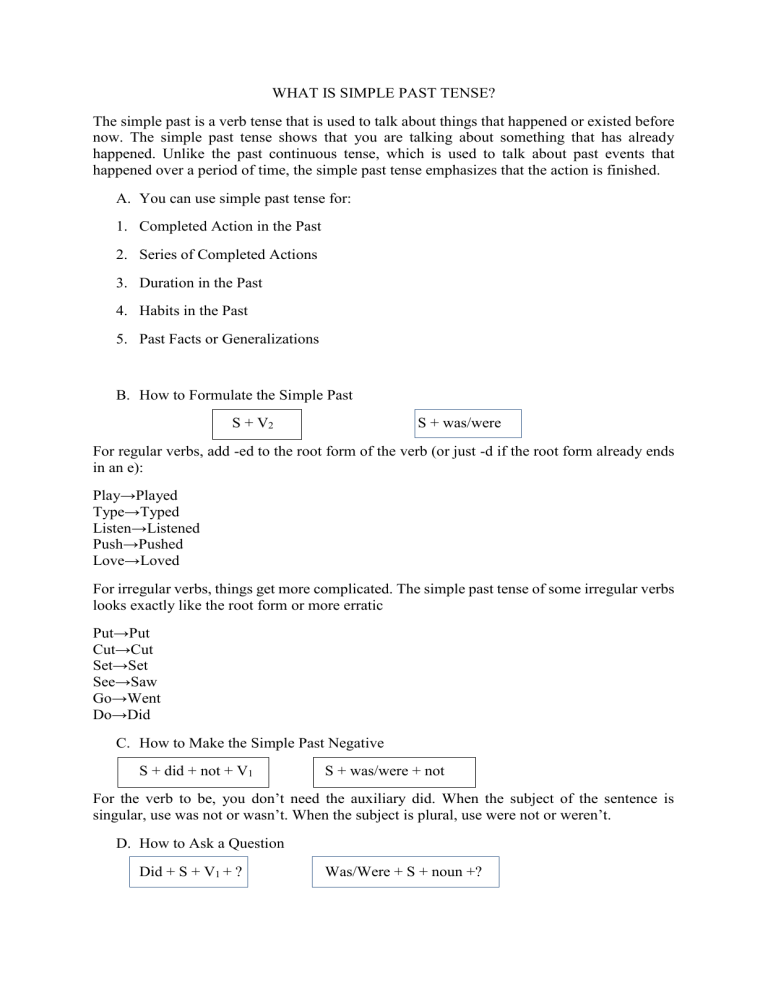 WHAT IS SIMPLE PAST TENSE?
The simple past is a verb tense that is used to talk about things that happened or existed before
now. The simple past tense shows that you are talking about something that has already
happened. Unlike the past continuous tense, which is used to talk about past events that
happened over a period of time, the simple past tense emphasizes that the action is finished.
A. You can use simple past tense for:
1. Completed Action in the Past
2. Series of Completed Actions
3. Duration in the Past
4. Habits in the Past
5. Past Facts or Generalizations
B. How to Formulate the Simple Past
S + V2
S + was/were
For regular verbs, add -ed to the root form of the verb (or just -d if the root form already ends
in an e):
Play→Played
Type→Typed
Listen→Listened
Push→Pushed
Love→Loved
For irregular verbs, things get more complicated. The simple past tense of some irregular verbs
looks exactly like the root form or more erratic
Put→Put
Cut→Cut
Set→Set
See→Saw
Go→Went
Do→Did
C. How to Make the Simple Past Negative
S + did + not + V1
S + was/were + not
For the verb to be, you don't need the auxiliary did. When the subject of the sentence is
singular, use was not or wasn't. When the subject is plural, use were not or weren't.
D. How to Ask a Question
Did + S + V1 + ?
Was/Were + S + noun +?
When asking a question with the verb to be, you don't need the auxiliary did. The formula is
was/were + [subject].