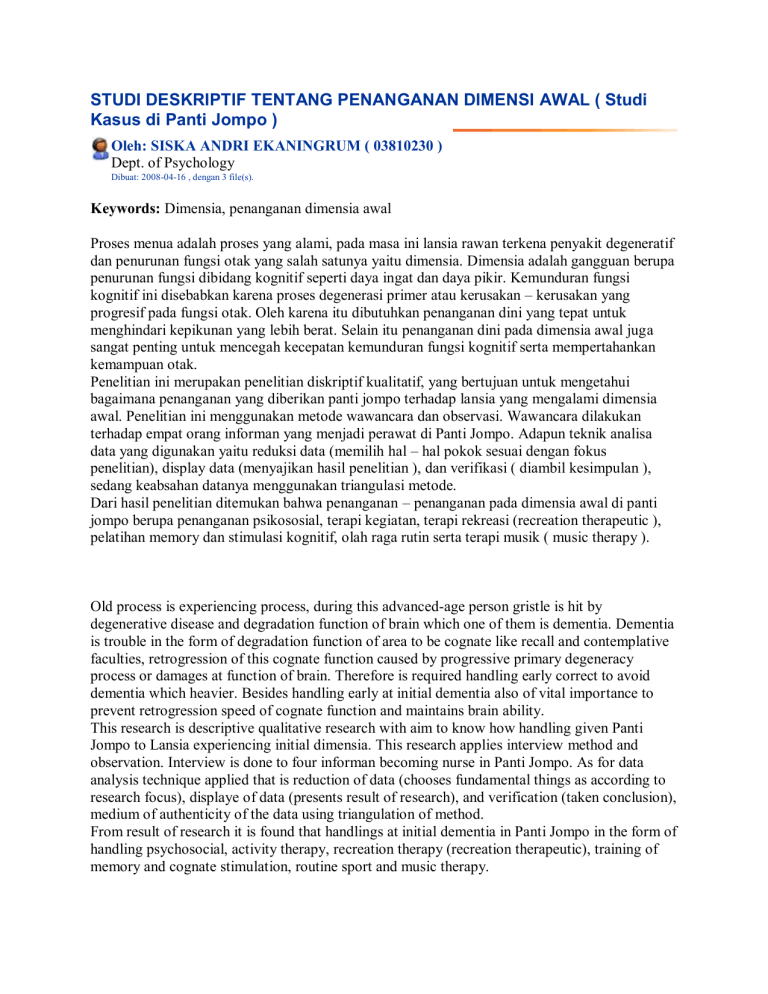 STUDI DESKRIPTIF TENTANG PENANGANAN DIMENSI AWAL ( Studi
Kasus di Panti Jompo )
Oleh: SISKA ANDRI EKANINGRUM ( 03810230 )
Dept. of Psychology
Dibuat: 2008-04-16 , dengan 3 file(s).
Keywords: Dimensia, penanganan dimensia awal
Proses menua adalah proses yang alami, pada masa ini lansia rawan terkena penyakit degeneratif
dan penurunan fungsi otak yang salah satunya yaitu dimensia. Dimensia adalah gangguan berupa
penurunan fungsi dibidang kognitif seperti daya ingat dan daya pikir. Kemunduran fungsi
kognitif ini disebabkan karena proses degenerasi primer atau kerusakan – kerusakan yang
progresif pada fungsi otak. Oleh karena itu dibutuhkan penanganan dini yang tepat untuk
menghindari kepikunan yang lebih berat. Selain itu penanganan dini pada dimensia awal juga
sangat penting untuk mencegah kecepatan kemunduran fungsi kognitif serta mempertahankan
kemampuan otak.
Penelitian ini merupakan penelitian diskriptif kualitatif, yang bertujuan untuk mengetahui
bagaimana penanganan yang diberikan panti jompo terhadap lansia yang mengalami dimensia
awal. Penelitian ini menggunakan metode wawancara dan observasi. Wawancara dilakukan
terhadap empat orang informan yang menjadi perawat di Panti Jompo. Adapun teknik analisa
data yang digunakan yaitu reduksi data (memilih hal – hal pokok sesuai dengan fokus
penelitian), display data (menyajikan hasil penelitian ), dan verifikasi ( diambil kesimpulan ),
sedang keabsahan datanya menggunakan triangulasi metode.
Dari hasil penelitian ditemukan bahwa penanganan – penanganan pada dimensia awal di panti
jompo berupa penanganan psikososial, terapi kegiatan, terapi rekreasi (recreation therapeutic ),
pelatihan memory dan stimulasi kognitif, olah raga rutin serta terapi musik ( music therapy ).
Old process is experiencing process, during this advanced-age person gristle is hit by
degenerative disease and degradation function of brain which one of them is dementia. Dementia
is trouble in the form of degradation function of area to be cognate like recall and contemplative
faculties, retrogression of this cognate function caused by progressive primary degeneracy
process or damages at function of brain. Therefore is required handling early correct to avoid
dementia which heavier. Besides handling early at initial dementia also of vital importance to
prevent retrogression speed of cognate function and maintains brain ability.
This research is descriptive qualitative research with aim to know how handling given Panti
Jompo to Lansia experiencing initial dimensia. This research applies interview method and
observation. Interview is done to four informan becoming nurse in Panti Jompo. As for data
analysis technique applied that is reduction of data (chooses fundamental things as according to
research focus), displaye of data (presents result of research), and verification (taken conclusion),
medium of authenticity of the data using triangulation of method.
From result of research it is found that handlings at initial dementia in Panti Jompo in the form of
handling psychosocial, activity therapy, recreation therapy (recreation therapeutic), training of
memory and cognate stimulation, routine sport and music therapy.