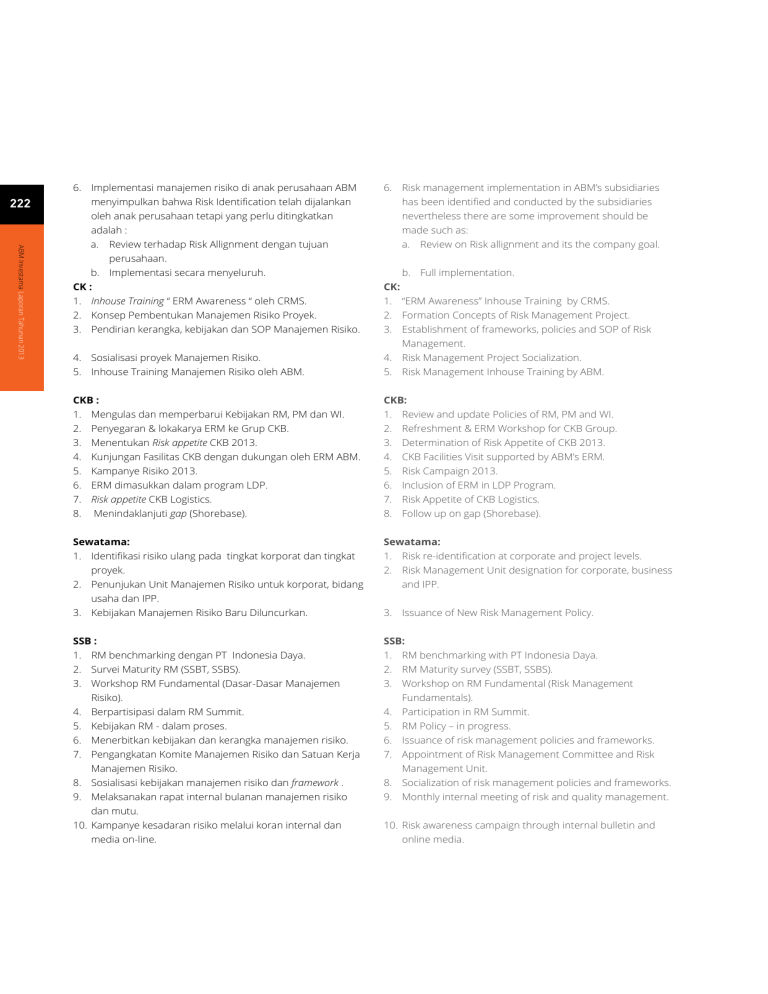 222
ABM Investama Laporan Tahunan 2013
6. Implementasi manajemen risiko di anak perusahaan ABM
menyimpulkan bahwa Risk Identification telah dijalankan
oleh anak perusahaan tetapi yang perlu ditingkatkan
adalah :
a. Review terhadap Risk Allignment dengan tujuan
perusahaan.
b. Implementasi secara menyeluruh.
CK :
1. Inhouse Training " ERM Awareness " oleh CRMS.
2. Konsep Pembentukan Manajemen Risiko Proyek.
3. Pendirian kerangka, kebijakan dan SOP Manajemen Risiko.
6. Risk management implementation in ABM's subsidiaries
has been identified and conducted by the subsidiaries
nevertheless there are some improvement should be
made such as:
a. Review on Risk allignment and its the company goal.
4. Sosialisasi proyek Manajemen Risiko.
5. Inhouse Training Manajemen Risiko oleh ABM.
b. Full implementation.
CK:
1. "ERM Awareness" Inhouse Training by CRMS.
2. Formation Concepts of Risk Management Project.
3. Establishment of frameworks, policies and SOP of Risk
Management.
4. Risk Management Project Socialization.
5. Risk Management Inhouse Training by ABM.
CKB :
1. Mengulas dan memperbarui Kebijakan RM, PM dan WI.
2. Penyegaran & lokakarya ERM ke Grup CKB.
3. Menentukan Risk appetite CKB 2013.
4. Kunjungan Fasilitas CKB dengan dukungan oleh ERM ABM.
5. Kampanye Risiko 2013.
6. ERM dimasukkan dalam program LDP.
7. Risk appetite CKB Logistics.
8. Menindaklanjuti gap (Shorebase).
CKB:
1. Review and update Policies of RM, PM and WI.
2. Refreshment & ERM Workshop for CKB Group.
3. Determination of Risk Appetite of CKB 2013.
4. CKB Facilities Visit supported by ABM's ERM.
5. Risk Campaign 2013.
6. Inclusion of ERM in LDP Program.
7. Risk Appetite of CKB Logistics.
8. Follow up on gap (Shorebase).
Sewatama:
1. Identifikasi risiko ulang pada tingkat korporat dan tingkat
proyek.
2. Penunjukan Unit Manajemen Risiko untuk korporat, bidang
usaha dan IPP.
3. Kebijakan Manajemen Risiko Baru Diluncurkan.
Sewatama:
1. Risk re-identification at corporate and project levels.
2. Risk Management Unit designation for corporate, business
and IPP.
SSB :
1.RM benchmarking dengan PT Indonesia Daya.
2. Survei Maturity RM (SSBT, SSBS).
3. Workshop RM Fundamental (Dasar-Dasar Manajemen
Risiko).
4. Berpartisipasi dalam RM Summit.
5. Kebijakan RM - dalam proses.
6. Menerbitkan kebijakan dan kerangka manajemen risiko.
7. Pengangkatan Komite Manajemen Risiko dan Satuan Kerja
Manajemen Risiko.
8. Sosialisasi kebijakan manajemen risiko dan framework .
9. Melaksanakan rapat internal bulanan manajemen risiko
dan mutu.
10. Kampanye kesadaran risiko melalui koran internal dan
media on-line.
SSB:
1. RM benchmarking with PT Indonesia Daya.
2. RM Maturity survey (SSBT, SSBS).
3. Workshop on RM Fundamental (Risk Management
Fundamentals).
4. Participation in RM Summit.
5. RM Policy – in progress.
6. Issuance of risk management policies and frameworks.
7. Appointment of Risk Management Committee and Risk
Management Unit.
8. Socialization of risk management policies and frameworks.
9. Monthly internal meeting of risk and quality management.
3. Issuance of New Risk Management Policy.
10. Risk awareness campaign through internal bulletin and
online media.