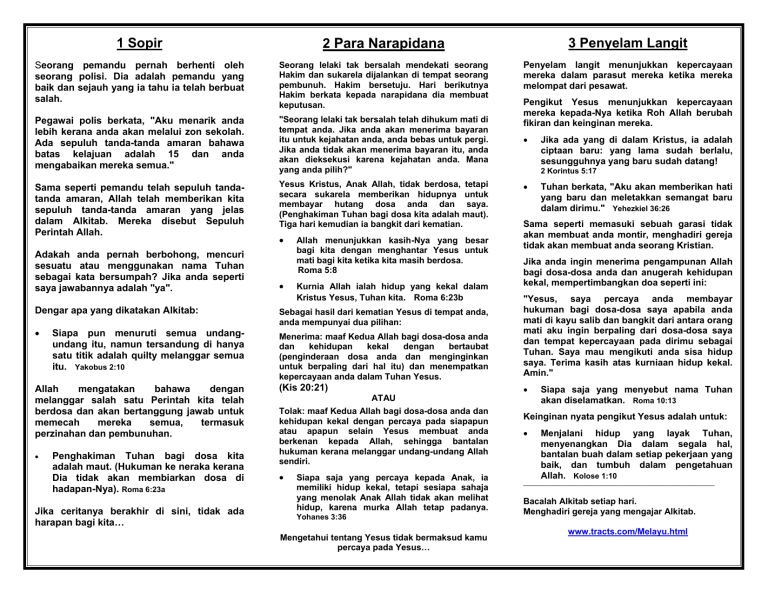 1 Sopir
2 Para Narapidana
3 Penyelam Langit
Seorang pemandu pernah berhenti oleh
seorang polisi. Dia adalah pemandu yang
baik dan sejauh yang ia tahu ia telah berbuat
salah.
Seorang lelaki tak bersalah mendekati seorang
Hakim dan sukarela dijalankan di tempat seorang
pembunuh. Hakim bersetuju. Hari berikutnya
Hakim berkata kepada narapidana dia membuat
keputusan.
Penyelam langit menunjukkan kepercayaan
mereka dalam parasut mereka ketika mereka
melompat dari pesawat.
Pegawai polis berkata, "Aku menarik anda
lebih kerana anda akan melalui zon sekolah.
Ada sepuluh tanda-tanda amaran bahawa
batas kelajuan adalah 15 dan anda
mengabaikan mereka semua."
"Seorang lelaki tak bersalah telah dihukum mati di
tempat anda. Jika anda akan menerima bayaran
itu untuk kejahatan anda, anda bebas untuk pergi.
Jika anda tidak akan menerima bayaran itu, anda
akan dieksekusi karena kejahatan anda. Mana
yang anda pilih?"
Sama seperti pemandu telah sepuluh tandatanda amaran, Allah telah memberikan kita
sepuluh tanda-tanda amaran yang jelas
dalam Alkitab. Mereka disebut Sepuluh
Perintah Allah.
Yesus Kristus, Anak Allah, tidak berdosa, tetapi
secara sukarela memberikan hidupnya untuk
membayar hutang dosa anda dan saya.
(Penghakiman Tuhan bagi dosa kita adalah maut).
Tiga hari kemudian ia bangkit dari kematian.
Adakah anda pernah berbohong, mencuri
sesuatu atau menggunakan nama Tuhan
sebagai kata bersumpah? Jika anda seperti
saya jawabannya adalah "ya".
Dengar apa yang dikatakan Alkitab:
x
Siapa pun menuruti semua undangundang itu, namun tersandung di hanya
satu titik adalah quilty melanggar semua
itu. Yakobus 2:10
Allah
mengatakan
bahawa
dengan
melanggar salah satu Perintah kita telah
berdosa dan akan bertanggung jawab untuk
memecah
mereka
semua,
termasuk
perzinahan dan pembunuhan.
x
Penghakiman Tuhan bagi dosa kita
adalah maut. (Hukuman ke neraka kerana
Dia tidak akan membiarkan dosa di
hadapan-Nya). Roma 6:23a
Jika ceritanya berakhir di sini, tidak ada
harapan bagi kita…
x
x
Allah menunjukkan kasih-Nya yang besar
bagi kita dengan menghantar Yesus untuk
mati bagi kita ketika kita masih berdosa.
Roma 5:8
Kurnia Allah ialah hidup yang kekal dalam
Kristus Yesus, Tuhan kita. Roma 6:23b
Pengikut Yesus menunjukkan kepercayaan
mereka kepada-Nya ketika Roh Allah berubah
fikiran dan keinginan mereka.
x
Jika ada yang di dalam Kristus, ia adalah
ciptaan baru: yang lama sudah berlalu,
sesungguhnya yang baru sudah datang!
2 Korintus 5:17
x
Tuhan berkata, "Aku akan memberikan hati
yang baru dan meletakkan semangat baru
dalam dirimu." Yehezkiel 36:26
Sama seperti memasuki sebuah garasi tidak
akan membuat anda montir, menghadiri gereja
tidak akan membuat anda seorang Kristian.
Jika anda ingin menerima pengampunan Allah
bagi dosa-dosa anda dan anugerah kehidupan
kekal, mempertimbangkan doa seperti ini:
Menerima: maaf Kedua Allah bagi dosa-dosa anda
dan
kehidupan
kekal
dengan
bertaubat
(penginderaan dosa anda dan menginginkan
untuk berpaling dari hal itu) dan menempatkan
kepercayaan anda dalam Tuhan Yesus.
"Yesus, saya percaya anda membayar
hukuman bagi dosa-dosa saya apabila anda
mati di kayu salib dan bangkit dari antara orang
mati aku ingin berpaling dari dosa-dosa saya
dan tempat kepercayaan pada dirimu sebagai
Tuhan. Saya mau mengikuti anda sisa hidup
saya. Terima kasih atas kurniaan hidup kekal.
Amin."
(Kis 20:21)
x
Sebagai hasil dari kematian Yesus di tempat anda,
anda mempunyai dua pilihan:
ATAU
Tolak: maaf Kedua Allah bagi dosa-dosa anda dan
kehidupan kekal dengan percaya pada siapapun
atau apapun selain Yesus membuat anda
berkenan kepada Allah, sehingga bantalan
hukuman kerana melanggar undang-undang Allah
sendiri.
x
Siapa saja yang percaya kepada Anak, ia
memiliki hidup kekal, tetapi sesiapa sahaja
yang menolak Anak Allah tidak akan melihat
hidup, karena murka Allah tetap padanya.
Yohanes 3:36
Mengetahui tentang Yesus tidak bermaksud kamu
percaya pada Yesus…
Siapa saja yang menyebut nama Tuhan
akan diselamatkan. Roma 10:13
Keinginan nyata pengikut Yesus adalah untuk:
x
Menjalani hidup yang layak Tuhan,
menyenangkan Dia dalam segala hal,
bantalan buah dalam setiap pekerjaan yang
baik, dan tumbuh dalam pengetahuan
Allah. Kolose 1:10
_______________________________________________________________________
Bacalah Alkitab setiap hari.
Menghadiri gereja yang mengajar Alkitab.
www.tracts.com/Melayu.html
1. The Driver
2. The Convict
3. The Skydiver
A driver was once stopped by a police
officer. He was a good driver and as far as
he knew he had done nothing wrong.
An innocent man approached a judge and
volunteered to be executed in the place of a
convicted murderer. The judge consented. The
next day the judge told the convict he had a
decision to make.
Skydivers demonstrate their belief in
their parachutes when they jump from the
plane.
The police officer said, "I pulled you
over because you were going 60 through
a school zone. There were ten warning
signs that the speed limit was 15 and you
ignored them all."
Just like the driver had ten warning
signs, God has given us ten clear warning
signs in the Bible. They are called the Ten
Commandments.
Have you ever told a lie, stolen
something or used God's name as a curse
word? If you're like me the answer is 'yes'.
"An innocent man has been put to death in your
place. If you will accept his payment for your
crime, you are free to go. If you will not accept
his payment, you will be executed for your crime.
Which do you choose?"
Jesus Christ, the Son of God, was sinless but
voluntarily gave his life to pay the penalty for
your sins and mine. (God's judgment for our sin
is death). Three days later he rose from the dead.
x
God showed his great love for us by sending
Jesus to die for us while we were still sinners.
Romans 5:8
x
Listen to what the Bible says:
Whoever keeps the whole law and yet
stumbles at just one point is guilty of
breaking all of it. James 2:10
God is saying that by breaking one
Commandment we have sinned and will
be held accountable for breaking all of
them, including adultery and murder.
x
God's judgment for our sin is death.
(Banishment to hell because He will
not allow sin in His presence).
Romans 6:23a
If the story ends here, there is no hope
for us…
x
The gift of God is eternal life in Christ Jesus
our Lord. Romans 6:23b
As a result of Jesus' death in your place, you
have two choices:
Receive both God's pardon for your sins and
eternal life by repenting (sensing your sinfulness
and desiring to turn from it) and placing your
trust in the Lord Jesus. (Acts 20:21)
OR
Reject both God's pardon for your sins and
eternal life by trusting in anyone or anything
other than Jesus to make you acceptable to God,
thus bearing the penalty for breaking God's law
yourself.
Followers of Jesus demonstrate their
belief in Him when God's Spirit changes
their thoughts and desires.
x
If anyone is in Christ, he is a new
creation; the old has gone, the new
has come! 2 Corinthians 5:17
x
God says, "I will give you a new heart
and put a new spirit in you."
Ezekiel 36:26
Just as entering a garage won't make
you a mechanic, attending a church won't
make you a Christian.
If you would like to receive God's
pardon for your sins and the gift of eternal
life, consider a prayer like this:
"Jesus, I believe you paid the penalty for
my sins when you died on the cross and
rose from the dead. I want to turn from my
sins and place my trust in you as my Lord.
I am willing to follow you the rest of my
life. Thank you for the gift of eternal life.
Amen."
x
Anyone who calls on the name of the
Lord will be saved. Romans 10:13
The desire of real followers of Jesus is to:
x
Live a life worthy of the Lord, pleasing
Him in every way, bearing fruit in
every good work, and growing in the
knowledge of God. Colossians 1:10
_______________________________________________________________________
x
Whoever believes in the Son has eternal life,
but whoever rejects the Son of God will not
see life, for God's wrath remains on him.
John 3:36
Knowing about Jesus doesn't mean you believe
in Jesus…
www.on-tract.com
You are invited to visit our website for:
x
The Bible's answers to life's questions
x
A 30-day guide for new followers of Jesus
x
This Gospel message in over 85 languages
All of our resources are FREE.