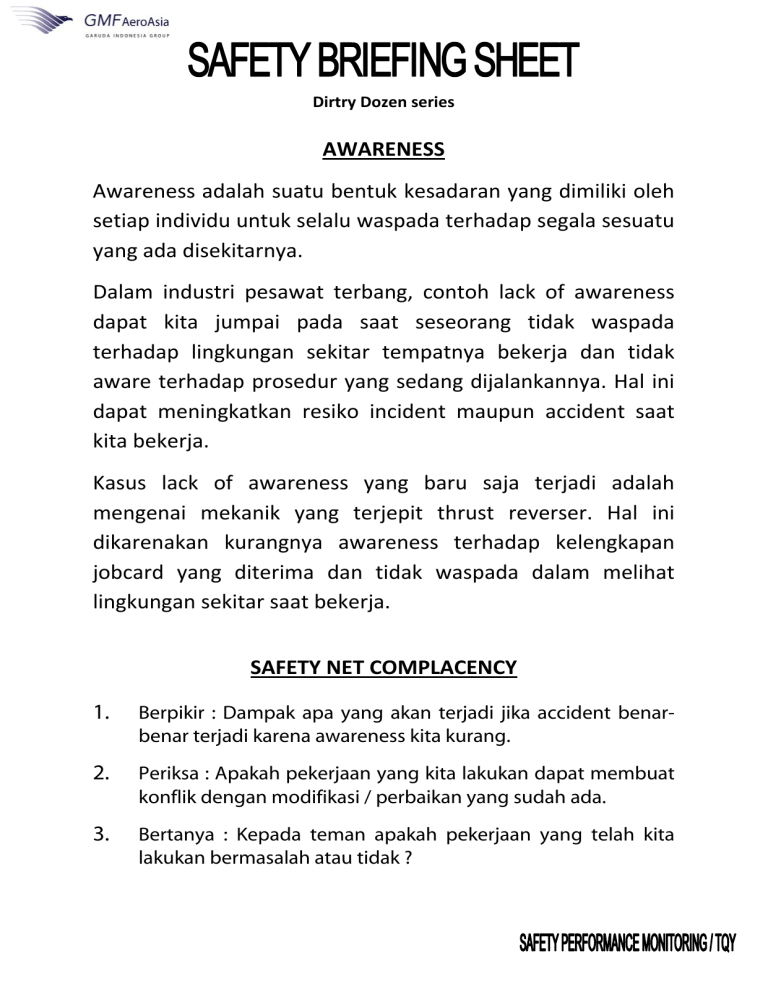 Dirtry Dozen series AWARENESS Awareness adalah suatu bentuk kesadaran yang dimiliki oleh setiap individu untuk selalu waspada terhadap segala sesuatu yang ada disekitarnya. Dalam industri pesawat terbang, contoh lack of awareness dapat kita jumpai pada saat seseorang tidak waspada terhadap lingkungan sekitar tempatnya bekerja dan tidak aware terhadap prosedur yang sedang dijalankannya. Hal ini dapat meningkatkan resiko incident maupun accident saat kita bekerja. Kasus lack of awareness yang baru saja terjadi adalah mengenai mekanik yang terjepit thrust reverser. Hal ini dikarenakan kurangnya awareness terhadap kelengkapan jobcard yang diterima dan tidak waspada dalam melihat lingkungan sekitar saat bekerja. SAFETY NET COMPLACENCY 1.
Berpikir : Dampak apa yang akan terjadi jika accident benarbenar terjadi karena awareness kita kurang.
2.
Periksa : Apakah pekerjaan yang kita lakukan dapat membuat
konflik dengan modifikasi / perbaikan yang sudah ada.
3.
Bertanya : Kepada teman apakah pekerjaan yang telah kita
lakukan bermasalah atau tidak ?