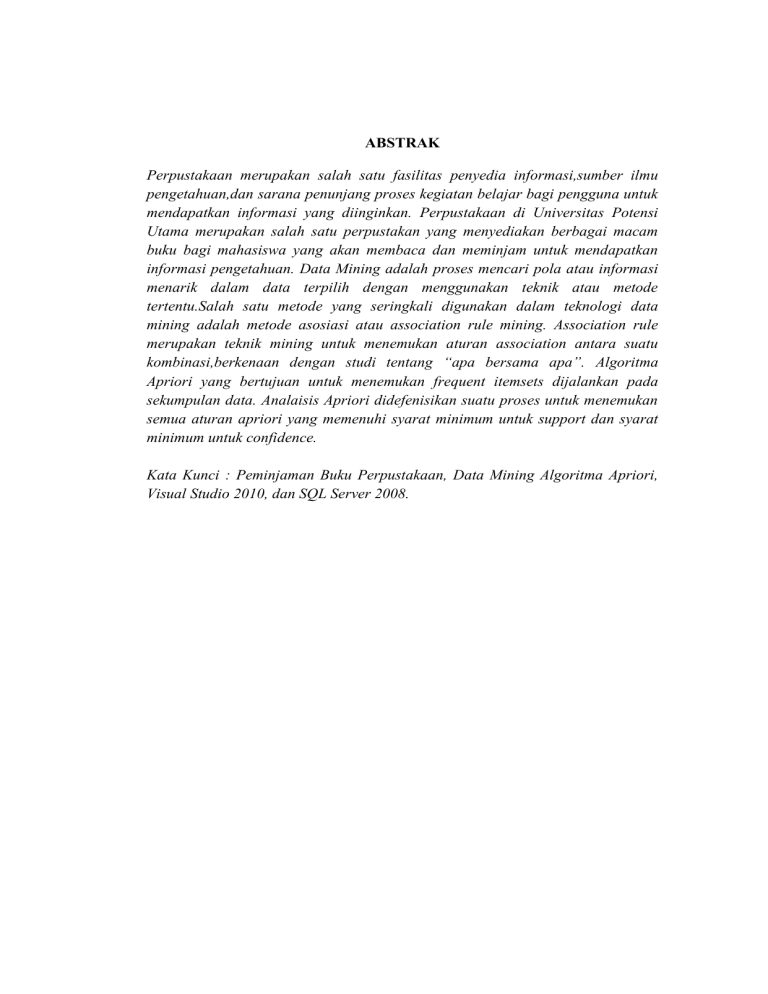 ABSTRAK
Perpustakaan merupakan salah satu fasilitas penyedia informasi,sumber ilmu
pengetahuan,dan sarana penunjang proses kegiatan belajar bagi pengguna untuk
mendapatkan informasi yang diinginkan. Perpustakaan di Universitas Potensi
Utama merupakan salah satu perpustakan yang menyediakan berbagai macam
buku bagi mahasiswa yang akan membaca dan meminjam untuk mendapatkan
informasi pengetahuan. Data Mining adalah proses mencari pola atau informasi
menarik dalam data terpilih dengan menggunakan teknik atau metode
tertentu.Salah satu metode yang seringkali digunakan dalam teknologi data
mining adalah metode asosiasi atau association rule mining. Association rule
merupakan teknik mining untuk menemukan aturan association antara suatu
kombinasi,berkenaan dengan studi tentang "apa bersama apa". Algoritma
Apriori yang bertujuan untuk menemukan frequent itemsets dijalankan pada
sekumpulan data. Analaisis Apriori didefenisikan suatu proses untuk menemukan
semua aturan apriori yang memenuhi syarat minimum untuk support dan syarat
minimum untuk confidence.
Kata Kunci : Peminjaman Buku Perpustakaan, Data Mining Algoritma Apriori,
Visual Studio 2010, dan SQL Server 2008.
ABSTRACT
The library is one of the facilities provider of information, the source of
knowledge, and the means of supporting the learning process for the user to
obtain the desired information. Library at the University Main Potential is one of
the libraries that provide a wide range of books for students who will read and
borrow to get information and knowledge. Data Mining is the process of
searching for a pattern or interesting information in the selected data using a
technique or method tertentu.Salah the methods often used in data mining
technology is a method of association or association rule mining. An association
rule mining techniques to discover the rules of association between a
combination, with respect to the study of "what together what". Apriori algorithm
which aims to find frequent itemsets run on a set of data. Apriori Analaisis
defined a process to find all the a priori rule that meets the minimum
requirements for the support and the minimum requirements for confidence.
Keywords: Book Lending Library, Data Mining Algorithm Apriori, Visual Studio
2010, and SQL Server 2008.