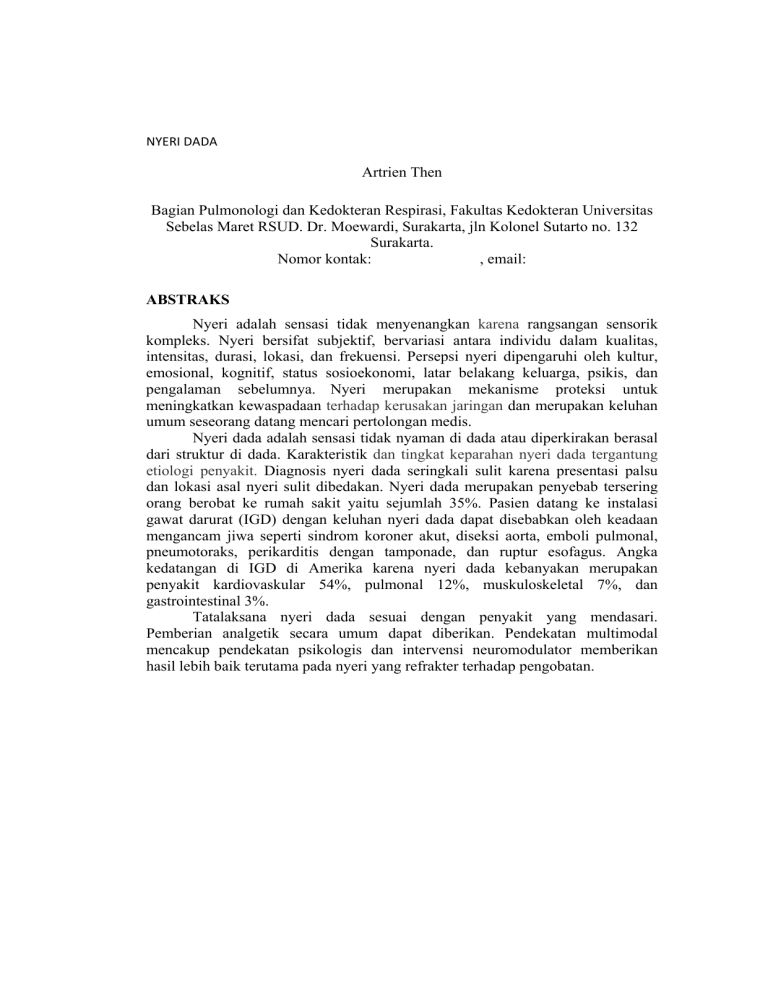 NYERI DADA Artrien Then
Bagian Pulmonologi dan Kedokteran Respirasi, Fakultas Kedokteran Universitas
Sebelas Maret RSUD. Dr. Moewardi, Surakarta, jln Kolonel Sutarto no. 132
Surakarta.
Nomor kontak:
, email:
ABSTRAKS
Nyeri adalah sensasi tidak menyenangkan karena rangsangan sensorik
kompleks. Nyeri bersifat subjektif, bervariasi antara individu dalam kualitas,
intensitas, durasi, lokasi, dan frekuensi. Persepsi nyeri dipengaruhi oleh kultur,
emosional, kognitif, status sosioekonomi, latar belakang keluarga, psikis, dan
pengalaman sebelumnya. Nyeri merupakan mekanisme proteksi untuk
meningkatkan kewaspadaan terhadap kerusakan jaringan dan merupakan keluhan
umum seseorang datang mencari pertolongan medis.
Nyeri dada adalah sensasi tidak nyaman di dada atau diperkirakan berasal
dari struktur di dada. Karakteristik dan tingkat keparahan nyeri dada tergantung
etiologi penyakit. Diagnosis nyeri dada seringkali sulit karena presentasi palsu
dan lokasi asal nyeri sulit dibedakan. Nyeri dada merupakan penyebab tersering
orang berobat ke rumah sakit yaitu sejumlah 35%. Pasien datang ke instalasi
gawat darurat (IGD) dengan keluhan nyeri dada dapat disebabkan oleh keadaan
mengancam jiwa seperti sindrom koroner akut, diseksi aorta, emboli pulmonal,
pneumotoraks, perikarditis dengan tamponade, dan ruptur esofagus. Angka
kedatangan di IGD di Amerika karena nyeri dada kebanyakan merupakan
penyakit kardiovaskular 54%, pulmonal 12%, muskuloskeletal 7%, dan
gastrointestinal 3%.
Tatalaksana nyeri dada sesuai dengan penyakit yang mendasari.
Pemberian analgetik secara umum dapat diberikan. Pendekatan multimodal
mencakup pendekatan psikologis dan intervensi neuromodulator memberikan
hasil lebih baik terutama pada nyeri yang refrakter terhadap pengobatan.
CHEST PAIN
Artrien Then
Pulmonology and Respiratory Medicine Department, Medical Faculty of Sebelas
Maret University/Dr. Moewardi General Hospital Surakarta, Jl. Kolonel Sutarto
no.132 Surakarta.
Cp.
, email:
ABSTRACT
Pain is an unpleasant sensation due to complex sensory stimuli. Pain is a
subjective experience that varies from person to person in its quality, intensity,
duration, location, and frequency. Its perception is influenced by culture,
emotional, cognitive, socioeconomic status, familial background, psychological
factor, and previous experience. Pain is a protective mechanism to raise awareness
of the tissue damage and a common reason for persons to seek medical attention.
Chest pain is characterized by an unpleasant sensation that is either
localized to the thorax or believed to originate from structures located in the
thorax. The characteristic and severity of chest pain depend on the etiology of the
disease. Diagnosis of chest pain is often complicated by the vague presentations
and indistinct localization of many of its causes. Chest pain is the most common
site of pain that prompted people to seek medical attention (35%). Acute coronary
syndrome, aortic dissection, pulmonary embolism, pneumothorax, pericarditis
with tamponade, and esophageal rupture are potential causes of chest pain that
make patients come to an emergency department. As in the United States,
cardiovascular diseases have been the most common cause of the chest pain
complaints in an emergency department (54%), followed by pulmonary causes
(12%), musculoskeletal (7%), and gastrointestinal problems (3%).
Management of chest pain based on the etiology of the disease. Analgetic
generally can be given. Multimodal approaches include pharmacological,
psychological, and neuromodulatory interventions give better results especially
for pain that refracted to the treatment.