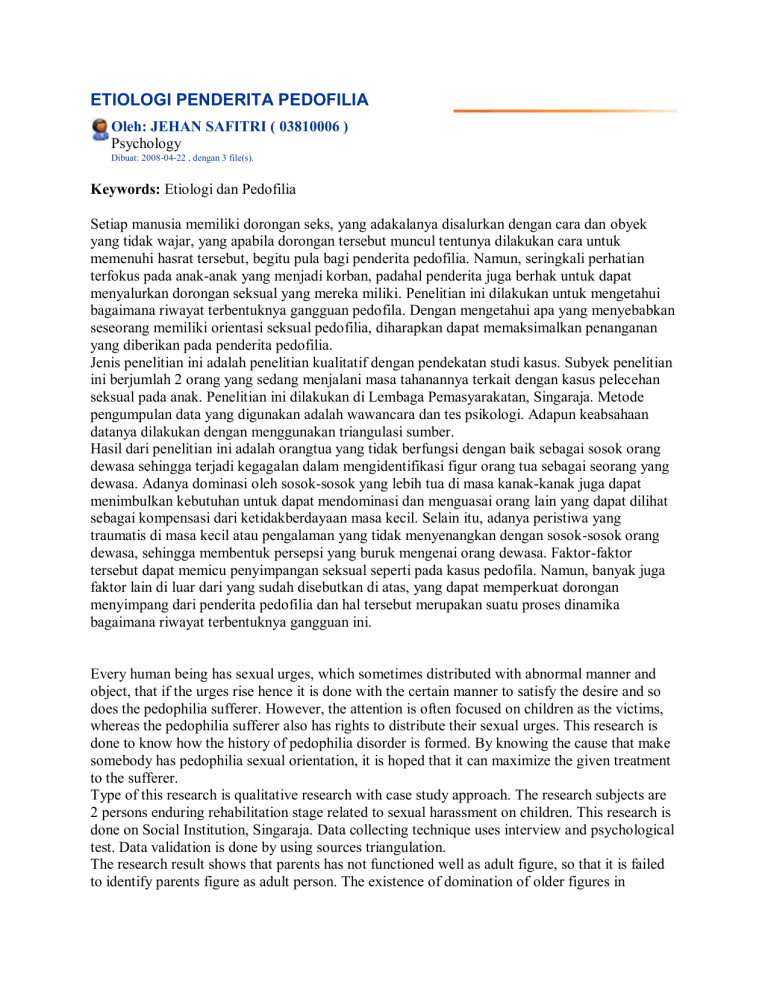 ETIOLOGI PENDERITA PEDOFILIA
Oleh: JEHAN SAFITRI ( 03810006 )
Psychology
Dibuat: 2008-04-22 , dengan 3 file(s).
Keywords: Etiologi dan Pedofilia
Setiap manusia memiliki dorongan seks, yang adakalanya disalurkan dengan cara dan obyek
yang tidak wajar, yang apabila dorongan tersebut muncul tentunya dilakukan cara untuk
memenuhi hasrat tersebut, begitu pula bagi penderita pedofilia. Namun, seringkali perhatian
terfokus pada anak-anak yang menjadi korban, padahal penderita juga berhak untuk dapat
menyalurkan dorongan seksual yang mereka miliki. Penelitian ini dilakukan untuk mengetahui
bagaimana riwayat terbentuknya gangguan pedofila. Dengan mengetahui apa yang menyebabkan
seseorang memiliki orientasi seksual pedofilia, diharapkan dapat memaksimalkan penanganan
yang diberikan pada penderita pedofilia.
Jenis penelitian ini adalah penelitian kualitatif dengan pendekatan studi kasus. Subyek penelitian
ini berjumlah 2 orang yang sedang menjalani masa tahanannya terkait dengan kasus pelecehan
seksual pada anak. Penelitian ini dilakukan di Lembaga Pemasyarakatan, Singaraja. Metode
pengumpulan data yang digunakan adalah wawancara dan tes psikologi. Adapun keabsahaan
datanya dilakukan dengan menggunakan triangulasi sumber.
Hasil dari penelitian ini adalah orangtua yang tidak berfungsi dengan baik sebagai sosok orang
dewasa sehingga terjadi kegagalan dalam mengidentifikasi figur orang tua sebagai seorang yang
dewasa. Adanya dominasi oleh sosok-sosok yang lebih tua di masa kanak-kanak juga dapat
menimbulkan kebutuhan untuk dapat mendominasi dan menguasai orang lain yang dapat dilihat
sebagai kompensasi dari ketidakberdayaan masa kecil. Selain itu, adanya peristiwa yang
traumatis di masa kecil atau pengalaman yang tidak menyenangkan dengan sosok-sosok orang
dewasa, sehingga membentuk persepsi yang buruk mengenai orang dewasa. Faktor-faktor
tersebut dapat memicu penyimpangan seksual seperti pada kasus pedofila. Namun, banyak juga
faktor lain di luar dari yang sudah disebutkan di atas, yang dapat memperkuat dorongan
menyimpang dari penderita pedofilia dan hal tersebut merupakan suatu proses dinamika
bagaimana riwayat terbentuknya gangguan ini.
Every human being has sexual urges, which sometimes distributed with abnormal manner and
object, that if the urges rise hence it is done with the certain manner to satisfy the desire and so
does the pedophilia sufferer. However, the attention is often focused on children as the victims,
whereas the pedophilia sufferer also has rights to distribute their sexual urges. This research is
done to know how the history of pedophilia disorder is formed. By knowing the cause that make
somebody has pedophilia sexual orientation, it is hoped that it can maximize the given treatment
to the sufferer.
Type of this research is qualitative research with case study approach. The research subjects are
2 persons enduring rehabilitation stage related to sexual harassment on children. This research is
done on Social Institution, Singaraja. Data collecting technique uses interview and psychological
test. Data validation is done by using sources triangulation.
The research result shows that parents has not functioned well as adult figure, so that it is failed
to identify parents figure as adult person. The existence of domination of older figures in
childhood also can rise the need to be able to dominate and to have control over others, which
can be seen as the compensation of their powerless in childhood. Besides, the existence of
traumatic event or unfavorable experience in childhood with adult person, so it forms bad
perception about them. Those factors can trigger sexual divergence like on the pedophilia case.
However, it still exist many other factors out of the mentioned above, which can strengthen
divergence stimulus of pedophilia sufferer and it is a dynamical process of how the history of
this disorder formation.