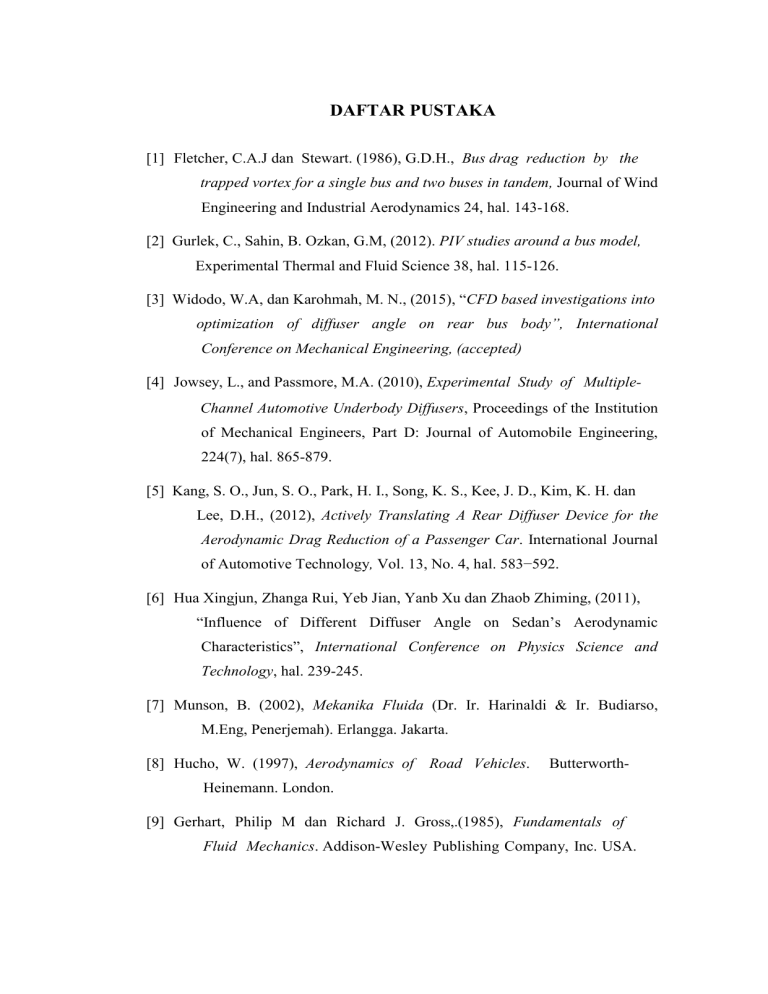 DAFTAR PUSTAKA
[1] Fletcher, C.A.J dan Stewart. (1986), G.D.H., Bus drag reduction by the
trapped vortex for a single bus and two buses in tandem, Journal of Wind
Engineering and Industrial Aerodynamics 24, hal. 143-168.
[2] Gurlek, C., Sahin, B. Ozkan, G.M, (2012). PIV studies around a bus model,
Experimental Thermal and Fluid Science 38, hal. 115-126.
[3] Widodo, W.A, dan Karohmah, M. N., (2015), "CFD based investigations into
optimization of diffuser angle on rear bus body", International
Conference on Mechanical Engineering, (accepted)
[4] Jowsey, L., and Passmore, M.A. (2010), Experimental Study of MultipleChannel Automotive Underbody Diffusers, Proceedings of the Institution
of Mechanical Engineers, Part D: Journal of Automobile Engineering,
224(7), hal. 865-879.
[5] Kang, S. O., Jun, S. O., Park, H. I., Song, K. S., Kee, J. D., Kim, K. H. dan
Lee, D.H., (2012), Actively Translating A Rear Diffuser Device for the
Aerodynamic Drag Reduction of a Passenger Car. International Journal
of Automotive Technology, Vol. 13, No. 4, hal. 583−592.
[6] Hua Xingjun, Zhanga Rui, Yeb Jian, Yanb Xu dan Zhaob Zhiming, (2011),
"Influence of Different Diffuser Angle on Sedan's Aerodynamic
Characteristics", International Conference on Physics Science and
Technology, hal. 239-245.
[7] Munson, B. (2002), Mekanika Fluida (Dr. Ir. Harinaldi & Ir. Budiarso,
M.Eng, Penerjemah). Erlangga. Jakarta.
[8] Hucho, W. (1997), Aerodynamics of
Road Vehicles.
Butterworth-
Heinemann. London.
[9] Gerhart, Philip M dan Richard J. Gross,.(1985), Fundamentals of
Fluid Mechanics. Addison-Wesley Publishing Company, Inc. USA.
[10] Fakih, Azizi dkk. (2010), Perkembangan Aerodinamika pada Mobil.
Karya Ilmu. Purwokwerto.
[11] Muchammad,(2006). Perhitungan gaya drag pada benda uji pelat persegi
datar menggunakan low speed wind tunnel . Momentum, Vol 2, No.1,
hal. 15-25.