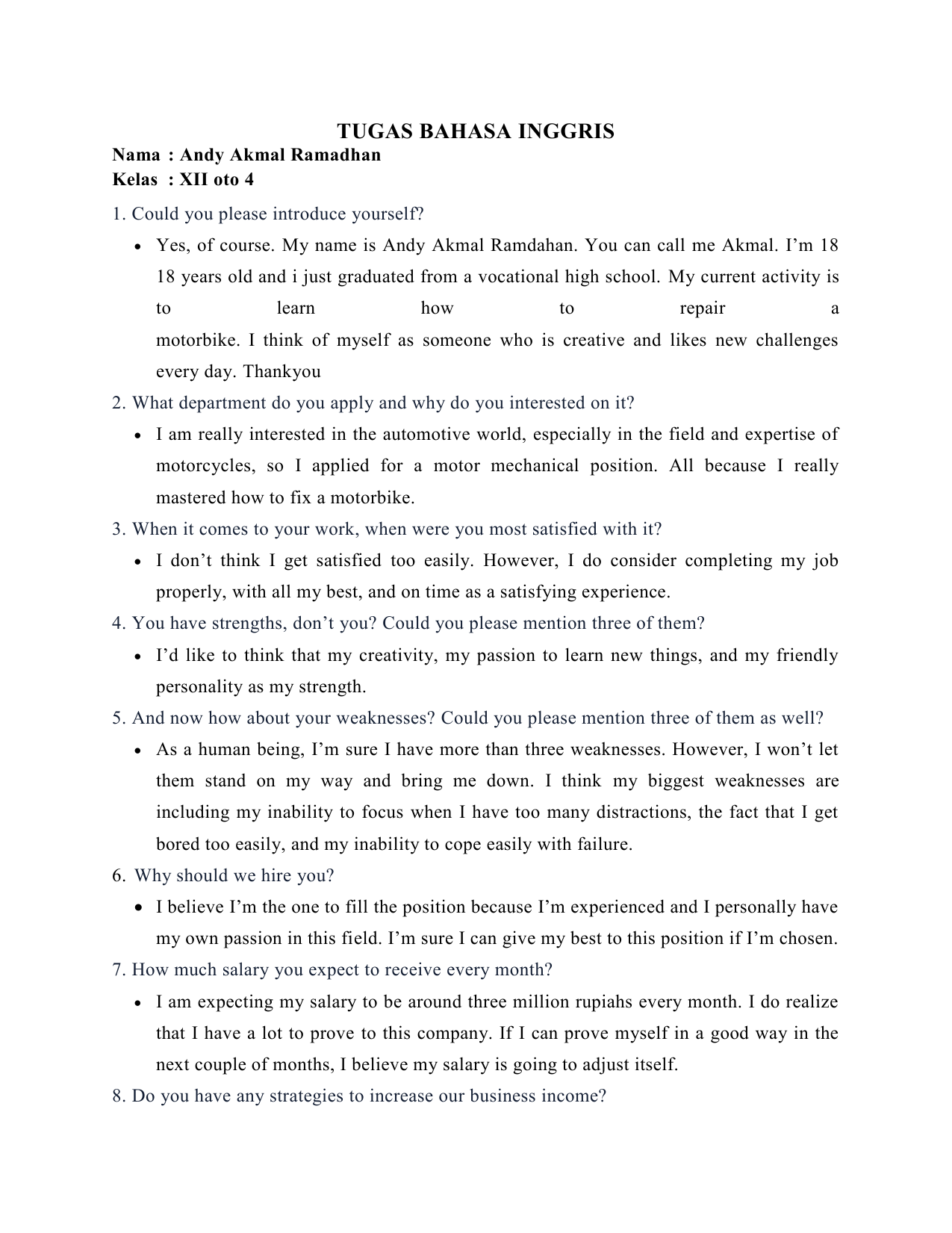 TUGAS BAHASA INGGRIS
Nama : Andy Akmal Ramadhan
Kelas : XII oto 4
1. Could you please introduce yourself?

Yes, of course. My name is Andy Akmal Ramdahan. You can call me Akmal. I'm 18
18 years old and i just graduated from a vocational high school. My current activity is
to
learn
how
to
repair
a
motorbike. I think of myself as someone who is creative and likes new challenges
every day. Thankyou
2. What department do you apply and why do you interested on it?

I am really interested in the automotive world, especially in the field and expertise of
motorcycles, so I applied for a motor mechanical position. All because I really
mastered how to fix a motorbike.
3. When it comes to your work, when were you most satisfied with it?

I don't think I get satisfied too easily. However, I do consider completing my job
properly, with all my best, and on time as a satisfying experience.
4. You have strengths, don't you? Could you please mention three of them?

I'd like to think that my creativity, my passion to learn new things, and my friendly
personality as my strength.
5. And now how about your weaknesses? Could you please mention three of them as well?

As a human being, I'm sure I have more than three weaknesses. However, I won't let
them stand on my way and bring me down. I think my biggest weaknesses are
including my inability to focus when I have too many distractions, the fact that I get
bored too easily, and my inability to cope easily with failure.
6. Why should we hire you?
 I believe I'm the one to fill the position because I'm experienced and I personally have
my own passion in this field. I'm sure I can give my best to this position if I'm chosen.
7. How much salary you expect to receive every month?

I am expecting my salary to be around three million rupiahs every month. I do realize
that I have a lot to prove to this company. If I can prove myself in a good way in the
next couple of months, I believe my salary is going to adjust itself.
8. Do you have any strategies to increase our business income?

Yes, I do have some excellent, fresh ideas to increase the income of the company. It is
including the idea of enhancing the social media usage to promote the business.
9. What do you think about working in a team and working under pressure? Can you do it?

I like working with other people in a team. Personally, I think working in team is more
fun because the job can be done quicker. About the pressure, I don't think I crumble
under pressure as long as I stay calm and focus
10. What do you know about our company?

I know quite a lot of things about your company. Your company is basically a
company that engaged in automotive services. It is one of the largest ones in this city
and makes huge benefits every year. I think it is an honor for anyone to work in a fine
company like this.
11. Why do you want to work in our company?

As I said, working in this company is an honor to everyone. Your company has a good
reputation and more importantly seems to be a good place to have an excellent
working career in the future. That's why I'm sure working here is what I want.
12. What are your goals?

Professionally, my goal is to become a better person so that I can give better influence
to the people around me, especially at work.
13. Do you have any ambitions in your life that you want to archive?

I do have a lot of ambitions that I want to achieve in this life. However, one of the
most important ones right now is getting this job. I am ambitious to get this job
because I have the feeling that this job is the right one for me and I can bring the best
out of me for this job.
14. Do you have working experience in this position before?

I do have quite a lot of experience in the automotive field.
15. Do you have questions about this job?

What makes me happy to work in this office?
17. What can you do for us that other candidates cannot offer?

I am also a person who does not want to miss an opportunity, so I am looking for some
points that if the company becomes a weak point so that you can find a way out of
these problems.