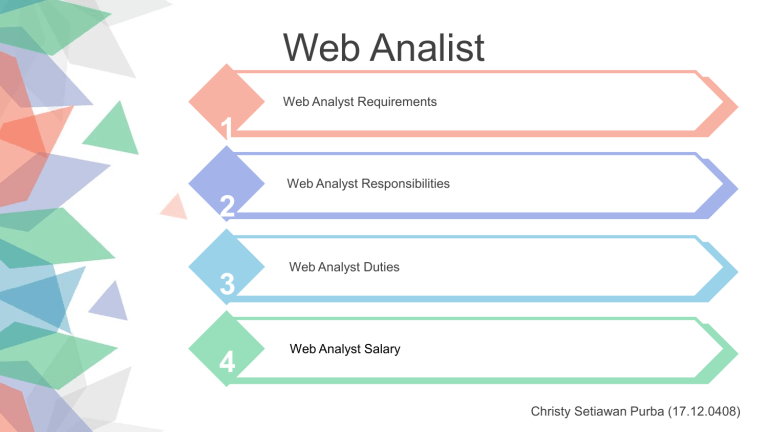 Web Analist
Web Analyst Requirements
1
Web Analyst Responsibilities
2
3
4
Web Analyst Duties
Web Analyst Salary
Christy Setiawan Purba (17.12.0408)
 Web Analyst Requirements
Bachelor's degree in Marketing, Statistics, Computer Science or other related field.
Previous data mining and analysis experience.
Familiarity with major web analytics tools, such as Google Analytics and Salesforce.
Strong verbal and visual communication skills to present and explain insights.
Excellent attention to detail and accuracy.
Ability to work effectively with different people in engineering, marketing and creative fields.
 Web Analyst Responsibilities
Using a variety of tools to extract and analyze data generated by online user activity.
Reporting your findings with data visualizations that are easy to understand.
Communicating insights and providing solutions that have demonstrable results.
Working with web development and marketing teams to implement your solutions.
Understanding the behavior and expectations of online visitors.
Staying up to date with the latest trends in online marketing and design.
 Web Analyst Duties
A Web Analyst's core duties are working with trend and data reporting, analyzing online marketing acquisition strategies,
exploring new opportunities, being aware of website visitor behavior and experiences. Web Analysts should be able to
analyze maintenance and web development costs. Someone in this position usually manages an annual budget that is
allocated for software purchases and equipment. This role includes decision-making when it comes to purchasing new
equipment and new technologies.
 Web Analyst Salary
Computer occupations, a category that includes Web Analysts, make a median yearly salary of $85,200. The bottom 10th per
centile make a median salary of $45,300, and the top 90th percentile can make a $129,700 median salary. If relocating is an o
ption, The Bureau of Labor Statistics reports that the District of Columbia, Maryland and Virginia offer the highest yearly medi
an salaries – at $115,000, $106,000 and $99,900, respectively.
Thank You!!