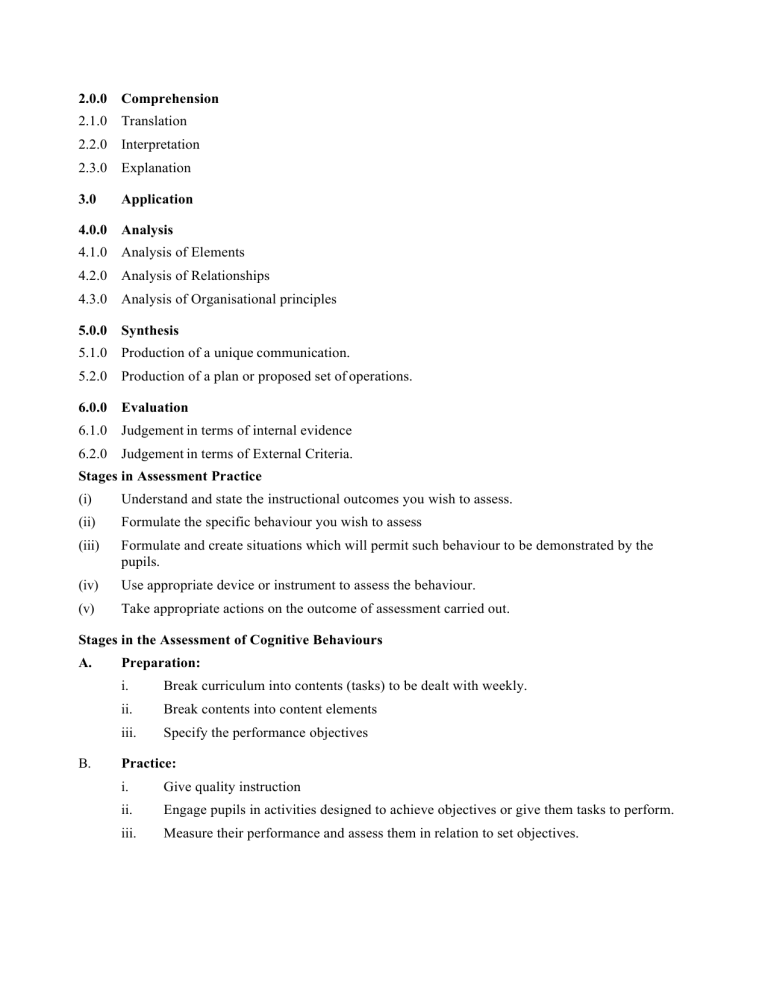 2.0.0
Comprehension
2.1.0
Translation
2.2.0
Interpretation
2.3.0
Explanation
3.0
Application
4.0.0
Analysis
4.1.0
Analysis of Elements
4.2.0
Analysis of Relationships
4.3.0
Analysis of Organisational principles
5.0.0
Synthesis
5.1.0
Production of a unique communication.
5.2.0
Production of a plan or proposed set of operations.
6.0.0
Evaluation
6.1.0
Judgement in terms of internal evidence
6.2.0
Judgement in terms of External Criteria.
Stages in Assessment Practice
(i)
Understand and state the instructional outcomes you wish to assess.
(ii)
Formulate the specific behaviour you wish to assess
(iii)
Formulate and create situations which will permit such behaviour to be demonstrated by the
pupils.
(iv)
Use appropriate device or instrument to assess the behaviour.
(v)
Take appropriate actions on the outcome of assessment carried out.
Stages in the Assessment of Cognitive Behaviours
A.
B.
Preparation:
i.
Break curriculum into contents (tasks) to be dealt with weekly.
ii.
Break contents into content elements
iii.
Specify the performance objectives
Practice:
i.
Give quality instruction
ii.
Engage pupils in activities designed to achieve objectives or give them tasks to perform.
iii.
Measure their performance and assess them in relation to set objectives.
C.
Use of Outcome::
i.
Take note of how effective the teaching has been; feedback to teacher and pupils.
ii.
Record the result
iii.
Cancel if necessary
iv.
Result could lead to guidance and counselling and/or re-teaching.
STAGES IN ASSESSMENT OF PSYCHOMOTOR OUTCOMES
These learning outcomes cannot be assessed through achievement tests or class work. The learning
outcomes stretch from handling of writing materials to activities in drama, practicals, laboratory
activities, technical subjects, games and athletics. Some of the learning outcomes are subject based or
non-subject based, e.g. subject based outcomes.
-
Drawing and painting from art
-
Fluency in speech from language
-
Saying prayers from religious studies
-
Measuring quantities and distance from mathematics.
-
Manipulative skills in subjects involving the use of apparatus and equipment.
-
Planting of crops/Experiments
However, elements of cognitive behaviour are also present in these activities because for one to do
something well, one must know how since the activities are based on knowledge.
STAGES IN ASSESSING AFFECTIVE LEARNING OUTCOMES IN SCHOOLS
These learning outcomes include feelings, beliefs, attitudes, interests, social relationships etc. which, at
times are referred to as personality traits. Some of these that can be assessed indirectly include:
i.
Honesty – truthfulness, trustworthiness, dependability, faithfulness etc.
ii.
Respect – tolerance, respect for parents, elders, teachings, constituted authority, peoples'
feelings.
iii.
Obedience – to people and law
iv.
Self-control – temperamental stability, non-aggression, use of decent language etc.
v.
Social relationship – kindness, leadership and social skills.
The most appropriate instrument for assessment here is observation. Others like self- reporting
inventories; questionnaires, interviews; rating scales, projective technique and sociometric technique
may as well be used as the occasion demands. In assessing students' personality traits, it is necessary to
assume that every student possesses good personality characteristics until the contrary is proved.
Note that the purpose of assessing students' personality traits in the school is to give feedback to the
students to help them adjust in the right direction rather than the assignment of grades.
Other personality traits which can be assessed directly are:
i.
Attendance behaviour – regularity and punctuality to school and other activities.
ii.
Participatory behaviour in non-academic activities.
iii.
Appearance: personal cleanliness, in clothes, and for materials handled.
iv.
Conduct: based on reported observed behaviours or incidents involving a display of exemplary
character or culpable behaviour.
v.
Cooperative behaviour in groups
OLD AND MODERN PRACTICES OF ASSESSMENT
A.
Old Assessment Practices.
Comprised mainly of tests and examinations administered periodically, either fortnightly or
monthly. Terminal assessment were administered at the end of term, year or course; hence its
being called a 'one-shot' assessment. This system of assessment had the following
shortcomings:-
B.
i.
It put so much into a single examination.
ii.
It was unable to cover all that was taught within the period the examination covered.
iii.
Schools depended so much on the result to determine the fate of pupils.
iv.
It caused a lot of emotional strains on the students.
v.
It was limited to students cognitive gains only.
vi.
Its administration periodically, tested knowledge only.
vii.
Learning and teaching were regarded as separate processes in which, only learning could
be assessed.
viii.
It did not reveal students' weakness early enough to enable teacher to help students
overcome them.
ix.
Achievements were as a result of comparing marks obtained.
x.
It created unhealthy competition which led to all forms of malpractices.
Modern Practice
i.
This is a method of improving teaching and learning processes.
ii.
It forms the basis for guidance and counselling in the school.
iii.
Teaching and learning are mutually related.
iv.
Teaching is assessed when learning is and vice-versa.
v.
Assessment is an integral and indispensable part of the teaching-learning process.
vi.
The attainment of objectives of teaching and learning can be perceived and confirmed
through continuous assessment.
vii.
It evaluates students in areas of learning other than the cognitive.
TESTS IN THE CLASSROOM
What is a Test?
To understand the concept of "test" you must recall the earlier definitions of "assessment" and
"evaluation". Note that we said people use these terms interchangeably. But in the real sense, they are
not the same. Tests are detailed or small scale task carried out to identify the candidate's level of
performance and to find out how far the person has learnt what was taught or be able to do what he/she
is expected to do after teaching. Tests are carried out in order to measure the efforts of the candidate and
characterize the performance. Whenever you are tested, as you will be done later on in this course, it is
to find out what you know, what you do not know, or even what you partially know. Test is therefore an
instrument for assessment. Assessment is broader than tests, although the term is sometimes used to
mean tests as in "I want to assess your performance in the course". Some even say they want to assess
students' scripts when they really mean they want to mark the scripts. Assessment and evaluation are
closely related, although some fine distinctions had been made between the two terms. Evaluation may
be said to be the broadest. It involves evaluation of a programme at the beginning, and during a course.
This is called formative evaluation. It also involved evaluation of a programme or a course at the end of
the course. This is called summative evaluation. Testing is part of assessment but assessment is more
than testing.
Tests involve measurement of candidates' performance, while evaluation is a systematic way of
assessing the success or failure of a programme. Evaluation involves assessment but not all assessments
are evaluation. Some are reappraisal of a thing, a person, life, etc.
Purpose of Tests
This section discusses the reasons for testing. Why do we have to test you? At the end of a course, why
do examiners conduct tests? Some of the reasons are outlined in this section.
i.
We conduct tests to find out whether the objectives we set for a particular course, lesson or topic
have been achieved or not. Tests measure the performance of a candidate in a course, lesson, or
topic and thus, tell the teacher or course developer that the objectives of the course or lesson have
been achieved or not. If the person taught performed badly, we may have to take a second look at
the objectives of the course of lesson.
ii.
We test students in the class to determine the progress made by the students. We want to know
whether or not the students are improving in the course, lesson, or topic. If progress is made, we
reinforce the progress so that the students can learn more. If no progress is made, we intensity
teaching to achieve progress. If progress is slow, we slow down the speed of our teaching.
iii.
We use tests to determine what students have learnt or not learnt in the class. Tests show the
aspects of the course or lesson that the students have learnt. They also show areas where learning
has not taken place. Thus, the teacher can re-teach for more effective learning.
iv.
Tests are used to place students/candidates into a particular class, school, level, or employment.
Such tests are called placement tests. The assumption here is that an individual who performs
creditably well at a level can be moved to another level after testing. Thus, we use tests to place a
pupil into primary two, after he/she has passed the test set for primary one, and so on.
v.
Tests can reveal the problems or difficulty areas of a learner. Thus, we say we use tests to
diagnose or find out the problems or difficulty areas of a student or pupil. A test may reveal
whether or not a learner, for example, has a problem with pronouncing a sound, solving a
problem involving decimal, or constructing a basic shape, e.g. a triangle, etc.
vi.
Tests are used to predict outcomes. We use tests to predict whether or not a learner will be able to
do a certain job, task, use language to study in a university or perform well in a particular school,
college, or university. We assume that if Aliyu can pass this test or examination, he will be able
to go to level 100 of a university and study engineering. This may not always be the case, though.
There are other factors that can make a student do well other than high performance in a test.
If you have done Activity II very well, it will not be difficult for you to determine the aims and objectives
of classroom tests. Let's study this in the next section.
AIMS AND OBJECTIVES OF CLASSROOM TESTS
In this section, we will discuss aims and objectives of classroom tests. But before we do this, what do we
mean by classroom tests? These can be tests designed by the teacher to determine or monitor the
progress of the students or pupils in the classroom. It may also be extended to all examinations
conducted in a classroom situation. Whichever interpretation given, classroom tests have the following
aims and objectives:
i.
Informteachers about the performance of the learners in their classes.
ii.
Show progress that the learners are making in the class.
iii.
Comparethe performance of one learner with the other to know how to classify them either as
weak learners who need more attention, average learners, and strong or high achievers that can be
used to assist the weak learners.
iv.
Promote a pupil or student from one class to another.
v.
Reshape teaching items, especially where tests show that certain items are poorly learnt either
because they are poorly taught or difficult for the learners to learn. Reshaping teaching items may
involve resetting learning objectives, teaching objectives, sequencing of teaching items or
grading of the items being taught for effective learning.
vi.
For certification – we test in order to certify that a learner has completed the course and can
leave. After such tests or examinations, certificates are issued.
vii.
Conduct a research – sometimes we conduct class tests for research purposes. We want to
experiment whether a particular method or technique or approach is effective or not. In this case,
we test the students before (pre-test) using the technique. We then teach using the technique on
one group of a comparative level, (i.e. experimental group) and do not use the technique but
another in another group of a comparative level, (i.e. control group). Later on, you compare
outcomes (results) on the experimental and control groups to find out the effectiveness of the
technique on the performance of the experimental group
SUMMARY

In this unit, we have explained what assessment is and its purpose in education. Bloom's
cognitive domain was briefly summarised and stages in assessment practice were discussed. We
also compared old and modern assessment practices. Attempt was also made to define tests, show
the purpose of testing, the aims and objectives of classroom tests. You will agree with me that
tests and examinations are "necessary evils" that cannot be done without. They must still be in
our educational system if we want to know progress made by learners, what has been learnt, what
has not been learnt and how to improve learning and teaching. 
Testing is an important component of teaching-learning activities. It is an integral part of the
curriculum. Through tests, the teacher measures learners' progress, learning outcomes, learning
benefits, and areas where teaching should focus on for better learning.