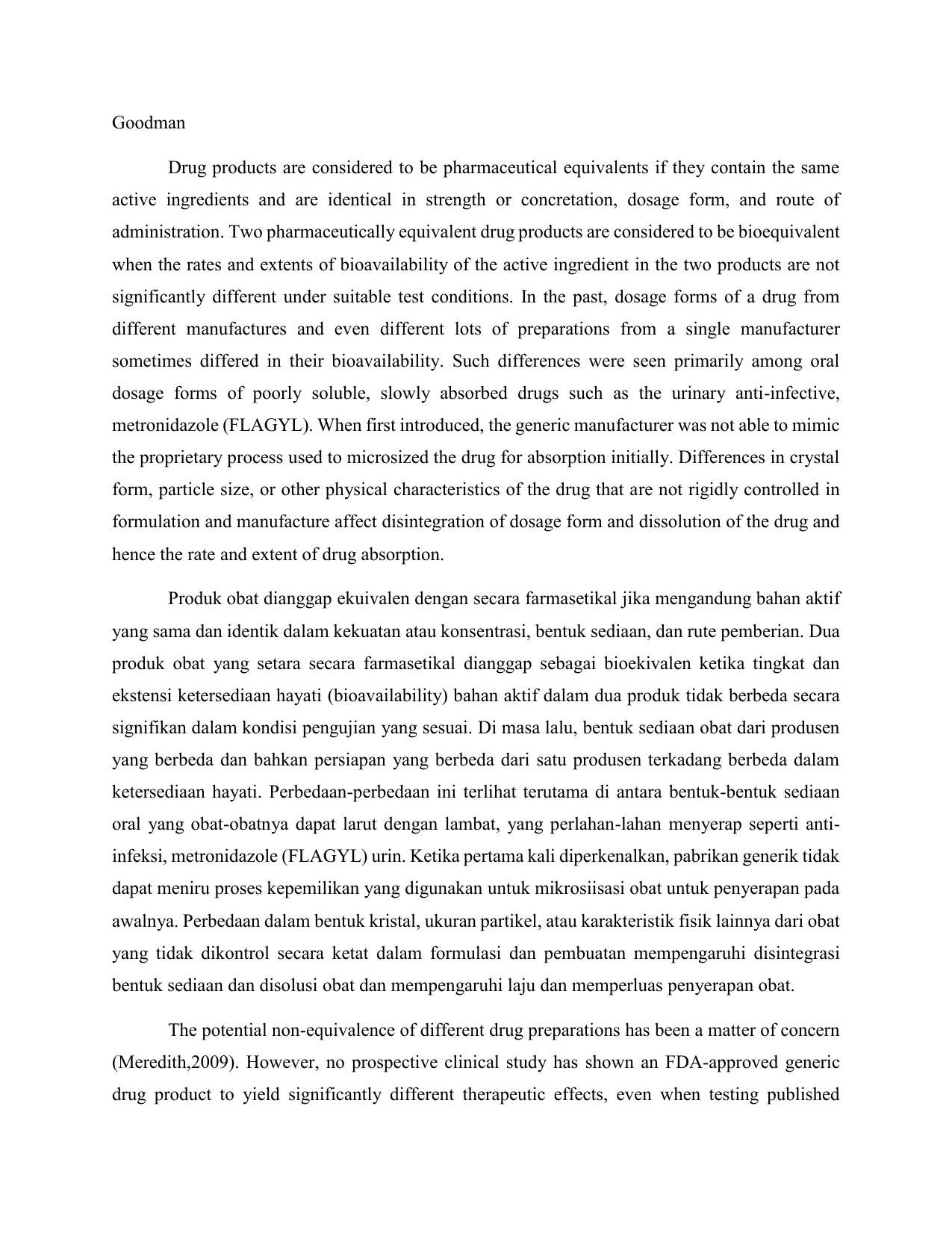 Goodman
Drug products are considered to be pharmaceutical equivalents if they contain the same
active ingredients and are identical in strength or concretation, dosage form, and route of
administration. Two pharmaceutically equivalent drug products are considered to be bioequivalent
when the rates and extents of bioavailability of the active ingredient in the two products are not
significantly different under suitable test conditions. In the past, dosage forms of a drug from
different manufactures and even different lots of preparations from a single manufacturer
sometimes differed in their bioavailability. Such differences were seen primarily among oral
dosage forms of poorly soluble, slowly absorbed drugs such as the urinary anti-infective,
metronidazole (FLAGYL). When first introduced, the generic manufacturer was not able to mimic
the proprietary process used to microsized the drug for absorption initially. Differences in crystal
form, particle size, or other physical characteristics of the drug that are not rigidly controlled in
formulation and manufacture affect disintegration of dosage form and dissolution of the drug and
hence the rate and extent of drug absorption.
Produk obat dianggap ekuivalen dengan secara farmasetikal jika mengandung bahan aktif
yang sama dan identik dalam kekuatan atau konsentrasi, bentuk sediaan, dan rute pemberian. Dua
produk obat yang setara secara farmasetikal dianggap sebagai bioekivalen ketika tingkat dan
ekstensi ketersediaan hayati (bioavailability) bahan aktif dalam dua produk tidak berbeda secara
signifikan dalam kondisi pengujian yang sesuai. Di masa lalu, bentuk sediaan obat dari produsen
yang berbeda dan bahkan persiapan yang berbeda dari satu produsen terkadang berbeda dalam
ketersediaan hayati. Perbedaan-perbedaan ini terlihat terutama di antara bentuk-bentuk sediaan
oral yang obat-obatnya dapat larut dengan lambat, yang perlahan-lahan menyerap seperti antiinfeksi, metronidazole (FLAGYL) urin. Ketika pertama kali diperkenalkan, pabrikan generik tidak
dapat meniru proses kepemilikan yang digunakan untuk mikrosiisasi obat untuk penyerapan pada
awalnya. Perbedaan dalam bentuk kristal, ukuran partikel, atau karakteristik fisik lainnya dari obat
yang tidak dikontrol secara ketat dalam formulasi dan pembuatan mempengaruhi disintegrasi
bentuk sediaan dan disolusi obat dan mempengaruhi laju dan memperluas penyerapan obat.
The potential non-equivalence of different drug preparations has been a matter of concern
(Meredith,2009). However, no prospective clinical study has shown an FDA-approved generic
drug product to yield significantly different therapeutic effects, even when testing published
anecdotal reports of non-equivalence. Because of the legitimate concern of clinicians and the
financial consequences of generic prescribing is further discussed in connection with drug
nomenclature and the choice of drug name in writing prescription order (Appendix I).
Potensi non-ekivalensi dari preparasi obat yang berbeda telah menjadi masalah (Meredith,
2009). Namun, tidak ada studi klinis prospektif yang menunjukkan produk obat generik yang
disetujui FDA untuk menghasilkan efek terapeutik yang berbeda secara signifikan, bahkan ketika
pengujian menerbitkan laporan anekdotal tentang ketidaksesuaian. Karena kekhawatiran sah dari
dokter dan konsekuensi keuangan dari resep generik lebih lanjut dibahas sehubungan dengan
nomenklatur obat dan pilihan nama obat dalam urutan penulisan resep (Lampiran I).