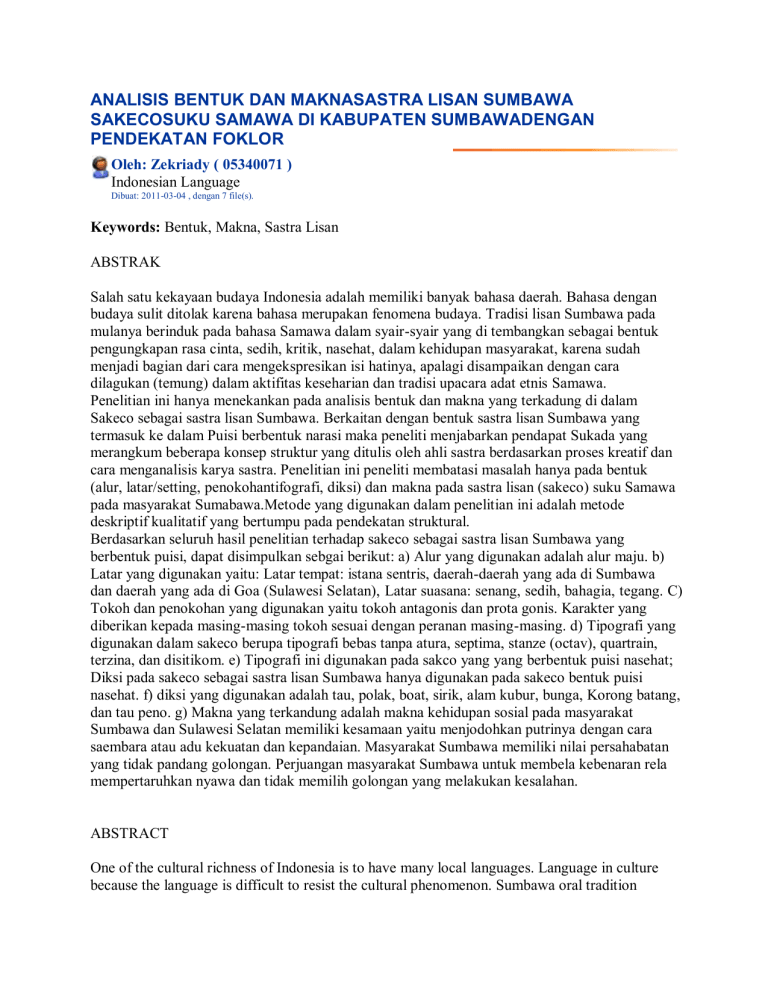 ANALISIS BENTUK DAN MAKNASASTRA LISAN SUMBAWA
SAKECOSUKU SAMAWA DI KABUPATEN SUMBAWADENGAN
PENDEKATAN FOKLOR
Oleh: Zekriady ( 05340071 )
Indonesian Language
Dibuat: 2011-03-04 , dengan 7 file(s).
Keywords: Bentuk, Makna, Sastra Lisan
ABSTRAK
Salah satu kekayaan budaya Indonesia adalah memiliki banyak bahasa daerah. Bahasa dengan
budaya sulit ditolak karena bahasa merupakan fenomena budaya. Tradisi lisan Sumbawa pada
mulanya berinduk pada bahasa Samawa dalam syair-syair yang di tembangkan sebagai bentuk
pengungkapan rasa cinta, sedih, kritik, nasehat, dalam kehidupan masyarakat, karena sudah
menjadi bagian dari cara mengekspresikan isi hatinya, apalagi disampaikan dengan cara
dilagukan (temung) dalam aktifitas keseharian dan tradisi upacara adat etnis Samawa.
Penelitian ini hanya menekankan pada analisis bentuk dan makna yang terkadung di dalam
Sakeco sebagai sastra lisan Sumbawa. Berkaitan dengan bentuk sastra lisan Sumbawa yang
termasuk ke dalam Puisi berbentuk narasi maka peneliti menjabarkan pendapat Sukada yang
merangkum beberapa konsep struktur yang ditulis oleh ahli sastra berdasarkan proses kreatif dan
cara menganalisis karya sastra. Penelitian ini peneliti membatasi masalah hanya pada bentuk
(alur, latar/setting, penokohantifografi, diksi) dan makna pada sastra lisan (sakeco) suku Samawa
pada masyarakat Sumabawa.Metode yang digunakan dalam penelitian ini adalah metode
deskriptif kualitatif yang bertumpu pada pendekatan struktural.
Berdasarkan seluruh hasil penelitian terhadap sakeco sebagai sastra lisan Sumbawa yang
berbentuk puisi, dapat disimpulkan sebgai berikut: a) Alur yang digunakan adalah alur maju. b)
Latar yang digunakan yaitu: Latar tempat: istana sentris, daerah-daerah yang ada di Sumbawa
dan daerah yang ada di Goa (Sulawesi Selatan), Latar suasana: senang, sedih, bahagia, tegang. C)
Tokoh dan penokohan yang digunakan yaitu tokoh antagonis dan prota gonis. Karakter yang
diberikan kepada masing-masing tokoh sesuai dengan peranan masing-masing. d) Tipografi yang
digunakan dalam sakeco berupa tipografi bebas tanpa atura, septima, stanze (octav), quartrain,
terzina, dan disitikom. e) Tipografi ini digunakan pada sakco yang yang berbentuk puisi nasehat;
Diksi pada sakeco sebagai sastra lisan Sumbawa hanya digunakan pada sakeco bentuk puisi
nasehat. f) diksi yang digunakan adalah tau, polak, boat, sirik, alam kubur, bunga, Korong batang,
dan tau peno. g) Makna yang terkandung adalah makna kehidupan sosial pada masyarakat
Sumbawa dan Sulawesi Selatan memiliki kesamaan yaitu menjodohkan putrinya dengan cara
saembara atau adu kekuatan dan kepandaian. Masyarakat Sumbawa memiliki nilai persahabatan
yang tidak pandang golongan. Perjuangan masyarakat Sumbawa untuk membela kebenaran rela
mempertaruhkan nyawa dan tidak memilih golongan yang melakukan kesalahan.
ABSTRACT
One of the cultural richness of Indonesia is to have many local languages. Language in culture
because the language is difficult to resist the cultural phenomenon. Sumbawa oral tradition
originally descended on Samawa language in poetry as a form of disclosure in tembangkan love,
sadness, criticism, advice, community life, it has become a part of the way of expressing his
heart, let alone delivered in a way chanted (temung) in activities of daily life and ceremonial
traditions of ethnic Samawa.
This study emphasizes only on the analysis of form and meaning contained in Sumbawa Sakeco
as oral literature. In connection with the oral form of literature that is included in Sumbawa
narrative poem describes the investigators Sukada opinion that summarizes some of the concepts
structure written oteh sasfra experts based creative process and how to analyze literary works.
This study researchers restrict the problem only on the shape (grooves, background / setting,
penokohantifografi, diction) and the meaning of oral literature (sakeco) interest on the public
Samawa Sumabawa.Metode used in this study is a qualitative descriptive method, which relies
on a structural approach.
Based on the results of research on oral literature Sumbawa sakeco as a form of poetry, can be
summarized as follows: a) The flow used was forward flow. b) Background used are: place
Background: palace centric, there are areas in Sumbawa and local levels in Goa (South Sulawesi),
Background mood: happy, sad, happy, tense. C) People and characterization of antagonist used
and prota gonis. The characters are given to each character in accordance with their respective
roles. d) The typefaces used in the form of typography sakeco freely without atura, septima,
stanze (octav), quartrain, terana, and disitikom. e) typefaces are used on a shaped poem sakco
advice; Diction on Sumbawa sakeco as oral literature is only used in poetry form of advice
sakeco f) the diction used is tau, Polak, boating, envious, Alcan grave, flowers, stems
surroundings, and tau peno. g) The meaning is the meaning of embodied social life in South
Sulawesi, Sumbawa and communities have in common is a way to match her daughter with the
competition or contest of strength and versatility. Sumbawa society has no view of the value of
friendship groups. Sumbawa communities struggle to defend the truth willingly risked their lives
and do not choose classes that make mistakes.