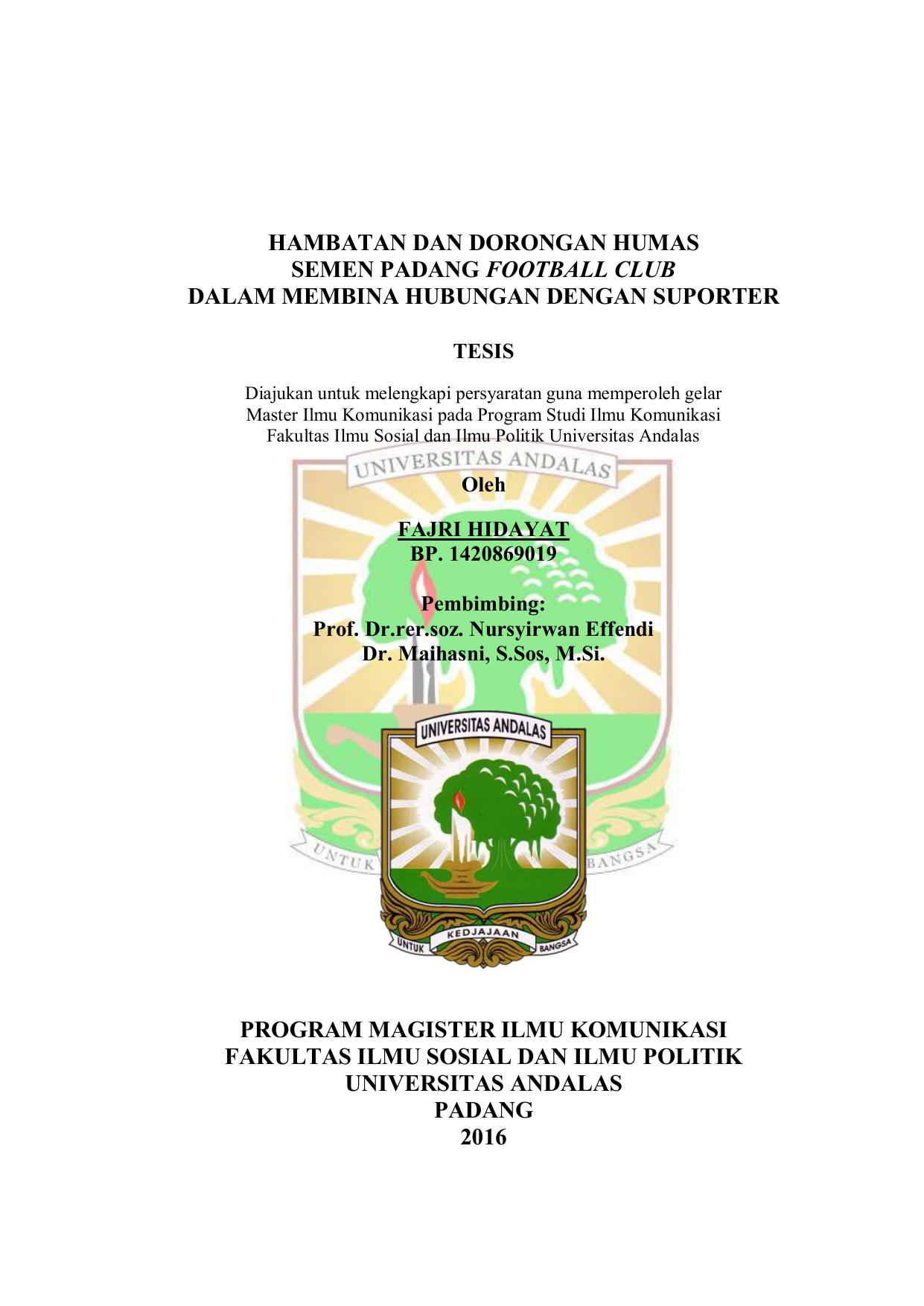 HAMBATAN DAN DORONGAN HUMAS
SEMEN PADANG FOOTBALL CLUB
DALAM MEMBINA HUBUNGAN DENGAN SUPORTER
TESIS
Diajukan untuk melengkapi persyaratan guna memperoleh gelar
Master Ilmu Komunikasi pada Program Studi Ilmu Komunikasi
Fakultas Ilmu Sosial dan Ilmu Politik Universitas Andalas
Oleh
FAJRI HIDAYAT
BP. 1420869019
Pembimbing:
Prof. Dr.rer.soz. Nursyirwan Effendi
Dr. Maihasni, S.Sos, M.Si.
PROGRAM MAGISTER ILMU KOMUNIKASI
FAKULTAS ILMU SOSIAL DAN ILMU POLITIK
UNIVERSITAS ANDALAS
PADANG
2016
ABSTRAK
Fajri Hidayat, Nomor BP: 1420869019. Magister Ilmu Komunikasi, Fakultas
Ilmu Sosial dan Ilmu Politik Universitas Andalas. Judul Tesis: Hambatan
dan Dorongan Humas Semen Padang Football Club dalam Membina
Hubungan dengan Suporter. Pembimbing I: Prof. Dr.rer.soz. Nursyirwan
Effendi, Pembimbing II: Dr. Maihasni, S.Sos, M.Si.
Kondisi hubungan organisasi dengan publik akan berdampak terhadap
pencapaian organisasi secara sosial, ekonomi, dan politik. Oleh karena itu,
dibutuhkan keberadaan Humas untuk membina hubungan antara organisasi dan
publik. Kondisi hubungan antara manajemen klub dengan suporter Semen Padang
FC yang diwarnai sejumlah permasalahan beberapa waktu belakangan ini,
menarik peneliti untuk melakukan penelitian ini. Tujuan dari penelitian ini adalah
untuk mendeskripsikan cara pembinaan hubungan antara klub dengan suporter
yang dilakukan Humas Semen Padang FC serta mengetahui hambatan dan
dorongan yang dialami dalam pembinaan hubungan tersebut.
Teori yang digunakan adalah Teori Manajemen Hubungan yang fokus
membahas proses manajemen hubungan antara organisasi dengan publiknya.
Dalam hal ini, peneliti menggunakan strategi pembinaan hubungan simetris (Hon
dan Grunig, 1999). Penelitian ini menggunakan pendekatan kualitatif dengan tipe
deskriptif. Informan dalam penelitian ini adalah para petugas Humas dan suporter
Semen Padang FC (The Kmer's dan Spartack's). Pemilihan informan dilakukan
dengan menggunakan metode purpossive. Pengumpulan data dilakukan
menggunakan metode wawancara dan observasi non-participant. Analisis data
menggunakan metode yang dikemukakan Miles dan Huberman yang melalui tiga
tahapan: reduksi data, penyajian data, dan penarikan kesimpulan.
Hasil penelitian ini menunjukkan bahwa Humas Semen Padang FC
membina hubungan dengan cara membatasi keterbukaan terhadap suporter,
menyediakan media sosial sebagai akses informasi, serta melakukan pendekatan
interpersonal dan membuat jaringan komunikasi. Hambatan dalam pembinaan
hubungan ini adalah kepentingan menjaga rahasia dan keselamatan organisasi,
kompetensi Sumber Daya Manusia Humas yang kurang memadai, dan kondisi
sepakbola Indonesia yang tidak kondusif. Hambatan-hambatan tersebut memaksa
Humas untuk membina hubungan dengan melakukan komunikasi secara asimetris
yang berimplikasi terhadap munculnya berbagai permasalahan dalam hubungan
ini. Namun demikian, seiring waktu berjalan, Humas mampu meredam
permasalahan tersebut dengan menjalin pendekatan secara interpersonal terhadap
agen pencerahan dari kalangan suporter. Pendekatan ini ternyata menciptakan
pola komunikasi dua arah simetris dalam dua tahap.
Kata kunci : hubungan, humas, sepakbola, klub, suporter.
ABSTRACT
Fajri Hidayat, Reg. Number: 1420869019. Magister Degree in Communication
Science, Faculty of Social and Political Science, Andalas University. Thesis
Title: The Barriers and Encouragements of Public Relations of Semen
Padang Football Club in Establishing Relationship with Supporters.
Supervisor I: Prof. Dr.rer.soz. Nursyirwan Effendi, Supervisor II:
Dr. Maihasni, S.Sos, M.Si.
The condition of organization-public relationship will impact on
achievement of the organization in the scale of social, economic, and political
issues. Therefore, it needs the presence of Public Relations to establish
relationship between organization and the public. It also pertains to condition of
relationship between the management and the supporters of Semen Padang FC
which marred by problems lately. Hence, this matter attracts me to conduct this
research. The objective of this research is to describe the way of relationship
establishment between the club and the supporters which is conducted by the
Public Relations of Semen Padang FC and to examine the barriers and
encouragements that are faced within the process.
The theory used in this research is Relationship Management Theory that
focuses on the relationship management process between organization and its
publics. In this case, I apply symmetrical strategy (Hon and Grunig, 1999). This
research uses qualitative approach with descriptive type. The informants of this
research consist of the Public Relations Officers and the supporters of Semen
Padang FC (The Kmer's and Spartack's). The informants are selected based on
purpossive method. In collecting the data, I take interview and non-participant
observation methods. The data analysis refers to the method proposed by Miles
and Huberman by conducting three steps: data reduction, data display, and
conclusion drawing.
The finding of this research shows that the Public Relations of Semen
Padang FC establishes the relationship by limiting the transparency toward
supporters, providing social media as information access, and conducting
interpersonal approach and make communication network. The barriers of the
relationship establishment are the interest of keeping organizations' secret and
security, the lack of competency in Public Relations' Human Resources, and the
unconducive situation of Indonesian Football. The obstacles insist the Public
Relations to establish the relationship by communicating asymmetrically that
implicates toward the emerge of various problems in this relationship. However,
as time goes on, the Public Relations is capable to overcome those problems by
establishing interpersonal approach to the enlightenment agents among the
supporter groups. This approach obviously creates two-way symmetrical pattern
of communication in two steps.
Key Words : relationship, public relations, football, club, supporters.