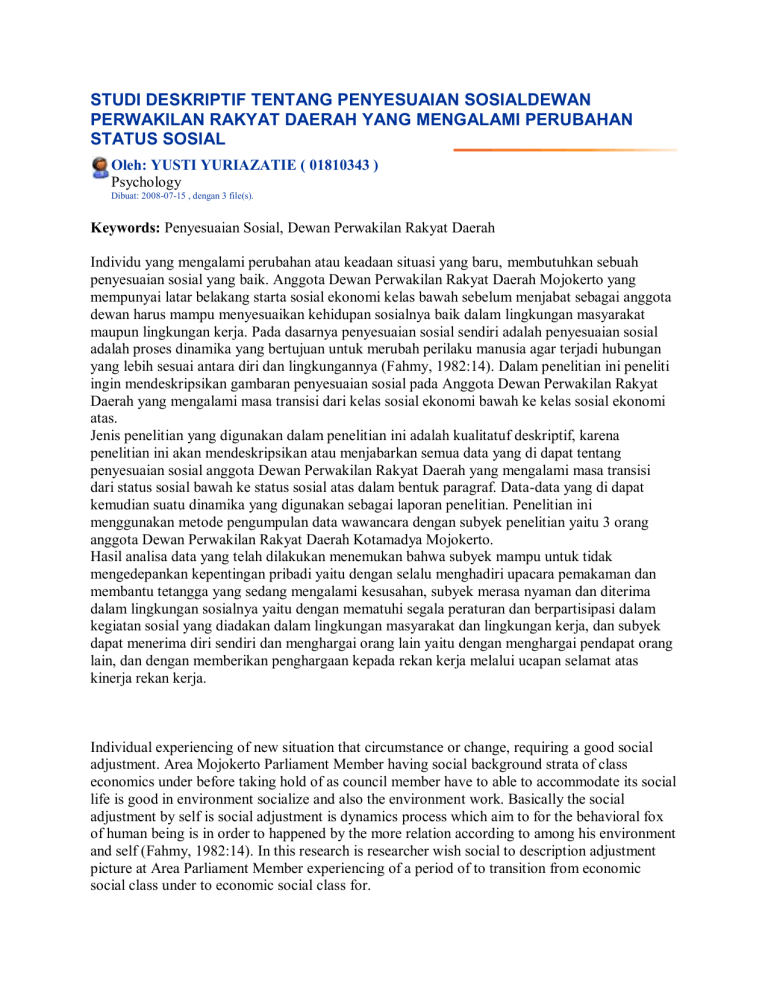 STUDI DESKRIPTIF TENTANG PENYESUAIAN SOSIALDEWAN
PERWAKILAN RAKYAT DAERAH YANG MENGALAMI PERUBAHAN
STATUS SOSIAL
Oleh: YUSTI YURIAZATIE ( 01810343 )
Psychology
Dibuat: 2008-07-15 , dengan 3 file(s).
Keywords: Penyesuaian Sosial, Dewan Perwakilan Rakyat Daerah
Individu yang mengalami perubahan atau keadaan situasi yang baru, membutuhkan sebuah
penyesuaian sosial yang baik. Anggota Dewan Perwakilan Rakyat Daerah Mojokerto yang
mempunyai latar belakang starta sosial ekonomi kelas bawah sebelum menjabat sebagai anggota
dewan harus mampu menyesuaikan kehidupan sosialnya baik dalam lingkungan masyarakat
maupun lingkungan kerja. Pada dasarnya penyesuaian sosial sendiri adalah penyesuaian sosial
adalah proses dinamika yang bertujuan untuk merubah perilaku manusia agar terjadi hubungan
yang lebih sesuai antara diri dan lingkungannya (Fahmy, 1982:14). Dalam penelitian ini peneliti
ingin mendeskripsikan gambaran penyesuaian sosial pada Anggota Dewan Perwakilan Rakyat
Daerah yang mengalami masa transisi dari kelas sosial ekonomi bawah ke kelas sosial ekonomi
atas.
Jenis penelitian yang digunakan dalam penelitian ini adalah kualitatuf deskriptif, karena
penelitian ini akan mendeskripsikan atau menjabarkan semua data yang di dapat tentang
penyesuaian sosial anggota Dewan Perwakilan Rakyat Daerah yang mengalami masa transisi
dari status sosial bawah ke status sosial atas dalam bentuk paragraf. Data-data yang di dapat
kemudian suatu dinamika yang digunakan sebagai laporan penelitian. Penelitian ini
menggunakan metode pengumpulan data wawancara dengan subyek penelitian yaitu 3 orang
anggota Dewan Perwakilan Rakyat Daerah Kotamadya Mojokerto.
Hasil analisa data yang telah dilakukan menemukan bahwa subyek mampu untuk tidak
mengedepankan kepentingan pribadi yaitu dengan selalu menghadiri upacara pemakaman dan
membantu tetangga yang sedang mengalami kesusahan, subyek merasa nyaman dan diterima
dalam lingkungan sosialnya yaitu dengan mematuhi segala peraturan dan berpartisipasi dalam
kegiatan sosial yang diadakan dalam lingkungan masyarakat dan lingkungan kerja, dan subyek
dapat menerima diri sendiri dan menghargai orang lain yaitu dengan menghargai pendapat orang
lain, dan dengan memberikan penghargaan kepada rekan kerja melalui ucapan selamat atas
kinerja rekan kerja.
Individual experiencing of new situation that circumstance or change, requiring a good social
adjustment. Area Mojokerto Parliament Member having social background strata of class
economics under before taking hold of as council member have to able to accommodate its social
life is good in environment socialize and also the environment work. Basically the social
adjustment by self is social adjustment is dynamics process which aim to for the behavioral fox
of human being is in order to happened by the more relation according to among his environment
and self (Fahmy, 1982:14). In this research is researcher wish social to description adjustment
picture at Area Parliament Member experiencing of a period of to transition from economic
social class under to economic social class for.
Type of Research used in this research is descriptive qualitative, because this research of
description or formulate all data which is in earning about social adjustment of member of
Parliament of Area experiencing of a period to transition from social status under to social status
for in the form of paragraph. Data which in earning later; then a dynamics which is used as by a
research report. This research use method of data collecting interview by subject is research that
is 3 people of member of Parliament of Area of Municipality Mojokerto.
Result of analysis of data which have been conducted to find that subject able to order not to
place forward private interest that is always assist at funeral and assist neighbor which the
medium experience of adversity, subject feel balmy and accepted in his social environment that
is obeyed all regulation and participate in social activity performed in environment socialize and
the environment work, and subject can accept own self and esteem others that is esteemed others
opinion, and given appreciation to friend work through felicitation for performance of friend
work.