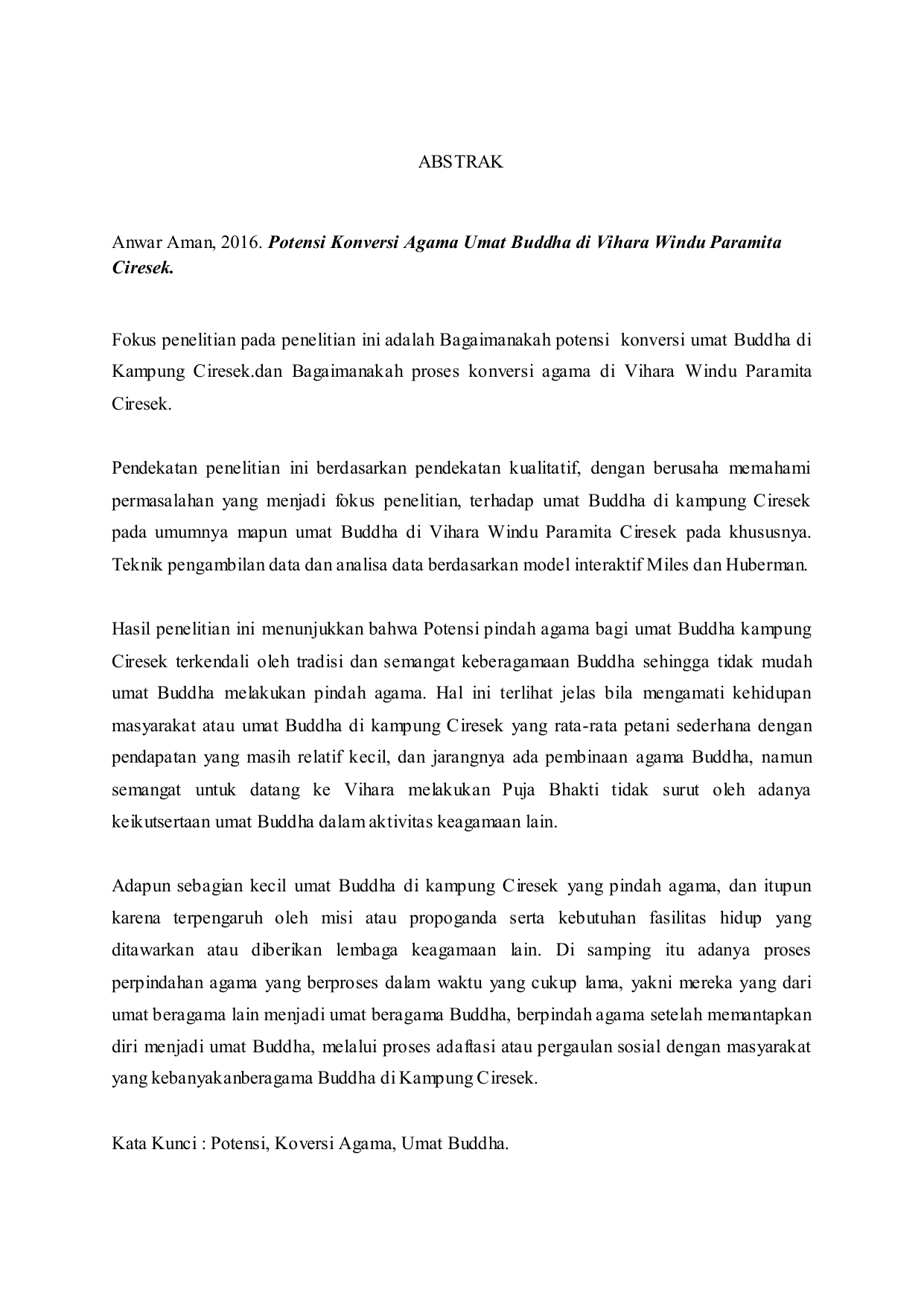 ABSTRAK
Anwar Aman, 2016. Potensi Konversi Agama Umat Buddha di Vihara Windu Paramita
Ciresek.
Fokus penelitian pada penelitian ini adalah Bagaimanakah potensi konversi umat Buddha di
Kampung Ciresek.dan Bagaimanakah proses konversi agama di Vihara Windu Paramita
Ciresek.
Pendekatan penelitian ini berdasarkan pendekatan kualitatif, dengan berusaha memahami
permasalahan yang menjadi fokus penelitian, terhadap umat Buddha di kampung Ciresek
pada umumnya mapun umat Buddha di Vihara Windu Paramita Ciresek pada khususnya.
Teknik pengambilan data dan analisa data berdasarkan model interaktif Miles dan Huberman.
Hasil penelitian ini menunjukkan bahwa Potensi pindah agama bagi umat Buddha kampung
Ciresek terkendali oleh tradisi dan semangat keberagamaan Buddha sehingga tidak mudah
umat Buddha melakukan pindah agama. Hal ini terlihat jelas bila mengamati kehidupan
masyarakat atau umat Buddha di kampung Ciresek yang rata-rata petani sederhana dengan
pendapatan yang masih relatif kecil, dan jarangnya ada pembinaan agama Buddha, namun
semangat untuk datang ke Vihara melakukan Puja Bhakti tidak surut oleh adanya
keikutsertaan umat Buddha dalam aktivitas keagamaan lain.
Adapun sebagian kecil umat Buddha di kampung Ciresek yang pindah agama, dan itupun
karena terpengaruh oleh misi atau propoganda serta kebutuhan fasilitas hidup yang
ditawarkan atau diberikan lembaga keagamaan lain. Di samping itu adanya proses
perpindahan agama yang berproses dalam waktu yang cukup lama, yakni mereka yang dari
umat beragama lain menjadi umat beragama Buddha, berpindah agama setelah memantapkan
diri menjadi umat Buddha, melalui proses adaftasi atau pergaulan sosial dengan masyarakat
yang kebanyakanberagama Buddha di Kampung Ciresek.
Kata Kunci : Potensi, Koversi Agama, Umat Buddha.
ABSTRACT
Anwar Aman, 2016. Potential of Religious Buddhist Conversion in Vihara Windu Paramita
Ciresek.
Research Focus Research ON singer is How Potential Conversion Buddhists in Kampung
Ciresek.dan How Conversion Process religion at Temple Windu Paramita Ciresek.
Singer Research Approach based qualitative approach, with trying Understand the problem
The Become Focus of Research, against Buddhists in the village Ciresek on generally mapun
Buddhist Vihara Windu in Paramita Ciresek at particular. Mechanica l Data Collection and
Analysis Data Model based Interactive Miles and Huberman.
Research results show that the singer Potential Move To A Buddhist religion Ciresek villages
controlled by tradition and Buddhist religious passion that Buddhists do not Easy Move
religion. It Singer looks clear When examining Life 'community or Buddhists in the village
Ciresek The average Farmers simple with Revenue is still relatively small, and the rarity of
there is Guidance Buddhism, but the passion for review Come Into Vihara perform Puja
Bhakti not retroactively By their participation Buddhists hearts activities other religious.
The Small majority Buddhists in the village Ciresek The Changing religions, and even then
the mission or because affected by propaganda And Supp lies has been used Life offered OR
is given other religious institutions. Alongside that the process of conversion The proceeds
hearts Time For a long time, that they Yang of Religious lay Being Religious Buddha,
convert taxable income solidify Yourself Being Buddhists, through process adaftasi or social
interaction with society Yang kebanyakanberagama Buddha Kampung Ciresek.
Keywords: Potential, conversion of religion, Buddhists.