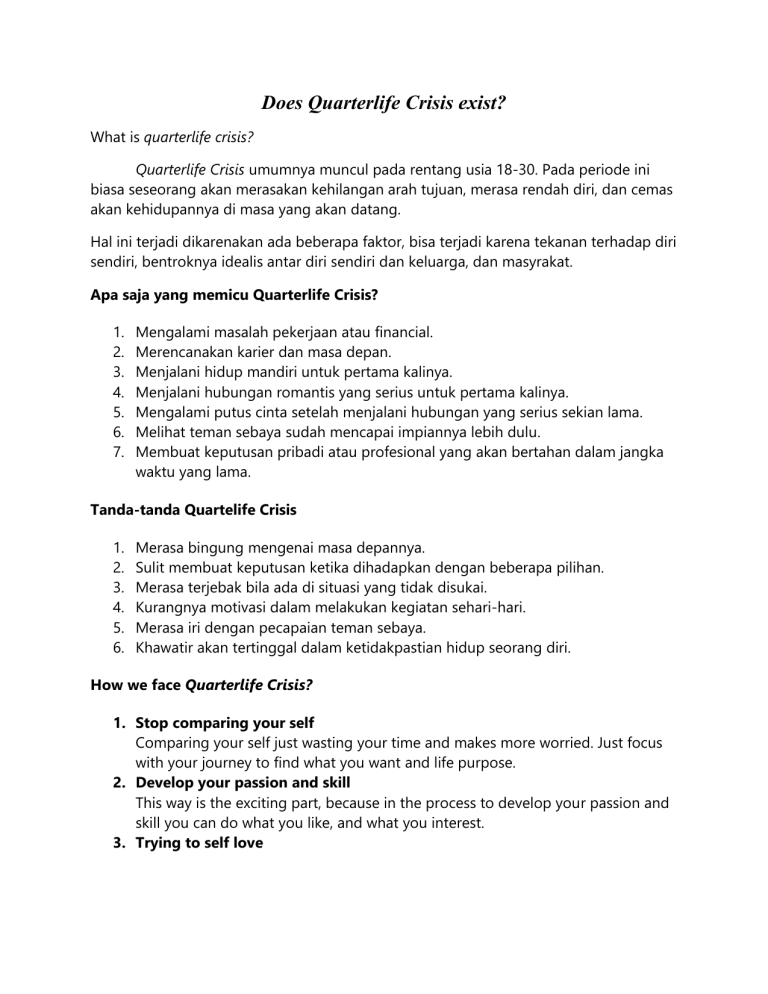 Does Quarterlife Crisis exist?
What is quarterlife crisis?
Quarterlife Crisis umumnya muncul pada rentang usia 18-30. Pada periode ini
biasa seseorang akan merasakan kehilangan arah tujuan, merasa rendah diri, dan cemas
akan kehidupannya di masa yang akan datang.
Hal ini terjadi dikarenakan ada beberapa faktor, bisa terjadi karena tekanan terhadap diri
sendiri, bentroknya idealis antar diri sendiri dan keluarga, dan masyrakat.
Apa saja yang memicu Quarterlife Crisis?
1.
2.
3.
4.
5.
6.
7.
Mengalami masalah pekerjaan atau financial.
Merencanakan karier dan masa depan.
Menjalani hidup mandiri untuk pertama kalinya.
Menjalani hubungan romantis yang serius untuk pertama kalinya.
Mengalami putus cinta setelah menjalani hubungan yang serius sekian lama.
Melihat teman sebaya sudah mencapai impiannya lebih dulu.
Membuat keputusan pribadi atau profesional yang akan bertahan dalam jangka
waktu yang lama.
Tanda-tanda Quartelife Crisis
1.
2.
3.
4.
5.
6.
Merasa bingung mengenai masa depannya.
Sulit membuat keputusan ketika dihadapkan dengan beberapa pilihan.
Merasa terjebak bila ada di situasi yang tidak disukai.
Kurangnya motivasi dalam melakukan kegiatan sehari-hari.
Merasa iri dengan pecapaian teman sebaya.
Khawatir akan tertinggal dalam ketidakpastian hidup seorang diri.
How we face Quarterlife Crisis?
1. Stop comparing your self
Comparing your self just wasting your time and makes more worried. Just focus
with your journey to find what you want and life purpose.
2. Develop your passion and skill
This way is the exciting part, because in the process to develop your passion and
skill you can do what you like, and what you interest.
3. Trying to self love
This is important part too. Because, without you realize we almost ignore the
pleasure that we have. So, it we can start self love from the small things and
without you realize it can make your life more delightful.
So, the question is, does Quarterlife Crisis exist?
Yes , it does. Quarter Life Crisis can happen to everyone, because life problem is a
normal thing. It's just how we face the problem and find a solution. But, this
shouldn't be underestimated, because if it isn't handled wisely, a quarter life
chrisis can turn into depression.