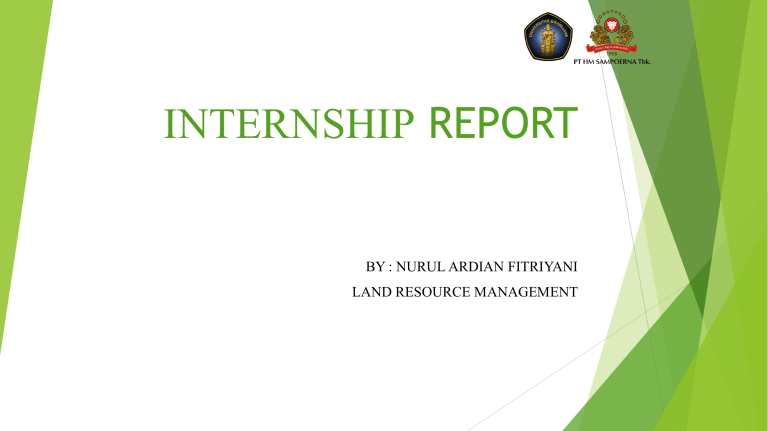 INTERNSHIP REPORT
BY : NURUL ARDIAN FITRIYANI
LAND RESOURCE MANAGEMENT
INTERNSHIP
Background
• Today tobacco is important in agribusiness and agroindustry
• PT HM Sampoerna have an experimental garden for
tobacco
• In tobacco plants there are 3 important things that need
to be considered to maintain the quality of tobacco
leaves, including climate, plant nutrients (soil
nutrients) and water availability.
Competency goals
and objectives
• To get work experience and knowledge in the field as a
form of application of theory during lectures
• understanding about the management and irrigation
systems that are applied in the cultivation of tobacco
plants at the Sampoerna Agronomy Center.
Sampoerna Agronomy Center
SAC Location
Tobacco Cultivation garden
Escapade
Cultivation
Training
Tobacco
Cultivation
provide
tobacco seeds
Seed
multiplication
Vission
Mission
• Developing economical and environmentally
friendly agricultural technology to improve
tobacco productivity and quality and cloves for
tobacco and clove farmers in Indonesia
• Increasing productivity and quality of chopped
tobacco and cloves in Indonesia and promoting
alternative technologies for tobacco
sustainability
Activity
Tobacco
and clove
cultivation
overview
July
Research
Initiation
July
Protocol
Assesment
Tobacco
Cultivatio
n
JulyAugust
JulyOctober
Final
Assesment
Monitoring
Trial
Implementat
ion and
Analysis
Research
Implemen
tation
JulyNovember
AugustDecember
Research Implementation
FMC Micro
Magnet
Acidification and
Stalk-cut
Sludge
- Monitoring
- Observation
-Analysis
Research Implementation
The optimal pH for
tobacco ranges from 5.57.5. Volcanic ash will
increase soil acidity. Urea
fertilizer can Increase soil
acidity. addition of water
can increase water
available to plants
Asidification
The treatment that shows
the best performance both
jepon and marakot is with
KNO3 fertilizer under
acidic conditions and extra
water
FMC Micro
Magnet
The treatment that
shows the best
permormance is highest
application of micro
magnet with no
fertilizer reduction
Sludge
The treatment that
shows the best
performance is
Sludge with 25%
fertilizer reduction
Based on laboratory
analysis, Sludge
application can improve
soil physical properties
better than compost, but
the resistance of plants
disease is low
Stalk-cut
On going
On going
Humic acid can
improve soil
properties, especially
physical properties
and increase nutrient
uptake
FMC MICRO MAGNET
2. Treatment
Detail
M1
M2
P0
P1
P2
: 0 lt/ha
: 10 lt/ha Micro
MAGNET
Without
application
14.7 ml/lt
: 20 lt/ha Micro
MAGNET
29.4 ml/lt
: Reduce 0%
No reduce
: Reduce fertilizer 50%
: Reduce fertilizer
100%
500,00
8
ml/554
ml
16
ml/554
ml
Green Weight (gr)
M0
600,00
b
400,00
b
b
300,00
200,00
a
a
a
a
100,00
a
0,00
Perlakuan
a
summary
Conclusions
1. Environmental conditions
due to eruptions in Jember
affect soil conditions, the
application of urea fertilizer
will make the soil more acidic
so that phosphate will be
difficult to obtain. Increased
rainfall can increase available
water because Entisols soil
types are easy to lose water
2. Water supply in the
greenhouse is more uniform
while the land is less uniform
Recommendation
1. SAC's land should not be
used for the cultivation of
tobacco plants or the
Solanaceae family.
2. Soil requires additional
organic matter so that after
cultivation, the remaining
plants should be immersed in
the soil.
3. Routine maintenance for
irrigation in the land.