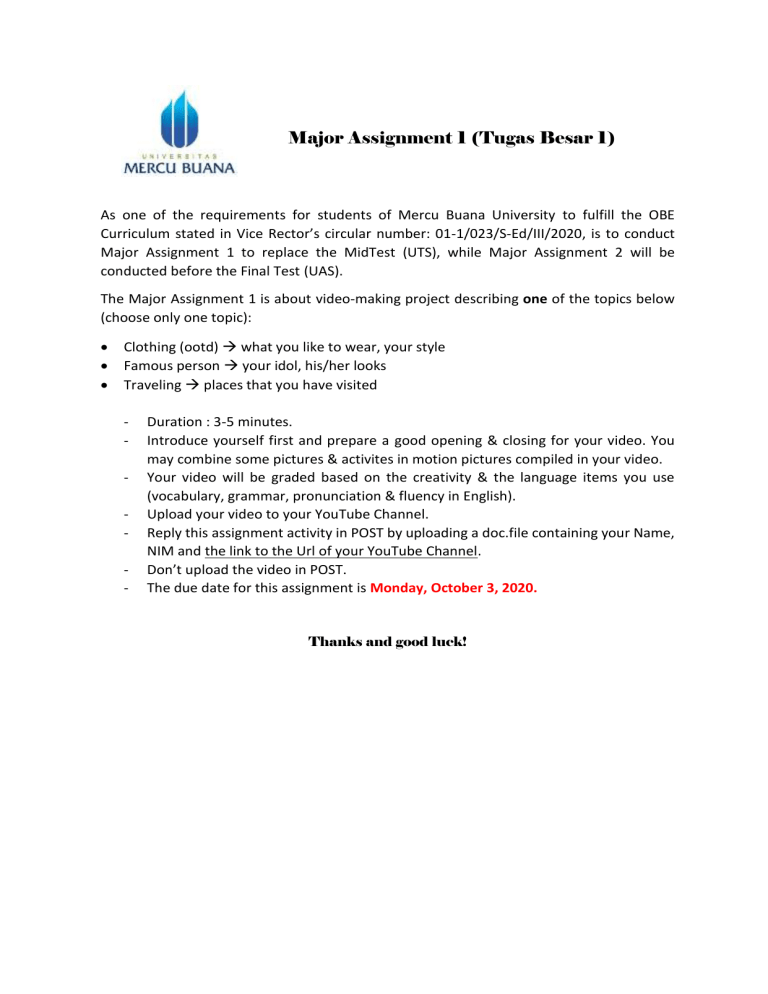 Major Assignment 1 (Tugas Besar 1)
As one of the requirements for students of Mercu Buana University to fulfill the OBE
Curriculum stated in Vice Rector's circular number: 01-1/023/S-Ed/III/2020, is to conduct
Major Assignment 1 to replace the MidTest (UTS), while Major Assignment 2 will be
conducted before the Final Test (UAS).
The Major Assignment 1 is about video-making project describing one of the topics below
(choose only one topic):



Clothing (ootd)  what you like to wear, your style
Famous person  your idol, his/her looks
Traveling  places that you have visited
-
Duration : 3-5 minutes.
Introduce yourself first and prepare a good opening & closing for your video. You
may combine some pictures & activites in motion pictures compiled in your video.
Your video will be graded based on the creativity & the language items you use
(vocabulary, grammar, pronunciation & fluency in English).
Upload your video to your YouTube Channel.
Reply this assignment activity in POST by uploading a doc.file containing your Name,
NIM and the link to the Url of your YouTube Channel.
Don't upload the video in POST.
The due date for this assignment is Monday, October 3, 2020.
Thanks and good luck!