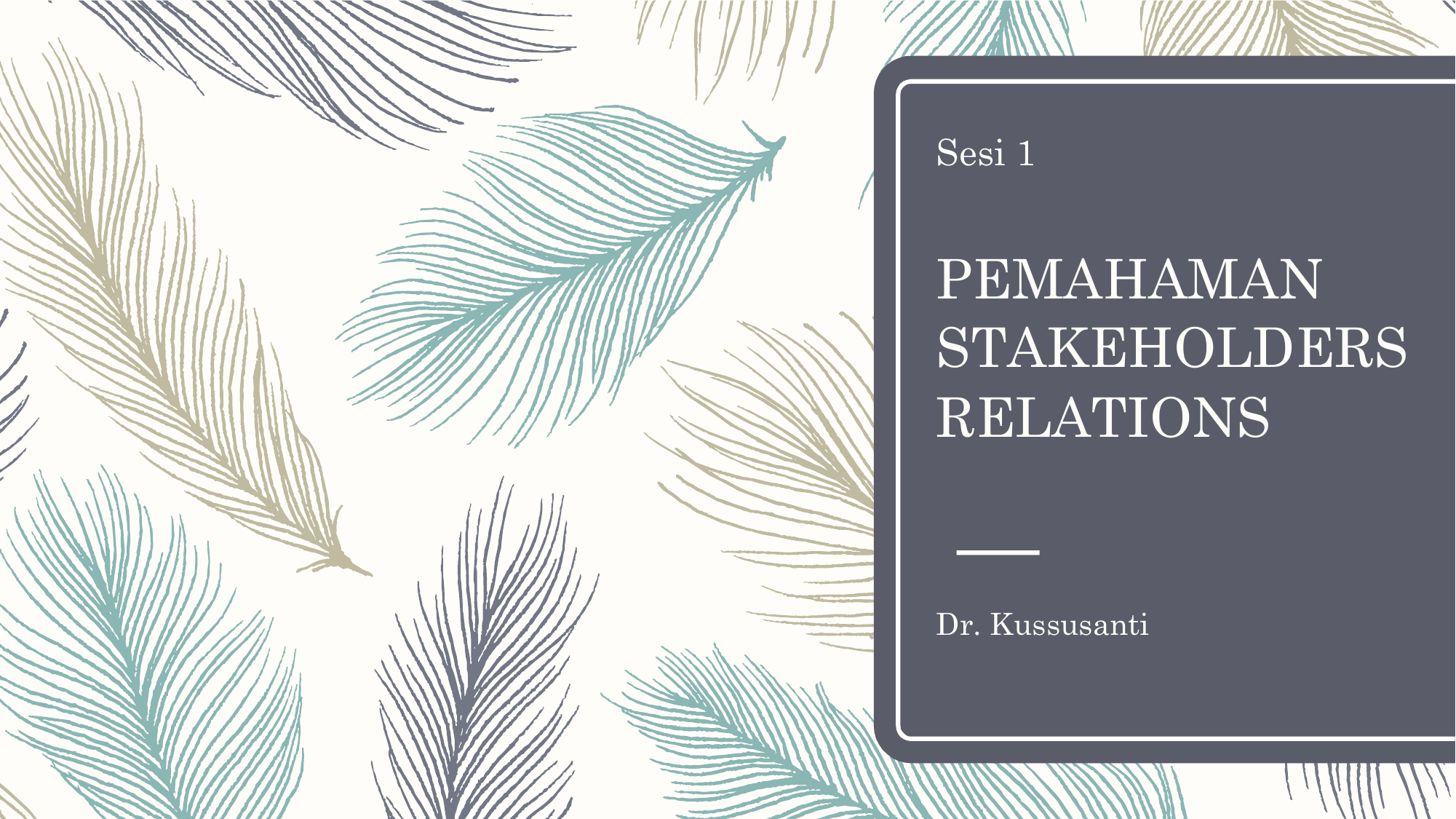 Sesi 1
PEMAHAMAN
STAKEHOLDERS
RELATIONS
Dr. Kussusanti
Stakeholder…………….…….
Relations Evaluation
Stakeholder………
Relations
Planning
Stakeholder……….
Relations
Management
Stakeholder……………..….
Mapping
……………..……………Conflict
of Interest
…..….……… Good
Corporate
Governance
…….Business
Paradigm
..……Stakeholder
Theory
………………… Stakeholder
Type
Konflik Kepentingan
– Konflik yang sering terjadi antara stakeholder dan shareholder. Shareholder
mendambakan keuntungan sebesar-besarnya, stakeholder menginginkan
perusahaan memberi kontribusi lebih banyak kepada sekelilingnya.
– Konflik antara pemilik modal dengan pengelola (manajemen). Shareholder
menitikberatkan pada keuntungan jangka pendek. Manajemen harus
memperhatikan kesinambungan perusahaan dan berorientasi jangka panjang.
– Konflik antara pemilik perusahaan dan kreditor. Hal yang paling besar
kemungkinan terjadi yakni masalah kepercayaan (trust).
– Potensi konflik antara pemilik dan pegawai.
Good Corporate Governance
– Tata kelola perusahaan yang baik melibatkan serangkaian kepentingan
konstituennya (Organisation for Economic Co-operation and Development,
1999).
– Konstituen: pihak-pihak yang terkait dengan operasi perusahaan
– Tata kelola perusahaan harus mengakui hak para stakeholder yang ditetapkan
oleh hukum.
– Globalisasi mendorong regulator memperhatikan peraturan perundangundangan yang mendukung pelaksanaan manajemen stakeholder.
– Separuh dari pengambilan keputusan strategis menemui kebuntuan karena
perusahaan tidak memberikan informasi yang dibutuhkan oleh stakeholder
(Nutt, 2002).
Perkembangan Bisnis
Tahapan perkembangan bisnis:
1. Production view of the firm: entitas lebih berfokus pada bagaimana
perusahaan hanya bertindak sebagai produsen yang menyalurkan
produk kepada konsumennya.
2. Managerial view of the firm: kontrol dan kepemilikan perusahaan
telah dipisahkan. Sudut pandang fokus pada fungsi kendali dan
kepemilikan perusahaan.
3. Nexus of contract: fokus pada pemisahan antara shareholder dan
stakeholder.
Pergeseran Paradigma
Pergeseran paradigma pengelolaan bisnis dari "shareholdersfocused" ke "stakeholders-focused".
– Dari fokus perolehan laba secara membabi-buta menjadi
perhatian pada kepentingan pihak-pihak yang terkait
(stakeholder interest) baik langsung maupun tidak langsung
dengan perusahaan.
– Konsekuensinya, peran dunia bisnis semakin signifikan sebagai
alat pemberdaya masyarakat dan pelestari lingkungan.
Pergeseran Paradigma
Paradigma lama:
1. Business is primarily about making money and profits for shareholders.
2. The only constituency that matters is shareholders.
3. We live in a world of limitless physical resources, and that market
forces will always determine which resources are economically feasible
to use.
4. We see played out in the popular press all the time, is about what
motivates business people.
5. Business and capitalism work because people and companies are selfinterested, competitive, and greedy.
Pergeseran Paradigma
Paradigma baru:
1. The unit of analysis is stakeholder relationships.
2. Stakeholders are interdependent.
3. Tradeoffs are managerial failures of creative imagination.
4. Purpose, values, and ethics must be embedded in organizations.
5. Business exists in the physical world.
6. People are complicated. Muncul bisnis sosial dan investasi berdampak
positif (impact investing).