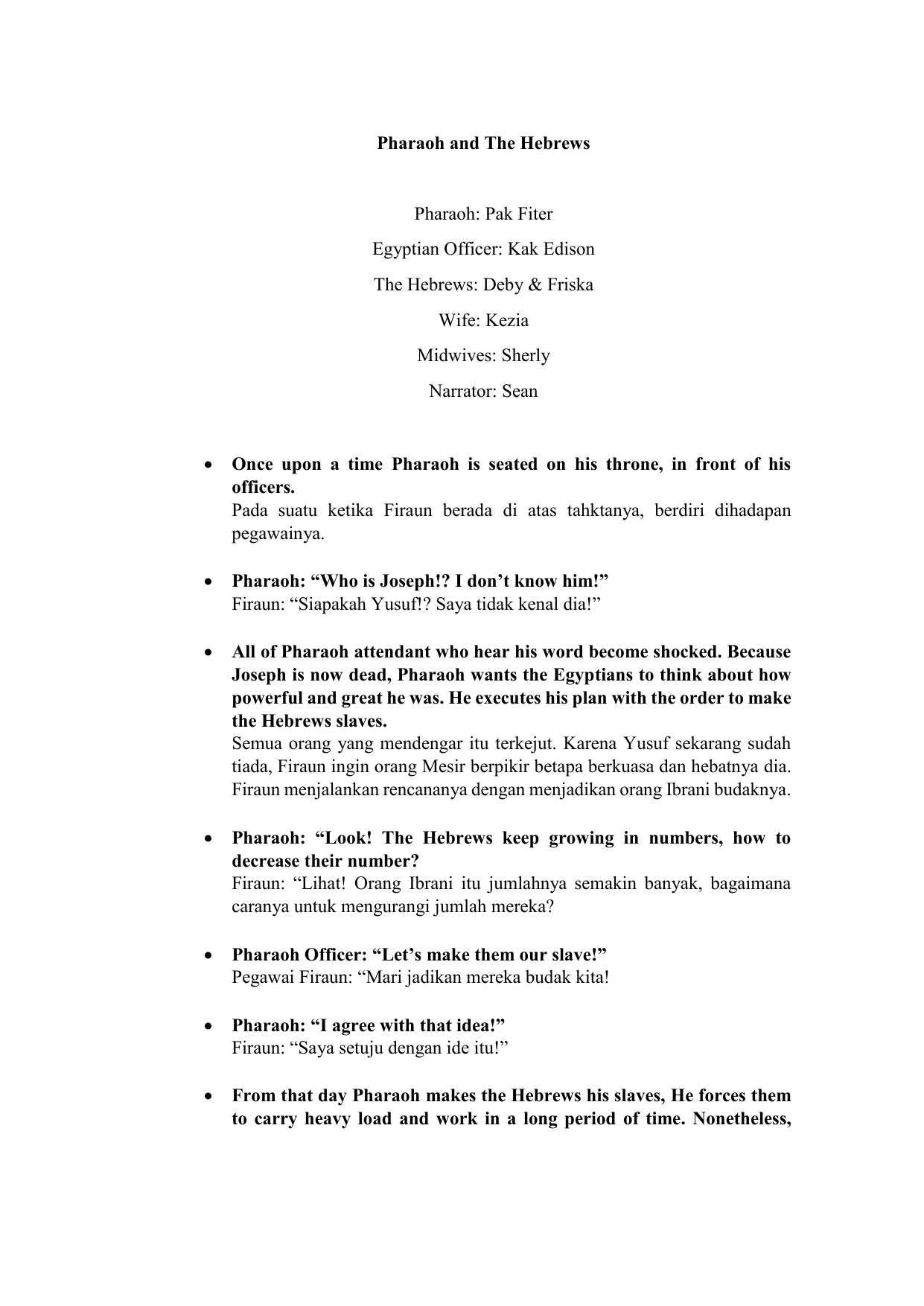 Pharaoh and The Hebrews
Pharaoh: Pak Fiter
Egyptian Officer: Kak Edison
The Hebrews: Deby & Friska
Wife: Kezia
Midwives: Sherly
Narrator: Sean

Once upon a time Pharaoh is seated on his throne, in front of his
officers.
Pada suatu ketika Firaun berada di atas tahktanya, berdiri dihadapan
pegawainya.

Pharaoh: "Who is Joseph!? I don't know him!"
Firaun: "Siapakah Yusuf!? Saya tidak kenal dia!"

All of Pharaoh attendant who hear his word become shocked. Because
Joseph is now dead, Pharaoh wants the Egyptians to think about how
powerful and great he was. He executes his plan with the order to make
the Hebrews slaves.
Semua orang yang mendengar itu terkejut. Karena Yusuf sekarang sudah
tiada, Firaun ingin orang Mesir berpikir betapa berkuasa dan hebatnya dia.
Firaun menjalankan rencananya dengan menjadikan orang Ibrani budaknya.

Pharaoh: "Look! The Hebrews keep growing in numbers, how to
decrease their number?
Firaun: "Lihat! Orang Ibrani itu jumlahnya semakin banyak, bagaimana
caranya untuk mengurangi jumlah mereka?

Pharaoh Officer: "Let's make them our slave!"
Pegawai Firaun: "Mari jadikan mereka budak kita!

Pharaoh: "I agree with that idea!"
Firaun: "Saya setuju dengan ide itu!"

From that day Pharaoh makes the Hebrews his slaves, He forces them
to carry heavy load and work in a long period of time. Nonetheless,
because Pharaoh still worry about the Hebrews numbers, He makes
them to work even harder.
Sejak hari itu Firaun menjadikan orang Ibrani budaknya, dia memaksa
mereka untuk mengangkat barang berat dan bekerja dengan waktu yang
lama. Meskipun begitu, karena Firaun masih khawatir akan jumlah orang
Ibrani, dia membuat mereka bekerja lebih keras lagi.

Egyptian Officer: "Do the work properly! Don't loafing around!"
Pegawai Mesir: "Kerjalah dengan benar! Jangan bermalas-malasan!"

The Hebrews: "Yes Sir…(While Crying)"
Orang Ibrani: "Baik Pak…(Sambil Menangis)"

Even Pharaoh already try to make the Hebrews decrease with a harder
work, The Hebrews still too many to be counted. In the end Pharaoh
tries to find another way.
Meskipun Firaun sudah mencoba untuk mengurangi jumlah orang Ibrani
dengan memperkerjakan dengan lebih keras, orang Ibrani masih terlalu
banyak untuk dihitung. Pada akhirnya Firaun mencari cara lain.

Egyptian Officer: "Your majesty I have a plan, how if we ordered the
Hebrews midwives to kill the new born baby?"
Pegawai Firaun: "Tuan saya punya rencana, bagaimana jika kita
memerintahkan para bidan Ibrani untuk membunuh anak yang baru lahir?"

Pharaoh: "That's it! Ordered to the Hebrews midwives to kill all the
new boys baby born."
Firaun: "Itu dia! Perintahkan kepada bidan Ibrani untuk membunuh semua
anak laki-laki yang baru lahir."

Because the midwives fear the Lord, they did not follow up Pharaoh
order.
Karena para bidan takut akan Tuhan, mereka tidak melakukan apa yang
Firaun perintahkan.

Pharaoh is aware of the midwives doing, so he called them.
Firaun sadar akan perbuatan yang dilakukan oleh bidan-bidan, jadi dia
memanggil mereka

Pharaoh: "Why you disobey my words!?"
Firaun: "Kenapa kamu melanggar perintahku!?"

Midwives: "Forgive me my lord,.."
Bidan: "Maafkan saya tuan."

Because of the previous method did not work, Pharaoh ordered his
officer to let loose the Hebrews baby boy to the Nile River. Hearing
Pharaoh words, The Hebrews agitated
Karena cara-cara sebelumnya tidak berhasil, Firaun memerintahkan
pegawainya untuk membuang bayi laki-laki Ibrani ke Sungai Nil.
Mendengar perkataan Firaun, orang Ibrani mengeluh.