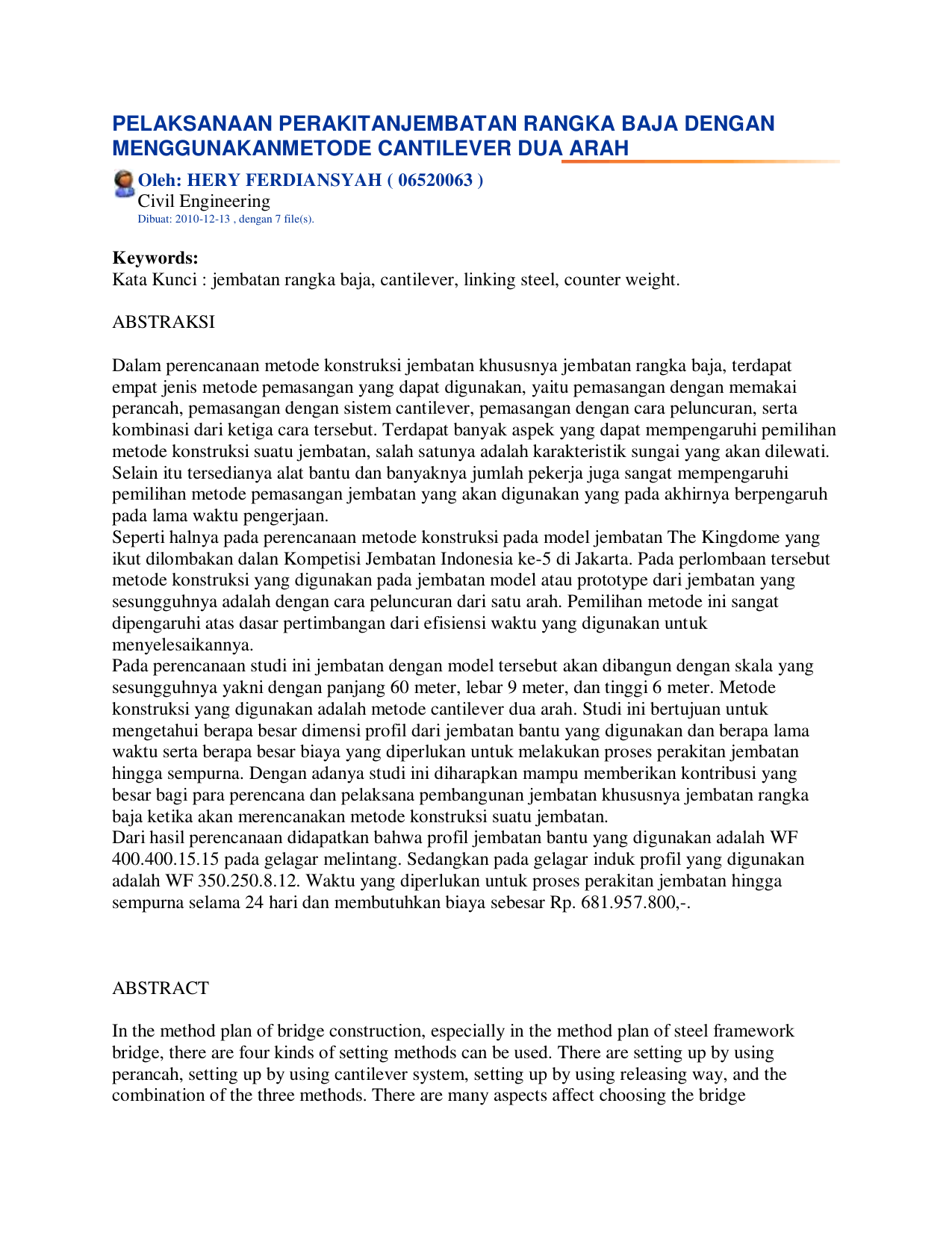 PELAKSANAAN PERAKITANJEMBATAN RANGKA BAJA DENGAN
MENGGUNAKANMETODE CANTILEVER DUA ARAH
Oleh: HERY FERDIANSYAH ( 06520063 )
Civil Engineering
Dibuat: 2010-12-13 , dengan 7 file(s).
Keywords:
Kata Kunci : jembatan rangka baja, cantilever, linking steel, counter weight.
ABSTRAKSI
Dalam perencanaan metode konstruksi jembatan khususnya jembatan rangka baja, terdapat
empat jenis metode pemasangan yang dapat digunakan, yaitu pemasangan dengan memakai
perancah, pemasangan dengan sistem cantilever, pemasangan dengan cara peluncuran, serta
kombinasi dari ketiga cara tersebut. Terdapat banyak aspek yang dapat mempengaruhi pemilihan
metode konstruksi suatu jembatan, salah satunya adalah karakteristik sungai yang akan dilewati.
Selain itu tersedianya alat bantu dan banyaknya jumlah pekerja juga sangat mempengaruhi
pemilihan metode pemasangan jembatan yang akan digunakan yang pada akhirnya berpengaruh
pada lama waktu pengerjaan.
Seperti halnya pada perencanaan metode konstruksi pada model jembatan The Kingdome yang
ikut dilombakan dalan Kompetisi Jembatan Indonesia ke-5 di Jakarta. Pada perlombaan tersebut
metode konstruksi yang digunakan pada jembatan model atau prototype dari jembatan yang
sesungguhnya adalah dengan cara peluncuran dari satu arah. Pemilihan metode ini sangat
dipengaruhi atas dasar pertimbangan dari efisiensi waktu yang digunakan untuk
menyelesaikannya.
Pada perencanaan studi ini jembatan dengan model tersebut akan dibangun dengan skala yang
sesungguhnya yakni dengan panjang 60 meter, lebar 9 meter, dan tinggi 6 meter. Metode
konstruksi yang digunakan adalah metode cantilever dua arah. Studi ini bertujuan untuk
mengetahui berapa besar dimensi profil dari jembatan bantu yang digunakan dan berapa lama
waktu serta berapa besar biaya yang diperlukan untuk melakukan proses perakitan jembatan
hingga sempurna. Dengan adanya studi ini diharapkan mampu memberikan kontribusi yang
besar bagi para perencana dan pelaksana pembangunan jembatan khususnya jembatan rangka
baja ketika akan merencanakan metode konstruksi suatu jembatan.
Dari hasil perencanaan didapatkan bahwa profil jembatan bantu yang digunakan adalah WF
400.400.15.15 pada gelagar melintang. Sedangkan pada gelagar induk profil yang digunakan
adalah WF 350.250.8.12. Waktu yang diperlukan untuk proses perakitan jembatan hingga
sempurna selama 24 hari dan membutuhkan biaya sebesar Rp. 681.957.800,-.
ABSTRACT
In the method plan of bridge construction, especially in the method plan of steel framework
bridge, there are four kinds of setting methods can be used. There are setting up by using
perancah, setting up by using cantilever system, setting up by using releasing way, and the
combination of the three methods. There are many aspects affect choosing the bridge
construction method, one of them is the river characteristic will be through. Another is the
providing of assistance devices, and the number of the workers, which will also affect to the
length time of the Bridge making.
Just as in the method plan of the bridge model of "The Kingdom", this also competed in the 5th
of Kompetisi Jembatan Indonesia in Jakarta. For the competition, construction method used is
prototype of the real bridge by using one way releasing. The way of choosing this method means
to make the time to be more efficient to finish it.
In the plan of this study, the bridge will be build in it's real scale, which is 60 m in the length, 9
m in the width, and 6 m in the height. The construction method used is cantilever method in two
directions. This study means to know how big is the profile dimension of the bridge assistance
used and how long and how much the cost needed to make a prefect Bridge. The study hopes to
give a big contribution for the planner and the implementer of the bridge structure, especially
steel framework bridge when they are about to plan the construction method of a bridge.
From the result of plan, it is gotten that the profile of the bridge assistance that used is WF
400.400.15.15 in the thunder of athwart. Whereas for main thunder profile used is WF
350.250.8.12. The time used for the process of bridge assembling into prefect is 24 days and
needed cost until Rp. 681.957.800,-.