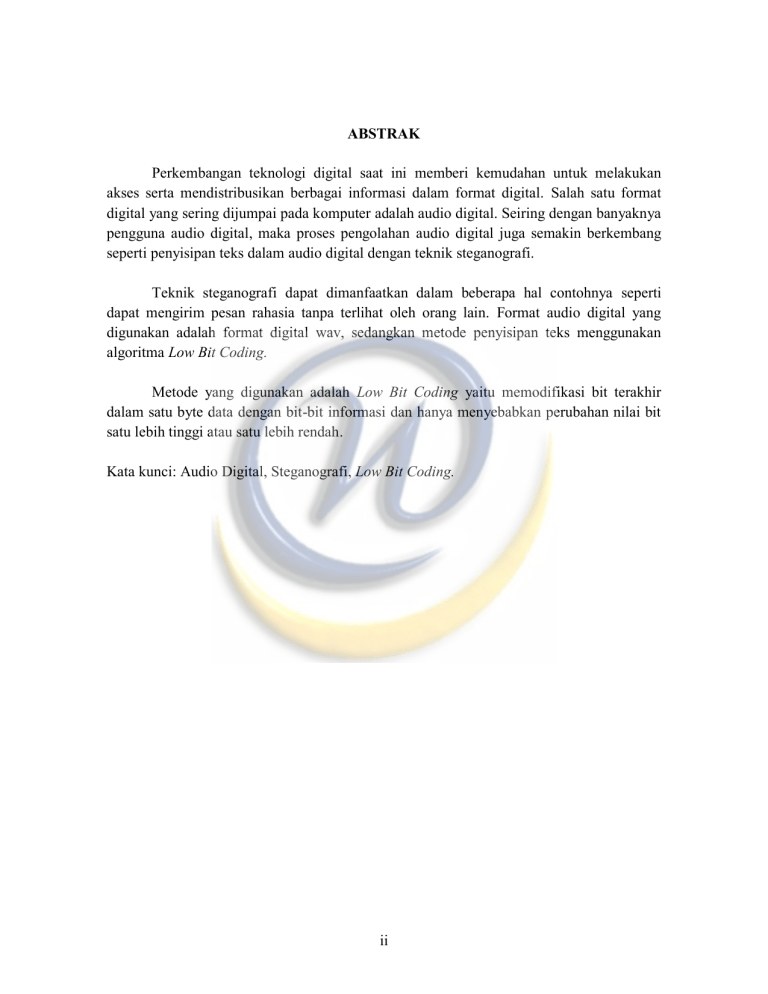 ABSTRAK
Perkembangan teknologi digital saat ini memberi kemudahan untuk melakukan
akses serta mendistribusikan berbagai informasi dalam format digital. Salah satu format
digital yang sering dijumpai pada komputer adalah audio digital. Seiring dengan banyaknya
pengguna audio digital, maka proses pengolahan audio digital juga semakin berkembang
seperti penyisipan teks dalam audio digital dengan teknik steganografi.
Teknik steganografi dapat dimanfaatkan dalam beberapa hal contohnya seperti
dapat mengirim pesan rahasia tanpa terlihat oleh orang lain. Format audio digital yang
digunakan adalah format digital wav, sedangkan metode penyisipan teks menggunakan
algoritma Low Bit Coding.
Metode yang digunakan adalah Low Bit Coding yaitu memodifikasi bit terakhir
dalam satu byte data dengan bit-bit informasi dan hanya menyebabkan perubahan nilai bit
satu lebih tinggi atau satu lebih rendah.
Kata kunci: Audio Digital, Steganografi, Low Bit Coding.
ii
ABSTRACT
The development of digital technology now provides an easy way to access and
distribute information in a digital format. Digital audio is one of digital format that is often
found on computer system. The increase with the users of digital audio, the drive growing
of digital audio processing one of the digital audio process the insertion of text into a digital
audio with steganography techniques.
Steganography can be used in many things, mostly to send a secret message without
being seen by others. Wav format is used as digital audio format while steganography
method used is Low Bit Coding.
The method used is the Low Bit Coding is modifying the final bits in one byte of
data with bits of information and only cause changes in the value of the bit one higher or
one lower.
Keyword: Digital Audio, Steganography, Low Bit Coding.