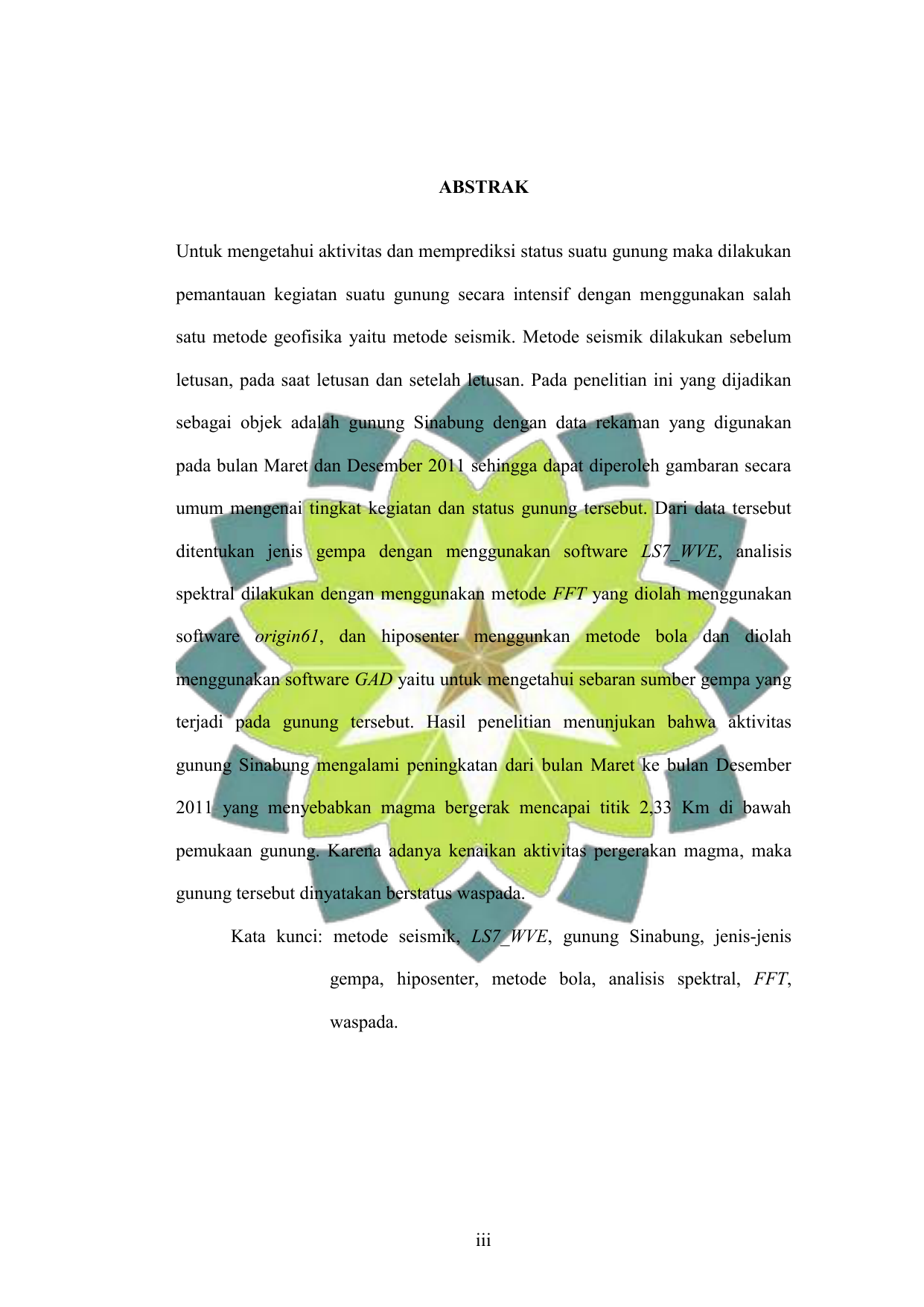 ABSTRAK
Untuk mengetahui aktivitas dan memprediksi status suatu gunung maka dilakukan
pemantauan kegiatan suatu gunung secara intensif dengan menggunakan salah
satu metode geofisika yaitu metode seismik. Metode seismik dilakukan sebelum
letusan, pada saat letusan dan setelah letusan. Pada penelitian ini yang dijadikan
sebagai objek adalah gunung Sinabung dengan data rekaman yang digunakan
pada bulan Maret dan Desember 2011 sehingga dapat diperoleh gambaran secara
umum mengenai tingkat kegiatan dan status gunung tersebut. Dari data tersebut
ditentukan jenis gempa dengan menggunakan software LS7_WVE, analisis
spektral dilakukan dengan menggunakan metode FFT yang diolah menggunakan
software origin61, dan hiposenter menggunkan metode bola dan diolah
menggunakan software GAD yaitu untuk mengetahui sebaran sumber gempa yang
terjadi pada gunung tersebut. Hasil penelitian menunjukan bahwa aktivitas
gunung Sinabung mengalami peningkatan dari bulan Maret ke bulan Desember
2011 yang menyebabkan magma bergerak mencapai titik 2,33 Km di bawah
pemukaan gunung. Karena adanya kenaikan aktivitas pergerakan magma, maka
gunung tersebut dinyatakan berstatus waspada.
Kata kunci: metode seismik, LS7_WVE, gunung Sinabung, jenis-jenis
gempa, hiposenter, metode bola, analisis spektral, FFT,
waspada.
iii
ABSTRACT
To find out the status of an activity and predict volcanic activity monitoring is
carried out intensively in a mountain using one of the methods is the method of
seismic geophysics. Seismic methods carried out before the eruption, the eruption
during and after the eruption. In this study, the object is used as a mountain
Sinabung used to record data in March and December 2011 so as to obtain a
general overview of the activities and the status of the volcano. From these data
types earthquake determined using software LS7_WVE, spectral analysis
performed using FFT method processed using the software origin61, and use the
focal sphere method and processed using software GAD is to determine the
distribution of the earthquake that occurred on the mountain. The results showed
that Sinabung volcanic activity had increased from March to December 2011,
which led to moving magma reaches a point 2.33 km below the mountain surface.
Because of the increase in activity of magma movement, then the alert status of
the volcano revealed.
Keywords: seismic methods, LS7_WVE, Mount Sinabung, the types of
earthquakes, hypocenter, ball method, spectral analysis, FFT,
wary.