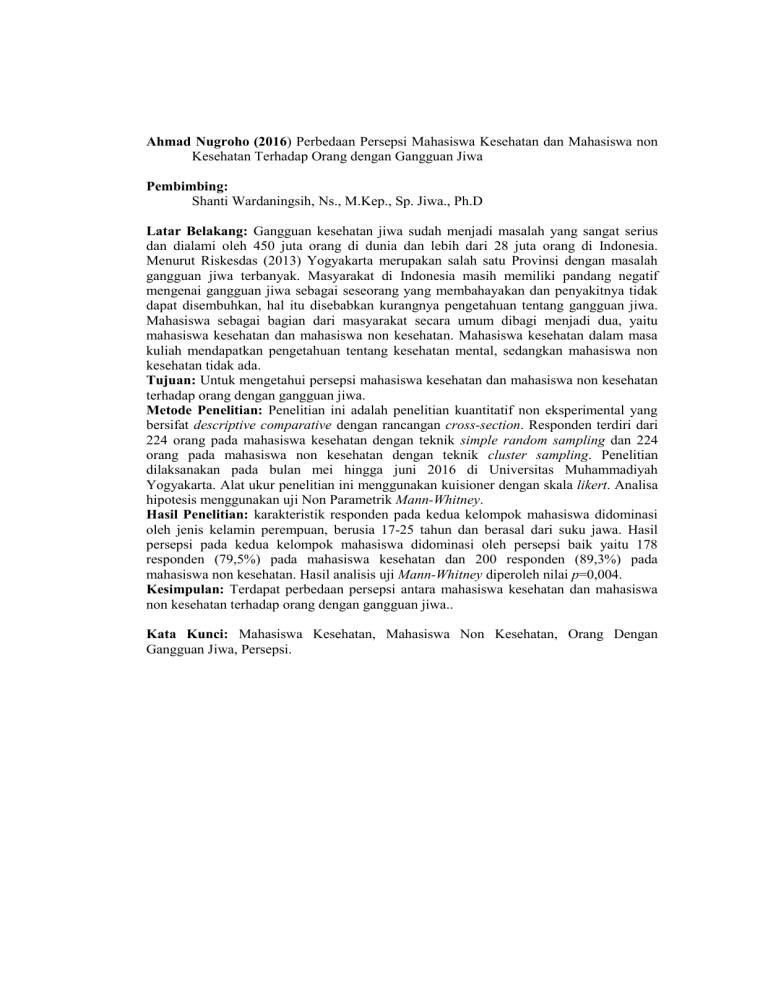 Ahmad Nugroho (2016) Perbedaan Persepsi Mahasiswa Kesehatan dan Mahasiswa non
Kesehatan Terhadap Orang dengan Gangguan Jiwa
Pembimbing:
Shanti Wardaningsih, Ns., M.Kep., Sp. Jiwa., Ph.D
Latar Belakang: Gangguan kesehatan jiwa sudah menjadi masalah yang sangat serius
dan dialami oleh 450 juta orang di dunia dan lebih dari 28 juta orang di Indonesia.
Menurut Riskesdas (2013) Yogyakarta merupakan salah satu Provinsi dengan masalah
gangguan jiwa terbanyak. Masyarakat di Indonesia masih memiliki pandang negatif
mengenai gangguan jiwa sebagai seseorang yang membahayakan dan penyakitnya tidak
dapat disembuhkan, hal itu disebabkan kurangnya pengetahuan tentang gangguan jiwa.
Mahasiswa sebagai bagian dari masyarakat secara umum dibagi menjadi dua, yaitu
mahasiswa kesehatan dan mahasiswa non kesehatan. Mahasiswa kesehatan dalam masa
kuliah mendapatkan pengetahuan tentang kesehatan mental, sedangkan mahasiswa non
kesehatan tidak ada.
Tujuan: Untuk mengetahui persepsi mahasiswa kesehatan dan mahasiswa non kesehatan
terhadap orang dengan gangguan jiwa.
Metode Penelitian: Penelitian ini adalah penelitian kuantitatif non eksperimental yang
bersifat descriptive comparative dengan rancangan cross-section. Responden terdiri dari
224 orang pada mahasiswa kesehatan dengan teknik simple random sampling dan 224
orang pada mahasiswa non kesehatan dengan teknik cluster sampling. Penelitian
dilaksanakan pada bulan mei hingga juni 2016 di Universitas Muhammadiyah
Yogyakarta. Alat ukur penelitian ini menggunakan kuisioner dengan skala likert. Analisa
hipotesis menggunakan uji Non Parametrik Mann-Whitney.
Hasil Penelitian: karakteristik responden pada kedua kelompok mahasiswa didominasi
oleh jenis kelamin perempuan, berusia 17-25 tahun dan berasal dari suku jawa. Hasil
persepsi pada kedua kelompok mahasiswa didominasi oleh persepsi baik yaitu 178
responden (79,5%) pada mahasiswa kesehatan dan 200 responden (89,3%) pada
mahasiswa non kesehatan. Hasil analisis uji Mann-Whitney diperoleh nilai p=0,004.
Kesimpulan: Terdapat perbedaan persepsi antara mahasiswa kesehatan dan mahasiswa
non kesehatan terhadap orang dengan gangguan jiwa..
Kata Kunci: Mahasiswa Kesehatan, Mahasiswa Non Kesehatan, Orang Dengan
Gangguan Jiwa, Persepsi.
Ahmad Nugroho (2016) The Perception Differences between Health Students And
Non Health Student Toward People with Mental Disorders
Advisor:
Shanti Wardaningsih, Ns., M.Kep., Sp. Jiwa., Ph.D
ABSTRACT
Background:. Mental health disorders have become very serious problems, which
happened in 450 million people in the world and more than 28 million people in
Indonesia. According RISKESDAS (2013), Yogyakarta is one of province with the most
problems with mental disorders. Communities in Indonesia still have negative
perceptions about mental disorders as someone dangerous and the something that
uncureable, it is due to lack of knowledge about mental disorders. Students as part of the
public are generally divided into two, which are health students and non-health students.
Health Students in the college gain knowledge about mental health, whereas non-health
students get nothing.
Objective: To know the perception of health students and non-health students toward
people with mental disorders
Methods: This research was a non-experimental quantitative with descriptive
comparative cross-section design. Respondents consisted of 224 health students with
simple random sampling technique and 224 non-health students by cluster sampling. The
experiment was conducted in May to June 2016 at the Universitas Muhammadiyah
Yogyakarta. Instrument used a questionnaire with Likert scale. Analysis hypotheses Non
parametric test used Mann-Whitney.
Results: Characteristics of the respondents in both groups were dominated by female,
aged 17-25 years old and Javanese. Results of perception in both groups of students was
dominated by good category as much as 178 respondents (79.5%) on health students and
200 respondents (89.3%) on non-health students. The results of the Mann-Whitney test
analysis obtained p = 0.004
Conclusion: There are differences in perception between health student and non-health
students toward people with mental disorders.
Keywords: Health Student, Non-Health Students, People with Mental Disorders,
Perception.