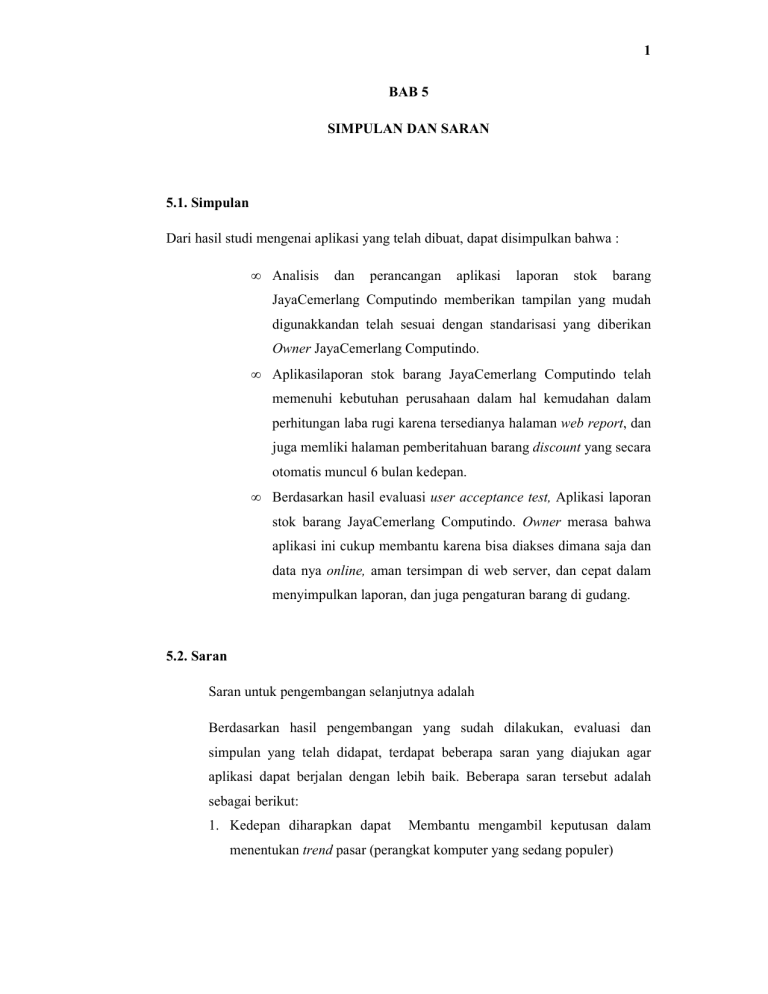 1
BAB 5
SIMPULAN DAN SARAN
5.1. Simpulan
Dari hasil studi mengenai aplikasi yang telah dibuat, dapat disimpulkan bahwa :
•
Analisis
dan
perancangan
aplikasi
laporan
stok
barang
JayaCemerlang Computindo memberikan tampilan yang mudah
digunakkandan telah sesuai dengan standarisasi yang diberikan
Owner JayaCemerlang Computindo.
•
Aplikasilaporan stok barang JayaCemerlang Computindo telah
memenuhi kebutuhan perusahaan dalam hal kemudahan dalam
perhitungan laba rugi karena tersedianya halaman web report, dan
juga memliki halaman pemberitahuan barang discount yang secara
otomatis muncul 6 bulan kedepan.
•
Berdasarkan hasil evaluasi user acceptance test, Aplikasi laporan
stok barang JayaCemerlang Computindo. Owner merasa bahwa
aplikasi ini cukup membantu karena bisa diakses dimana saja dan
data nya online, aman tersimpan di web server, dan cepat dalam
menyimpulkan laporan, dan juga pengaturan barang di gudang.
5.2. Saran
Saran untuk pengembangan selanjutnya adalah
Berdasarkan hasil pengembangan yang sudah dilakukan, evaluasi dan
simpulan yang telah didapat, terdapat beberapa saran yang diajukan agar
aplikasi dapat berjalan dengan lebih baik. Beberapa saran tersebut adalah
sebagai berikut:
1. Kedepan diharapkan dapat
Membantu mengambil keputusan dalam
menentukan trend pasar (perangkat komputer yang sedang populer)
2
2. Diharapkan untuk kedepannya dapat ditambahkan fitur yang dapat
melakukan perhitungan terhadap biaya operasional agar Aplikasi
Pembukuan dapat berjalan lebih maksimal.
3. Mengembangkan dan menghubungkanWebgudangke aplikasi kasir yang
terhubung di counter agar dapat selarasOnline
4. Untuk sementara ini Aplikasilaporan stok barang Jaya Cemerlang
Computindo masih belum memiliki security system sendiri yang mampu
menjaga keamanan sistem dan konten yang ada di dalam aplikasi itu
sendiri, diharapkan Aplikasilaporan stok barang Jaya Cemerlang
Computindo diberikan sebuah security system sendiri sehingga bisa
diakses diluar jaringan.
5. DAFTAR PUSTAKA
6. Allen,Rob., Nick,Loc. (2008) Zend Frameworkin Action. Hanning.United
Statesof America.
7. Blanche Steyn* and Anton du Toit.(2011) .The Relative Of Accounting
For Web-based Transactions.African Journal of Business Management
Vol. 6(3), pp. 736-744, 25 January, 2012
8. Connolly, T. M., & Begg, C. E. (2005).Database Systems: a practical
approach to design, imple-mentation, and management. Pearson
Education.
9.
10. Dyck, B & Neubert, M.J.(2009) principles of management. South western
: Cengage learning.
11. Hulten, P., Vanyushyn, V,. (2014) .Promotion and Shoppers' Impulse
Purchases: The Example Of Clothes. 2014 (94-102)
12. J.L.Whitten.J.L.,& Bentley.L.D. (2007). Systems analysis and design
methods. New York: McGraw-Hill/Irwin.
13. Kevin, S., Stella, M., & Sunarto. (2014),.Analisa dan pengembangan
aplikasi basis data sistem pemesanan dan penjualan berbasis web
3
PT.TURZON(Tugas akhir tidak diterbitkan). ComputerScience Program,
School of Computer Science, Bina Nusantara, Jakarta
14. O'Brien, James A., Marakas, George M. (2006). Management information
systems.(7th Edition). McGraw Hill
15. Pressman, R. S. (2010). Software Engineering : A Practitioner's
Approach(7 edition). New York: McGraw-Hill
16.
17. Rahardjo, Budi, & Heryanto, Imam. (2012). Modul Pemrograman
WEB(HTML, PHP, dan MySql). Bandung: Modula.
18.
19. Ramakrishnan.R .,& Gehrke.J.(2002).Database Management Systems,
3rd Edition.New York: McGraw-Hill.
20. Robbins, Stephen P, Coulter, Mary. (2007) Management.8th edition. Jilid
1. PT. Indeks Kelompok Gramedia: jakarta
21. Robert J. Pugh, Representing PNC Financial Servies.(2014) .Trademarks;
PNC Financial Services Group's Trademark Application for
"WAREHOUSE ON THE WEB" Filed.Nov 22, 2014 (2110).
22. Satzinger, J. W., Jackson, R. B., & Burd, S. D. (2012). Systems Analysis
and Design in a Changing World. Cengage Learning.
23. Sarnath Ramnath, Brahma Dathan. (2011). Object-oriented analysis and
design.
24. Sekaran, Uma, Bougie, Roger. (2010). Research methods for business : a
skill building approach. (5th Edition). Wiley
25. Shneiderman, Ben, Plaisant. (2010). Catherine, Designing the user
interface : strategies for effective human-computer interaction (5th
Edition)
26. Sugiyono. (2014). Metode penelitian kombinasi (mixed methods).
Alfabeta
4
27. Tauriana, Dian, SE., M.Sc. (2012),.analisis pengaruh discount dan
product knowledge terhadap impulse purchasing behavior western
foot(tugas akhir tidak di terbitkan) (studi kasus : the droid coffe n'
grill)(tugas akhir tidak di terbitkan).ComputerScience Program, School of
Computer Science, Bina Nusantara, Jakarta
28.