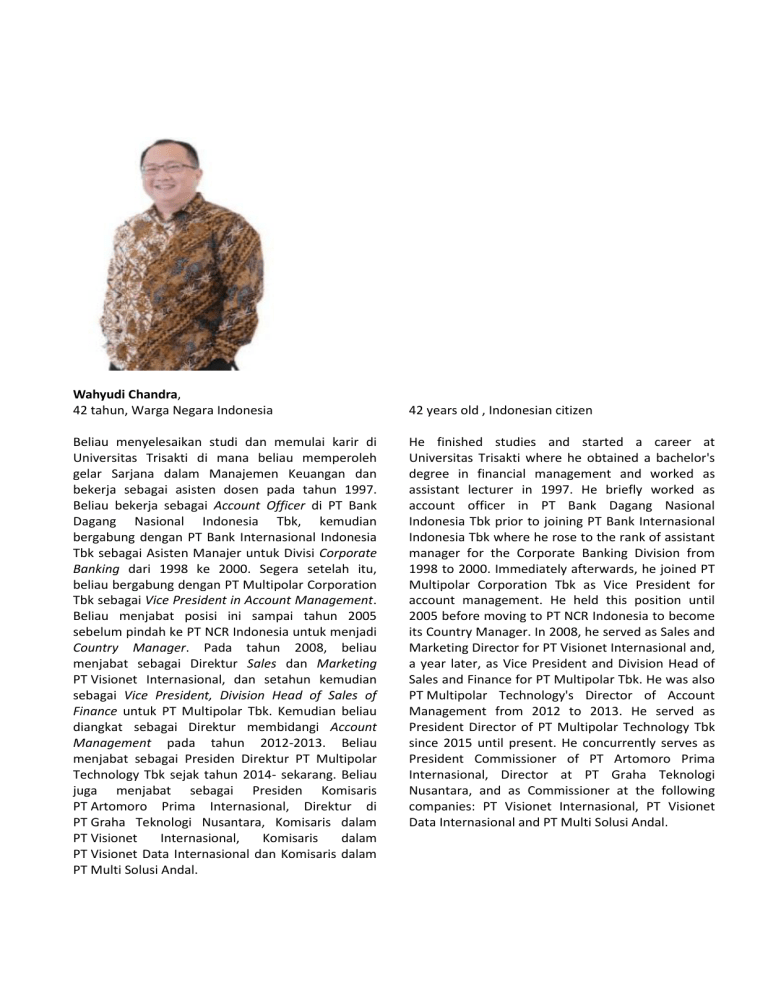 Wahyudi Chandra,
42 tahun, Warga Negara Indonesia
Beliau menyelesaikan studi dan memulai karir di
Universitas Trisakti di mana beliau memperoleh
gelar Sarjana dalam Manajemen Keuangan dan
bekerja sebagai asisten dosen pada tahun 1997.
Beliau bekerja sebagai Account Officer di PT Bank
Dagang Nasional Indonesia Tbk, kemudian
bergabung dengan PT Bank Internasional Indonesia
Tbk sebagai Asisten Manajer untuk Divisi Corporate
Banking dari 1998 ke 2000. Segera setelah itu,
beliau bergabung dengan PT Multipolar Corporation
Tbk sebagai Vice President in Account Management.
Beliau menjabat posisi ini sampai tahun 2005
sebelum pindah ke PT NCR Indonesia untuk menjadi
Country Manager. Pada tahun 2008, beliau
menjabat sebagai Direktur Sales dan Marketing
PT Visionet Internasional, dan setahun kemudian
sebagai Vice President, Division Head of Sales of
Finance untuk PT Multipolar Tbk. Kemudian beliau
diangkat sebagai Direktur membidangi Account
Management pada tahun 2012-2013. Beliau
menjabat sebagai Presiden Direktur PT Multipolar
Technology Tbk sejak tahun 2014- sekarang. Beliau
juga menjabat sebagai Presiden Komisaris
PT Artomoro Prima Internasional, Direktur di
PT Graha Teknologi Nusantara, Komisaris dalam
PT Visionet
Internasional,
Komisaris
dalam
PT Visionet Data Internasional dan Komisaris dalam
PT Multi Solusi Andal.
42 years old , Indonesian citizen
He finished studies and started a career at
Universitas Trisakti where he obtained a bachelor's
degree in financial management and worked as
assistant lecturer in 1997. He briefly worked as
account officer in PT Bank Dagang Nasional
Indonesia Tbk prior to joining PT Bank Internasional
Indonesia Tbk where he rose to the rank of assistant
manager for the Corporate Banking Division from
1998 to 2000. Immediately afterwards, he joined PT
Multipolar Corporation Tbk as Vice President for
account management. He held this position until
2005 before moving to PT NCR Indonesia to become
its Country Manager. In 2008, he served as Sales and
Marketing Director for PT Visionet Internasional and,
a year later, as Vice President and Division Head of
Sales and Finance for PT Multipolar Tbk. He was also
PT Multipolar Technology's Director of Account
Management from 2012 to 2013. He served as
President Director of PT Multipolar Technology Tbk
since 2015 until present. He concurrently serves as
President Commissioner of PT Artomoro Prima
Internasional, Director at PT Graha Teknologi
Nusantara, and as Commissioner at the following
companies: PT Visionet Internasional, PT Visionet
Data Internasional and PT Multi Solusi Andal.