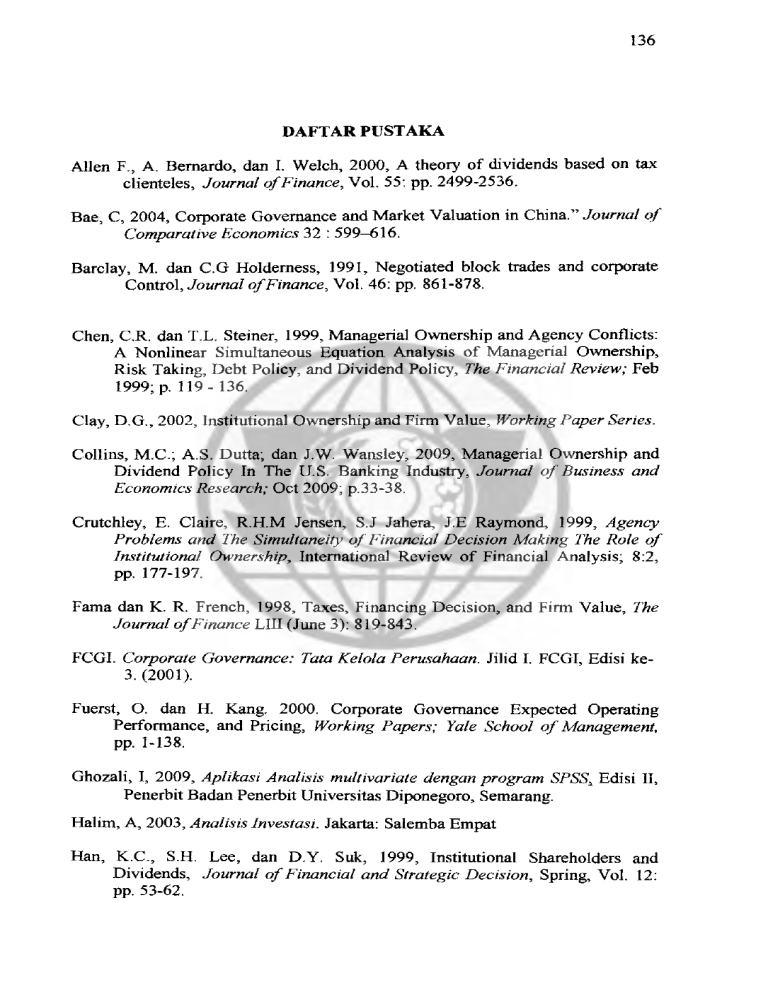 136
DAFTAR PUSTAKA
Allen F., A Bernardo, dan I. Welch, 2000, A theory of dividends based on tax
clienteles, Journal ofFinance, Vol. 55: pp. 2499-2536.
Bae, C, 2004, Corporate Governance and Market Valuation in China." Journal ~f
Comparative Economics 32: 599-616.
Barclay, M. dan C.G Holderness, 1991, Negotiated block trades and corporate
Control, Journal ofFinance, Vol. 46: pp. 861-878.
Chen, C.R. dan T.L. Steiner, 1999, Managerial Ownership and Agency Conflicts:
A Nonlinear Simultaneous Equation Analysis of Managerial Ownership,
Risk Taking, Debt Policy, and Dividend Policy, The Financial Review; Feb
1999; p. 119 - 136.
Clay, D. G., 2002, Institutional Ownership and Firm Value, Working Paper Series.
Collins, M.C.; AS. Dutta; dan J.W. Wansley, 2009, Managerial Ownership and
Dividend Policy In The U.S. Banking Industry, Journal of Business and
Economics Research; Oct 2009; p.33-38.
Crutchley, E. Claire, R.H.M Jensen, S.J Jahera, J.E Raymond, 1999, Agency
Problems and The Simultaneity of Financial Decision Making The Role of
Institutional Ownership, International Review of Financial Analysis; 8:2,
pp. 177-197.
Fama danK. R. French, 1998, Taxes, Financing Decision, and Firm Value, The
Journal ofFinance LIII (June 3): 819-843.
FCGI. Corporate Governance: Tata Kelola Perusahaan. Jilid I. FCGI, Edisi ke3. (2001 ).
Fuerst, 0. dan H. Kang. 2000. Corporate Governance Expected Operating
Performance, and Pricing, Working Papers; Yale School of Management,
pp. 1-138.
Ghozali, I, 2009, Aplikasi Ana/isis multivariate dengan program SPSS, Edisi II,
Penerbit Badan Penerbit Universitas Diponegoro, Semarang.
Halim, A, 2003, Ana/isis Investasi. Jakarta: Salemba Empat
Han, K.C., S.H. Lee, dan D.Y. Suk, 1999, Institutional Shareholders and
Dividends, Journal of Financial and Strategic Decision, Spring, Vol. 12:
pp. 53-62.
137
Harto, P, 2005, Kebijakan Diversifikasi Perusahaan Dan Pengaruhnya Terhadap
Kinerja: Studi Empiris Pada Perusahaan Publik Di Indonesia. Simposium
Nasional Akuntansi VIII. Solo.
Haruman, T. 2008. "Pengaruh Keputusan Keuangan dan Kepemilikan
Institusional terhadap Nilai Perusahaan (Studi Kasus pada Perusahaan
Manufaktur yang Listing di BEJ)". The first PPM National Conference on
Management Research. Sekolah Tinggi Manajemen PPM. Universitas
Widyatama Bandung.
Hasnawati, S, 2005, Implikasi Keputusan Investasi, Pendanaan, dan Dividen
Terhadap Nilai Perusahaan Publik di Bursa Efek Jakarta. Usahawan: No.
09/Th XXXIX. September 2005: 33-41.
Hartono,J. 2005, Teori Portofolio danAnalisis Investasi, BPFE, Yogyakarta.
Ikbai,Muhammad. Sutrisno. Djamhuri,Ali 20 II, Pengaruh Profitabilitas dan
Kepemilikan Insider Terhadap Nilai Perusahaan Dengan Kebijakan Utang
dan Kebijakan Deviden Sebagai Variabel Intervening (Studi pada
Perusahaan Manufaktur di Bursa Efek Indonesia)
Ismiyanti, F dan M.M Hanafi, 2004, Strukur Kepemilikan, Risiko, dan Kebijakan
Keuangan: Analisis Persamaan Simultan, Jurnal Ekonomi dan Bisnis
Indonesia, Vol.l9, No.2.
Jennings, W.W., E. Further, 2001, on Institutional Ownership and Corporate
Value, Working Paper, JEL Classification G32 G34 G2, US Air Force
Academy.
Jensen, C. Michael and H.W. Meckling, 1976, Theory of the Firm: Managerial
Behavior, Agency Costs and Ownership Structure." Journal of Financial
Economics 3:4 (October 1976): 305-360.
Kasmir, 2010, Pengantar Manajemen Keuangan. Jakarta: Kencana.
Kowalewski, Oskar, S. Ivan dan T. Oleksandra, 2007, Corporate Governance and
Dividend Policy in Poland, JEL Classification Codes: G30, G32, G35.
Kusumawati, Dwi Novi, dan Riyanto Bambang. 2005. Corporate Governance
dan Kinerja : Ana/isis Pengaruh Complience Reporting dan Struktur
Dewan Terhadap Kinerja. Artikel yang Dipresentasikan pada Simposium
Nasional Akuntansi 8 Solo tangal 15-16 September 2005.
138
Lee, S, 2008, Ownership Structure and Financial Performance: Evidence from
Panel Data of South Korea, Working Paper, No: 2008-17. University of
Utah.
Lihan, 2010, Pengaruh Keputusan Investasi, Keputusan Pendanaan dan Kebijakan
Deviden Terhadap Nilai Perusahaan, Simposium Nasional Akuntansi XIII,
Purwokerto.
Lindenberg,E dan R. Stephen, 2006, Tobin's Q Ratio an Industrial Organization,
Journal ofBusiness, hal 1-32.
M.H. Mamduh, 2008. Manajemen Keuangan. Yogyakarta: BPFE.
Mahadwartha, Putu dan J. Hartono, 2002, Uji Teori Keagenan Dalam Hubungan
Interdependensi Antara Kebijakan Hutang dan Kebijakan Dividen, ,
Simposium Nasional Akuntansi V, Jkatan Akuntansi Indonesia, p.635-647.
M.artono, dan Harjito, D.Agus, 2001., Manajemen Keuangan. Edisi Pertama,
Cetakan Pertama, Yogyakarta: Penerbit Ekonisia Fakultas Ekonomi UI.
Mitton, T. 2004. Corporate Governance and Dividen Payout in Emerging
Markets. Available on-line at www.ssrn.com
Myers, Brealey, & Marcus, 2004, Fundamental of Corporate Finance 4th edition.
New York. Mc.Graw Hill.
Pradnyani, N.L.P.S dan I.Astika, 2013,"Good Corporate Governance Sebagai
Prediktor Kinerja Keuangan dan Implikasinya Pada Kebijakan Deviden ".
Regar, M.H ,2001, Pembahasan Kritis Aspek Manajemen dan Akuntansi UU
Perseroan Terbatas, Quantum, Jakarta.
Rozeff, M., 1982, Beta and Agency Cost as Determinants of Payout Ratio,
Journal ofFinancial Research, Fall 1982, 249-259.
Sartono, A, 2001, Manajemen Keuangan, Teori dan Ap/ikasi, Edisi 4 cetakan
kedua, BPFE UGM Yogyakarta.
Sarwono, J. 2006. Ana/isa Jalur untuk Riset Bisnis dengan SPSS., Penerbit
ANDI, Yogyakarta
Scott, W.R, 2003, Financial Accounting Theory, Second Edition, Prentice-Hall,
Scarborough, Ontario, Canada.
Shleifer, Andrei, dan Vishny, 1986, Large Shareholders and Corporate Control,
Journal ofPolitical Economy, Vol. 94: pp. 461-488.
139
Suprayitno, 2004, Komitmen Menegakkan Good Corporate Governance, The
Indonesian Institute for Corporate Govemace.
Suratman, A, 2000, Peranan Akuntan Pada GCG,
No.7!TH.l/Maret 200.
Media Akuntansi,
Sudana M, 2011, Manajemen Keuangan Perusahaan: Teori dan Praktek, Jakarta :
Penerbit Erlangga.
Syakhroza, A, 2003, Theory of Good Corporate Governance, Majalah Usahawan
Indonesia, No. 08, Vol XXXII, pp 1925.
Utama, S, dan C. Afriani, 2005, Praktek Corporate Governance dan Penciptaan
Nilai Perusahaan: Studi Empiris di BEJ, Managemen Usahawan
Indonesia, No. 8 Tahun XXXIV.
Tandelilin, E, dan T. Wilberforce, 2002, Can Debt and Dividend Policies
Substitute Insider Ownership in Controlling Equity Agency Conflict?.
Gadjah Mada International Journal of Business, January, Vol. I, No. 1:
pp. 31-43.
Van Home, W, 2005, Dasar-Dasar Manajemen Keuangan. Jakarta: Salemba
Empat
Wahyudi, U, Pawestri dan H. Prasetyaning, 2006, Implikasi Struktur Kepemilikan
Terhadap Nilai Perumhaan: Dengan Keputusan Keuangan sebagai
Variabe!Intervening. Simposium Nasional Akuntansi 9.KAKPM 17.
Walsh, C, 2003, Key Management:Rasio-Rasio Manajemen Penting Penggerak
dan Pengendali Bisnis. Edisi Tiga, Penerjemah Shalahuddin Haikal,
Jakarta : Erlangga.
Weston, J.F dan Copeland, 2008, Dasar·-Dasar Manajemen Keuangan. Jakarta:
Erlangga
Wright, P., danS. P. Ferris. 1997. Agency Conflict dan Corporate Strategy: The
Effect of Divestment on Corporate Value. Strategic Management
Journa/18: 77- 83.
Zhang, H, 2008, Corporate Governance and Dividend Policy: A Comparison of
Chinese Firms Listed in Hong Kong and in the Mainland, China Economic
Review 19 (2008): 437-459.