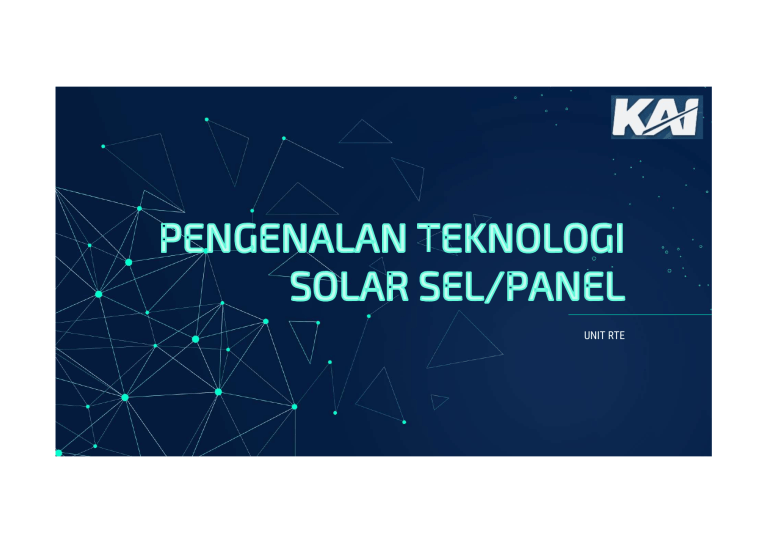 UNIT RTE
01. SOLAR SEL
SOLAR PANEL
1. SEJARAH SOLAR SEL
SOLAR CELL ADALAH SUATU PERANGKAT YANG DAPAT
MENYERAP ENERGI CAHAYA MATAHARI KEMUDIAN
DIUBAH MENJADI ENERGI LISTRIK DENGAN
MENGGUNAKAN PRINSIP EFEK PHOTOVOLTAIC.
SOLAR CELL SERING DISEBUT JUGA DENGAN SEL
PHOTOVOLTAIC (PV), YANG DITEMUKAN PERTAMA KALI
TAHUN 1839 OLEH ALEXANDER EDMOND ECQUEREL
DAN DIKEMBANGKAN OLEH ALBERT EINSTEIN DI AWAL
ABAD KE-20.
2. PERKEMBANGAN
SOLAR SEL/PV DI
DUNIA
PERKEMBANGAN SEL PV:
1. GENERASI PERTAMA : SILICON WAFER
TECHNOLOGY
2. GENERASI KEDUA : THIN FILM (SEDIKIT
SILIKON)
3. GENERASI KETIGA : SEL SURYA
ORGANIK (SOLAR PAINT, BIO CELLS)
02
TIPE-TIPE SEL SILIKON
You can enter here the subtitle if you need it
2. TIPE SILIKON SEL
TIPE SILIKON SEL:
1. MONOCRYSTALLINE SILICON CELL
2. POLYCRYSTALLINE SILICON CELL
3. AMORPHOUS SILICON CELL
TIPE SILIKON SEL
TABLE MONO VS POLY
JENIS SEL
WARNA
EFESIENSI
KEBUTU
HAN
AREA
MONO
SILIKON
TUNGGAL
HITAM
15-20%
6-9 m2
per1kWp
RELATIP LEBIH BAIK
DALAM KONDISI SUHU
PANAS DAN TEDUH
POLY
MIX SILIKON
DENGAN
BAHAN
LAINNYA
BIRU
13-18%
8-9 m2
per1kWp
KURANG BAIK BEKERJA
DALAM KONDISI SUHU
PANAS
PERFORMANSI
TABLE MONO VS POLY
LAMA
PEMAKAIAN
LAINNYA
HARGA*
MONO
25 TH
PALING BANYAK
DIGUNAKAN SAAT INI
RP 10.258,77
POLY
25 TH
MENGHASILKAN
LIMBAH SILIKON
SEDIKIT
RP 8.848,51
* Data harga panel retail dunia diatas diambil pada bulan Mei 2018, Sumber : PV Insight. Harga dapat
berubah sesuai fluktuasi dolar dan biaya lain-lain yang mungkin ada. Di Indonesia, harga panel surya
tipe crystalline cenderung sama, berkisar mulai dari Rp. 9.500,-/Wp.
03
DESAIN SOLAR SEL
You can enter here the subtitle if you need it
3. DESAIN SOLAR SEL
DESAIN SOLAR SEL:
1. SERI : UNTUK KEBUTUHAN TEGANGAN (V)
atau TEGANGAN BERTAMBAH ARUS TETAP
2. PARAREL : UNTUK KEBUTUHAN ARUS (I)
atau TEGANGAN TETAP ARUS BERTAMBAH.
3. GABUNGAN KEDUANYA SERI-PARAREL.
3. DESAIN SOLAR SEL
3. DESAIN SOLAR SEL
04
SISTEM & MEKANISME
You can enter here the subtitle if you need it
4. SISTEM OPERASI
1. GRID CONNECTED : TERHUBUNG
DENGAN SISTEM LISTRIK PLN
2. STAND ALONE (BATERE BACKUP)
3. HYBRID (GENERATOR + BATERE
BACKUP)
4. SKEMA LOSSES
1. FUNDAMENTAL LOSS/SPEKTRUM LOSS :
LOW ENERGY, EXCESS ENERGY
2. TECHNICAL LOSS : OPTIKAL (REFLECTION
NOT ABBSORB), ELECTRICAL (SISTEM
INTERNAL KELISTRIKAN)
3. VOLTAGE LOSS, OPEN CIRCUIT ECT
THANKS
CREDITS: This presentation template was created by Slidesgo, including
icons by Flaticon, and infographics & images by Freepik.
Please keep this slide for attribution.