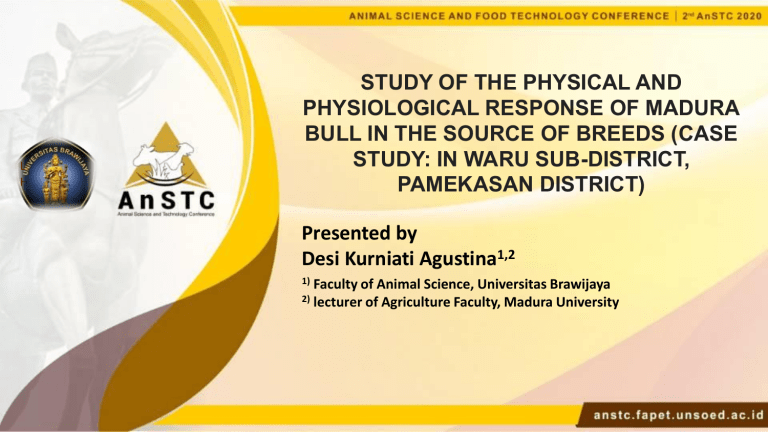 LOGO
HERE
STUDY OF THE PHYSICAL AND
PHYSIOLOGICAL RESPONSE OF MADURA
BULL IN THE SOURCE OF BREEDS (CASE
STUDY: IN WARU SUB-DISTRICT,
PAMEKASAN DISTRICT)
Presented by
Desi Kurniati Agustina1,2
1)
2)
Faculty of Animal Science, Universitas Brawijaya
lecturer of Agriculture Faculty, Madura University
INTRODUCTION
•
•
•
•
•
•
Madura cattle are local beef cattle formed as a result of natural isolation and environmental
influences.
Madura cattle is one of them Indonesian local livestock that have characteristics specifics
which most likely aren't owned by other exotic livestock. Among these characteristics is
resilience environmental conditions tropical with temperature and humidity high daily,
quality feed conditions low and stress to variety parasites
The performance, health, and well-being of livestock are strongly affected by climate.
High ambient temperatures, high direct and indirect solar radiation and humidity are
environmental stressing factors that impose a strain on animals.
Thermal stress directly alters and impairs the cellular functions in various tissues of the body
and the redistribution of blood flow, as well as the reduction in food intake, which ultimately
results in reduced production performance
One indicator to see the environmental impact on cattle is to measure and evaluate the
physiological response, whether the cattle are in a comfort zone or not, which will have an
impact on productivity.
MATERIALS AND METHODS
Materials
This study used
30 Madura
bulls aged >1224 months
Time of Research
on August 2020
Location
the study was
conducted at the
source of breeds in
Waru sub-district,
Pamekasan district
Methods
This study used
descriptive methods
and direct observation
RESULTS AND DISCUSSION
1. Physical Character
At a glance quantitative characteristics of madura Bull
described in Table . Madura Bull have an average body
length, height and chest circumference of 121 cm ±
10.83, 118.83 cm ± 7.21, and 157 cm ± 12.6. These
measurements were above the minimum standard set
by SNI about Madura beef cattle
At a glance qualitative character described in Table . The
dominant coat color of Madura Bull found to be reddish
brown. The solid reddish brown coat color was the major
color in several found in Indonesian local cattle such as
Aceh (Bos indicus), Katingan (Bos indicus x Bos
javanicus), and Pesisir breeds. The most common color
of switch of horns, muzzle, eyes, and tail tip was found
to be black. Most of Madura Bull cattle were horned
with horn tips orientation of upper curved/stumpy.
Overall qualitative characteristics of Madura bulls
already followed SNI about Madura beef cattle.
Parameter
Mean ± SD
body length
121 cm ± 10,8
height
118,83 cm ± 7,21
chest circumference
157 cm ± 12,6
Part of body
Coat Colour
Ears
Horns
Muzzle
Eyes
Backline
Tail
leg
Character
reddish brown
Medium sized, strong and erected
Horned, Upper curved (stumpy), Forward curved,black colour
Black
Alert, bright, big and prominent black
Presence,absence
Moderate length reaching the hock joint with medium amount
of hair, black tail tip
Short, strong and usually Light brown stocking on all four legs,
RESULTS AND DISCUSSION
2. Physiological Response
The rectal temperature of Madura Bull in the
morning and afternoon of Hatri has increased,
while in the afternoon it has decreased
compared to during the day.
The results of the analysis of the respiratory
frequency in the morning, afternoon and
evening showed normal values. which states
that normal respiration in adult cattle is 15-35
times / minute .
the average pulse rate of Madura Bull was in
the range of 60 - 68 beats per minute. The
pulse rate frequency is in the normal range.
The normal Pulse rate conditions of the cattle
in the tropics ranges from 40-70 beats per
minute.
Parameters
Rectal Temperatur
Pulse Rate
Respiration Rate
Day Time
Morning
Evening
Afternoon
Morning
Evening
Afternoon
Morning
Evening
Afternoon
Mean ± SD
37,5 ± 0,46
38,6 ± 0,49
38,2 ± 0,42
60,8 ± 0,37
68,4 ± 4,01
65,6 ± 0,67
19,1 ± 0,25
35,6 ± 2,11
25,7 ± 0,67
CONCLUSIONS
The physical character of Madura Bull already
followed SNI about Madura beef cattle. Generally, the
physiological status of Madura Bull including
temperature rectal, pulse rate, and respiration rate was
in normal condition.