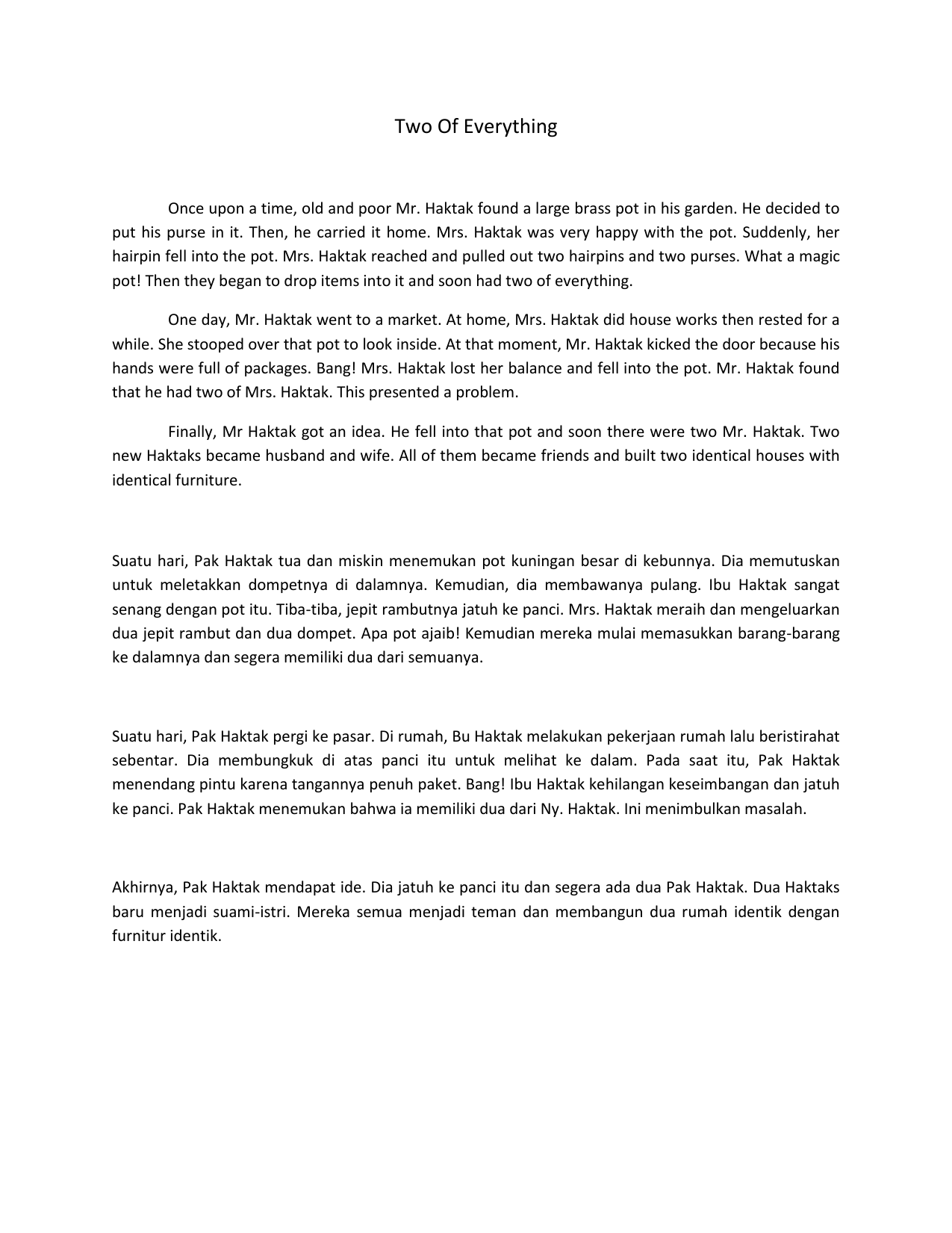 Two Of Everything
Once upon a time, old and poor Mr. Haktak found a large brass pot in his garden. He decided to
put his purse in it. Then, he carried it home. Mrs. Haktak was very happy with the pot. Suddenly, her
hairpin fell into the pot. Mrs. Haktak reached and pulled out two hairpins and two purses. What a magic
pot! Then they began to drop items into it and soon had two of everything.
One day, Mr. Haktak went to a market. At home, Mrs. Haktak did house works then rested for a
while. She stooped over that pot to look inside. At that moment, Mr. Haktak kicked the door because his
hands were full of packages. Bang! Mrs. Haktak lost her balance and fell into the pot. Mr. Haktak found
that he had two of Mrs. Haktak. This presented a problem.
Finally, Mr Haktak got an idea. He fell into that pot and soon there were two Mr. Haktak. Two
new Haktaks became husband and wife. All of them became friends and built two identical houses with
identical furniture.
Suatu hari, Pak Haktak tua dan miskin menemukan pot kuningan besar di kebunnya. Dia memutuskan
untuk meletakkan dompetnya di dalamnya. Kemudian, dia membawanya pulang. Ibu Haktak sangat
senang dengan pot itu. Tiba-tiba, jepit rambutnya jatuh ke panci. Mrs. Haktak meraih dan mengeluarkan
dua jepit rambut dan dua dompet. Apa pot ajaib! Kemudian mereka mulai memasukkan barang-barang
ke dalamnya dan segera memiliki dua dari semuanya.
Suatu hari, Pak Haktak pergi ke pasar. Di rumah, Bu Haktak melakukan pekerjaan rumah lalu beristirahat
sebentar. Dia membungkuk di atas panci itu untuk melihat ke dalam. Pada saat itu, Pak Haktak
menendang pintu karena tangannya penuh paket. Bang! Ibu Haktak kehilangan keseimbangan dan jatuh
ke panci. Pak Haktak menemukan bahwa ia memiliki dua dari Ny. Haktak. Ini menimbulkan masalah.
Akhirnya, Pak Haktak mendapat ide. Dia jatuh ke panci itu dan segera ada dua Pak Haktak. Dua Haktaks
baru menjadi suami-istri. Mereka semua menjadi teman dan membangun dua rumah identik dengan
furnitur identik.