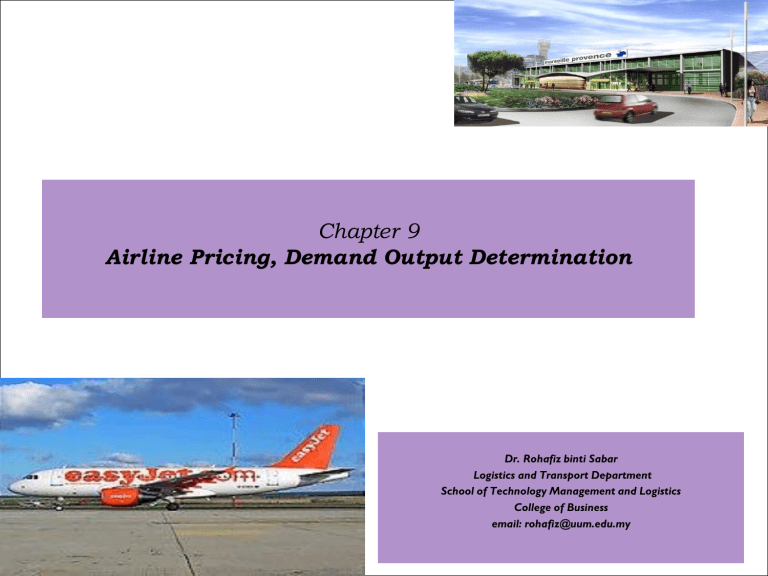 Chapter 9
Airline Pricing, Demand Output Determination
Dr. Rohafiz binti Sabar
Logistics and Transport Department
School of Technology Management and Logistics
College of Business
email: [email protected]
1
Transport and Logistics Department
July 2009
Airline Pricing

Relationship between Airline Pricing Policy and
Corporate Objectives

Impact of Deregulation and Technology on Fares

Examples

Future Prospects
Airline Pricing & Corporate
Objectives

An airline's "primary aim must be to sell the
capacity it is prepared and able to offer at
prices which will generate sufficient demand
to generate an 'adequate' level of profit" –
(Doganis 2002)

What is "adequate" and who are airlines
seeking to please?
Airline Pricing & Corporate
Objectives - 2

State-owned airlines may have objective of maintaining service to
specific destinations, providing for inbound tourism and "breaking even"

Privatised airlines may have objective of producing an adequate rate of
return on shareholder value or specific rate of return on their current
assets

In addition privatised airlines may have desire to produce an adequate
reserve fund to self-finance acquisition of new assets – as shown by
Singapore Airlines
Airline Pricing – route vs network

Whilst an airline may have a global corporate objective,
their pricing policies will vary by region and route,
depending on economic conditions, level of competition
and other external factors

e.g. British Airways may have an aggressive pricing policy on
certain routes due to new-entrant competition, but maintain the
status quo on routes with less fare competition
Airline Pricing – Factors to Consider

Whatever airline's objective is, pricing will require an
understanding of the costs for operating the route and the
potential demand

For Break-even: Total Revenue = Total Costs

For Profit: Total Revenue > Total Costs
Influence of Operating Costs

Understand costs for operating given route for specific
aircraft type(s) – carefully define allocation method

For flights with multiple cabins a more detailed allocation
at cabin level may be useful

Improvement in facilities in long-haul First and Business
Classes – flat beds, on-demand food and high technology
entertainment and communications - and the introduction
of Premium Economy Class all incur higher costs
Controlling Demand

Passengers who are not prepared to pay the full economy
fare can be directed to lower fares (e.g. APEX/Standby etc)
on the basis of their ability to meet the booking conditions

Slippage of those who are willing and able to pay full
economy fares into promotional fares should be avoided
Promotional Fares








Duration Limited – Minimum / Maximum Stay
Departure Time Limited
Purchase Time Limited
Limits on Changes to Reservations
Routing Conditions
Age Restricted
Group Fares
Inclusive Tour Arrangements
Regulated Markets

Pre US deregulation there were generally only two main
fare types on a route: First and Economy Class

Today in regulated markets fares have to be agreed
between airlines and approved by relevant governments,
hence little fare competition, except possibly by charter
airlines, fifth/sixth freedom flights or connecting flights
UK- US Bilateral – still a Regulated
Market

UK-US flights have higher fully flexible Business Class fares
than many Europe-US markets. It is sometimes cheaper for
UK passengers to route over Amsterdam or Frankfurt to
get to US

Airlines argue that corporate discount and promotional
fares are at a lower level in the UK

What will happen after 2018?
Impact of Deregulation on Fares

Ability to set own fares resulted in proliferation of fare
types – Business Fares introduced and a large range of
promotional fares

In Europe in 1985 the average yield from promotional
fares was 63% of the normal economy price, by 2000 it
had dropped to below 50% and the percentage of
travellers using promotional tickets had increased from
57% to 71% of the total (Doganis 2001)
Impact of Technology on Fares

Introduction of Computer Reservation Systems
enabled airlines to manage seat inventory to their
advantage

Sophisticated Revenue Management Systems connected
to booking information are very powerful in maximising
revenue

Revenue Management Systems help airlines to keep
track of bookings over time and provide a history from
which to develop forecasts
The Route Manager

Will monitor bookings and open or close fare classes to
match pattern of bookings

Needs to be aware of out of the ordinary events – e.g
cultural/sporting events or accidents to other transport
modes - which could lead to increase in demand
Response to Competitive Pricing

Airlines need to decide how to respond to competitors
offering lower fares on their routes

Investigate the reason for the low fares – is it an established
carrier which is trying to get cash quickly or a start-up airline
trying to make a name in the market?

How many seats are being made available at the lowest prices?

On basis of these answers airline managers can decide how to
respond, at what price and with what capacity
easyJet Fares - 1

Offer "Value for Money Fares"


Not necessarily the cheapest fare on a route
Variation between lowest and highest is large.
London Luton
to:
Lowest Fare
(one-way)
Highest Fare
(one-way)
Ratio
(Highest:
Lowest)
Amsterdam
£20
£140
7.0
Liverpool
£7.50
£120
16.0
Nice
£30
£210
7.0
Source: easyJet Prospectus 2000
easyJet Fares - 2

Tickets are sold on a one-way basis only

Fares are set in increments of £5 or £10 and availability is
restricted depending on demand on route. Only one fare
displayed per flight

Fares initially displayed are inclusive of airport fees and
government taxes (e.g. UK Air Passenger Duty), and then add
on any surcharges and credit card fees (use a debit card)
easyJet Fares - 3

Example, London Luton – Amsterdam, based on travelling
outbound on EZY 2164 (18:40) on Wednesday 4 February
2004
Time before
flight
Price
2 weeks
£12.99
8 days
£27.99
2 days
£92.99
1 day
£112.99
Comparative fares LON-AMS
One-way fares for travelling on Friday 23 November 2007
Airline
Departure
Airport
Departure time
Fare (one-way)
easyJet
LTN
06:00
£66.99
easyJet
LGW
06:15
£69.99
British Airways
LGW
06:25
£163.00
bmi
LHR
06:25
£117.00
easyJet
STN
07:00
£84.99
British Airways
LHR
07:30
£386.80
VLM
LCY
07:45
£153.70
Source: www.skyscanner.net (fares checked on 22/11/2007)
Ancillary Revenues

These can include:








Hotel "book throughs"
Car hire "book throughs"
Travel insurance "book throughs"
On-board sales
Name and flight change fees
Baggage
Speedy boarding
On-line checking
Hidden fare increases





Additional checked bags
Excess baggage
Card fees
Sports /music equipment
Infant fees
ABN-AMRO (2007)
Pricing and Fares – The Future - 1

As deregulation spreads and competition increases there
will likely be a reduction in fares at the lower fare end of
the market

Short-haul premium fares could remain high, but ultimately
are under pressure

On long-haul premium fares will possibly increase to
enable airlines to recoup their investment in flat beds, IFE,
e-communication etc.
Pricing and Fares – The Future - 2

Increased use of Internet will provide more "transparency"
for travellers – increasing consumer power and those
looking for a bargain will shop around more, however, not
allows easy to find the "best deal".

Airlines will try to push more bookings on to their own
websites

Ancillary revenue (genuine or not) is vital to many airlines!
Pricing and Fares – The Future - 3

As low cost carriers become more widespread, we are
likely to see a move to simpler fare structures by more
mainline airlines (as evidenced by BA's Fare Explorer and
moves by other network carriers, e.g. SAS)

Impact of expansion of Ryanair and easyJet and the
proliferation of new entrants. Good for the consumer in
the short term, but how many airlines will survive?