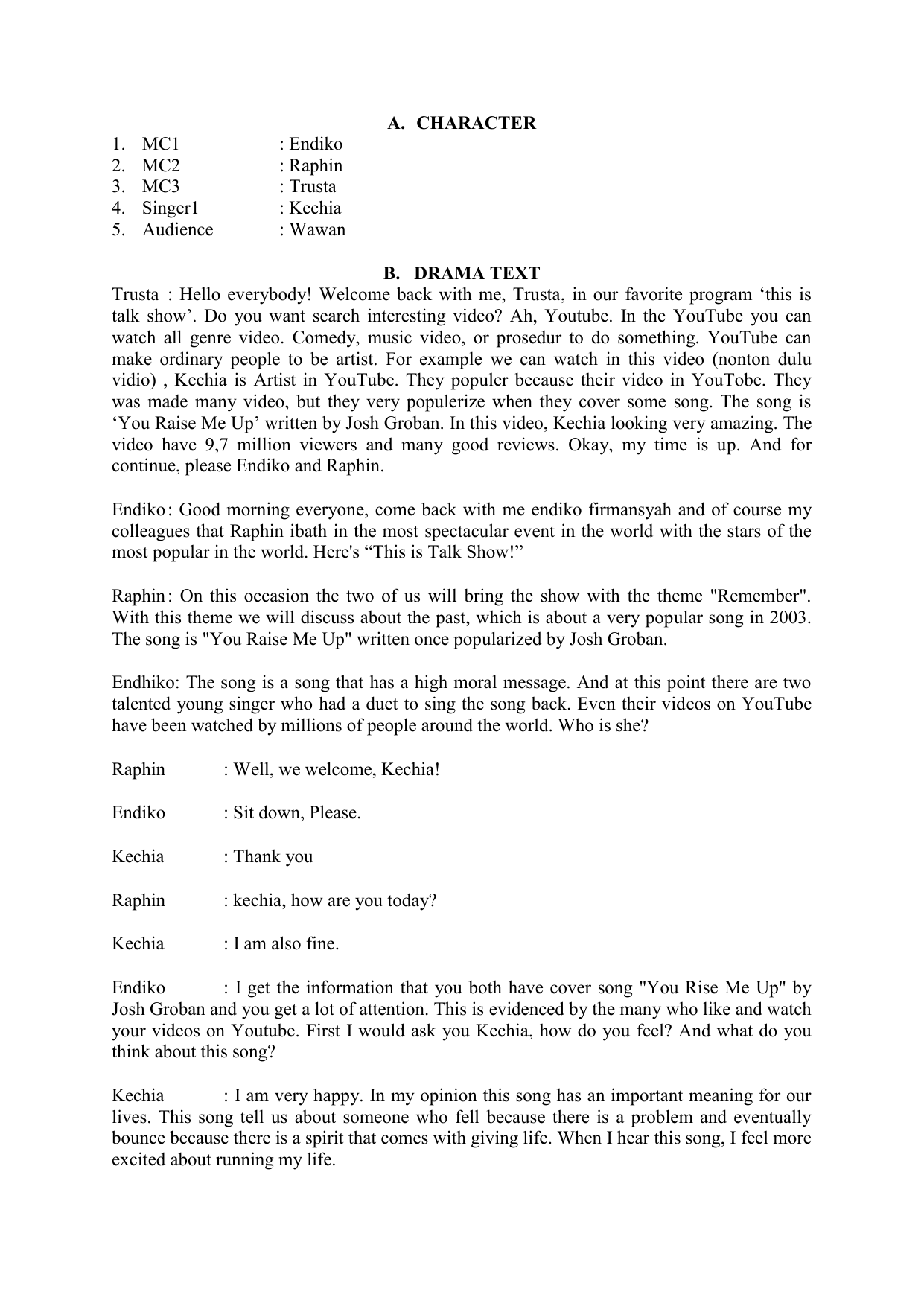 A. CHARACTER
1.
2.
3.
4.
5.
MC1
MC2
MC3
Singer1
Audience
: Endiko
: Raphin
: Trusta
: Kechia
: Wawan
B. DRAMA TEXT
Trusta : Hello everybody! Welcome back with me, Trusta, in our favorite program 'this is
talk show'. Do you want search interesting video? Ah, Youtube. In the YouTube you can
watch all genre video. Comedy, music video, or prosedur to do something. YouTube can
make ordinary people to be artist. For example we can watch in this video (nonton dulu
vidio) , Kechia is Artist in YouTube. They populer because their video in YouTobe. They
was made many video, but they very populerize when they cover some song. The song is
'You Raise Me Up' written by Josh Groban. In this video, Kechia looking very amazing. The
video have 9,7 million viewers and many good reviews. Okay, my time is up. And for
continue, please Endiko and Raphin.
Endiko : Good morning everyone, come back with me endiko firmansyah and of course my
colleagues that Raphin ibath in the most spectacular event in the world with the stars of the
most popular in the world. Here's "This is Talk Show!"
Raphin : On this occasion the two of us will bring the show with the theme "Remember".
With this theme we will discuss about the past, which is about a very popular song in 2003.
The song is "You Raise Me Up" written once popularized by Josh Groban.
Endhiko: The song is a song that has a high moral message. And at this point there are two
talented young singer who had a duet to sing the song back. Even their videos on YouTube
have been watched by millions of people around the world. Who is she?
Raphin
: Well, we welcome, Kechia!
Endiko
: Sit down, Please.
Kechia
: Thank you
Raphin
: kechia, how are you today?
Kechia
: I am also fine.
Endiko
: I get the information that you both have cover song "You Rise Me Up" by
Josh Groban and you get a lot of attention. This is evidenced by the many who like and watch
your videos on Youtube. First I would ask you Kechia, how do you feel? And what do you
think about this song?
Kechia
: I am very happy. In my opinion this song has an important meaning for our
lives. This song tell us about someone who fell because there is a problem and eventually
bounce because there is a spirit that comes with giving life. When I hear this song, I feel more
excited about running my life.
Endhiko
: Wow, that's incredible opinion.
Raphin
: And now, I will ask you Kechia. Why do you cover this song? And what do
you think the message contained in the song?
Kechia : I cover this song, because the song is able to give us the spirit of life at the moment I
am having problems. Messages that are in this song is that I should not give up when I have
problems and I must be sure that in every difficulty there is relief, because there is our
God,our family, and our friends who support us.
Raphin : Oh, awesome. Thank you, Kechia. Well finally we get to the quiz show for audience
in the studio. The winner will have the opportunity to take a photo with a guest star and sing
along.
Endiko : The question is when the song "You Rise Me Up first lyrical and what the name of
the album?"
Wawan
: (rise of hands)
Endiko
: What's your name?
Wawan
: My name is sidiq setiawan
endiko
: What is your answer?
Wawan
: The song "You Rise Me Up" by Josh Groban first lyrical on 11th November
2003, in the second album, entitled "Closer".
endhiko
: Absolutely, please come forward.
(wawan forward and asked raphin)
raphin
: Wow, are you fans of Josh Groban?
wawan
: Yes, i do.
raphin
: What do you know about Josh Groban?
wawan
: Josh Groban is a singer, writer, actor, and record producer who comes from
USA. He was born on February 27, 1981 in Los Angeles, California. He has beautiful voice.
raphin
: Thanks Mr. wawan. We are sorry the audience, our time is up. In closing, let
us welcome Annisa and Indra with "Yuo Rise Me Up".
Kechia
: Let us sing together!